99%SME campaign accelerates digitalisation of SMEs
Target to sign-up 5,000 SMEs on the campaign website
Singtel launches cloud app to help SMEs market digitally
Singapore, 5 June, 2017 – Singtel and DBS today launched a nationwide campaign to help 5,000 small and medium enterprises (SMEs) grow their business by digitalising their operations. Held annually, the campaign helps SMEs establish their online presence by listing on the 99%SME website (www.99sme.sg), where they can market themselves online at the site at no cost. This is part of the 99%SME movement, which was co- founded by Singtel and DBS in 2015. The movement has extensive involvement of private and public sectors to help SMEs grow their in-store and online business.
This year's campaign aims to accelerate SMEs' digitalisation by garnering 5,000 sign- ups for the 99%SME website. This is double last year's target. The campaign also aims to help SMEs venture into e-commerce by signing them up to the 99%SME e- marketplace, hosted by Lazada Singapore.
The campaign's focus on digitalising SMEs is in line with the Committee for the Future Economy's recommendation to help SMEs adopt digital technologies.
Mr Bill Chang, Chief Executive Officer, Group Enterprise at Singtel, said, "As the bedrock of Singapore's economy, SMEs cannot afford to be left out of digitalisation. By helping SMEs adopt technology, we strengthen Singapore's economic resilience, contributing to building a smart nation.
"While most SMEs acknowledge technology as a game-changer, its potential has not been fully harnessed. Our campaign facilitates SMEs' digital journey by helping them to get online and generating demand for their products and services," he added.
With digitalisation disrupting businesses, SMEs' adoption of technology has taken on an added urgency. "As we look towards transforming Singapore to a digital economy, local businesses must evolve along in this momentum," said Ms Joyce Tee, Group Head of SME Banking, DBS Bank. "We continue to focus our efforts on helping SMEs build and enhance their capabilities in e-commerce, become more efficient by adopting cashless solutions and gain new skills with working capital management and productivity training programmes."
As part of its initiatives for SMEs, DBS is rolling out a new suite of financing packages with preferential pricing and fee waivers to help them adopt cashless and e-commerce solutions. The bank is also offering incentives to its four million customers when they purchase from participating SMEs.
Mediacorp, the campaign's official media partner, will offer three advertising packages worth $100,000 each to the top three SMEs which garner the most number of likes on its Toggle digital entertainment service.
In conjunction with this year's 99%SME campaign, Singtel has launched Adtiq, a cloud- based application which allows SMEs to plan, create and optimise their advertising campaigns across several digital platforms. Adtiq was developed jointly with Amobee, Singtel's digital marketing subsidiary. SMEs which face resource- and manpower- constraints can use this digital solution to optimise their advertising spend. To help SMEs use digital marketing tools such as Adtiq, Singtel has tied-up with Google to train 1,000 SMEs.
The 99%SME campaign has gained strong traction over the last two years. Among the companies which have joined as partners this year are AXA Insurance, Brother, Far East Organization, Google, Huawei, Lazada, Mastercard and Samsung. New additions to the panel are Nanyang, Ngee Ann, Singapore and Temasek polytechnics. The movement is also supported by SPRING Singapore, industry associations and grassroots organisations.
The launch of the 99%SME campaign kicks off a series of online and in-store promotional activities for SMEs which culminate in the SME Week sales carnival in end October.
###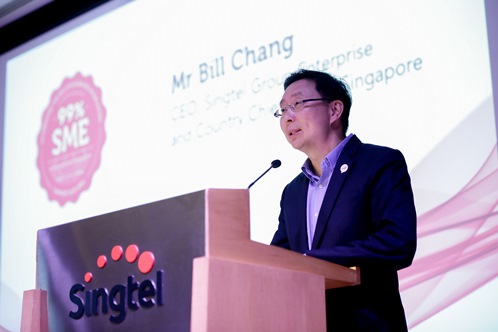 Mr Bill Chang, CEO, Group Enterprise, Singtel delivering his welcome address at the launch of 99%SME campaign.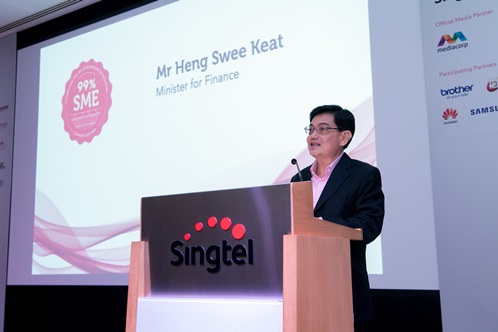 Minister for Finance Heng Swee Keat delivering his speech at the launch of the 99%SME campaign.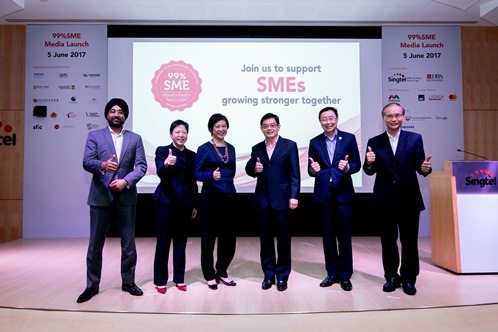 Minister for Finance Heng Swee Keat and 99%SME organisers giving the thumbs up to this year's campaign.