Indonesia's "Rotasi" is the Grand Winner of "The 5-Min Video Challenge" as Singtel Group makes big content push
Singapore, 22 November 2016 – Indonesia's "Rotasi" directed by Mr Destian Rendra is the Grand Winner of the inaugural "The 5-Min Video Challenge" organised by the Singtel Group. "Rotasi" (Rotates) beat 11 other entries from Australia, Indonesia, the Philippines, Singapore, Thailand and Tanzania to take home the first prize at the Regional Finals award ceremony held at Grand Hyatt Singapore last evening. Pagnanakaw (Stealing) by Mr Miguel Sotto from the Philippines emerged the runner-up.
Mr Simon Israel, Chairman of the Singtel Group, and Ms Chua Sock Koong, Singtel Group's Chief Executive Officer, presented cash prizes of US$30K and US$15K to the directors of Rotasi and Pagnanakaw, respectively.
The winning entry, Rotasi, is about a photographer who is feuding with his best friend and his girlfriend. Due to this unhappy state of affairs, he loses faith in the enduring rotation of the earth as he seems to be somehow stuck in love and life. In the end however, he goes through a journey that restores his faith.
The runner-up, Pagnanakaw, is the story about a devoted young man tasked to travel every day to a faraway shop to buy tofu for his family. The container he brings with him is small and only gets filled with a few pieces, just enough for a day. While faithfully carrying out his daily duty, he often wonders why he's not allowed to bring a bigger container in order to make his journeys more efficient. One day, however, his tofu-fetching task throws up an illuminating answer to life.
"We were pleased by the overwhelming number of entries which shows Asia is burgeoning with talent. The ones that spoke to the judges had compelling storylines that took us on an emotional journey. Short films are powerful narratives because in many cases, less is always more", said Mr Eric Khoo, director and regional judging panel representative of "The 5-Min Video Challenge".
Two "People's Choice" awards were also given out during the awards ceremony. Indonesia's Mr Destian Rendra also received US$3K for winning the popular vote for Rotasi, while Thailand's Mr Yuttana Kanchanapinpong of Hello Gorgeous collected the runner-up cash prize of US$2K.
"We have seen an amazing display of creative talent here tonight. Congratulations to all our winners. They have proven that short, made-for-mobile videos can capture the hearts and minds of audiences. We look forward to entertaining all our customers across the Group with original and quality content we will curate from our new library of 5-min videos," said Mr Mark Chong, Chief Executive Officer, Singtel International.
The winners, runners-up and finalists' videos will be screened on the Group's mobile and video platforms across Asia, Africa and Australia, reaching about 630 million customers.
Conceptualised to drive content innovation and engage customers across the Group's markets, the inaugural "The 5-Min Video Challenge" attracted close to 600 video submissions from Australia, Indonesia, the Philippines, Singapore, Tanzania and Thailand.

###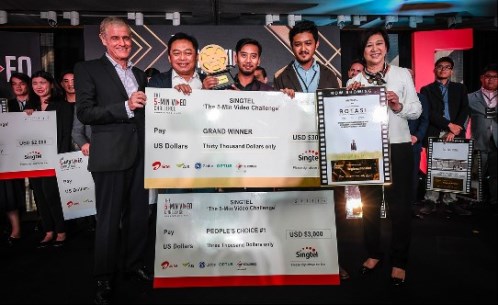 From the left: Mr Simon Israel, Chairman of Singtel Group, Pak Ririek Adriansyah, Telkomsel CEO, Destian Rendra, Denny Pradama Kusuma, Ms Chua Sock Koong, Singtel Group CEO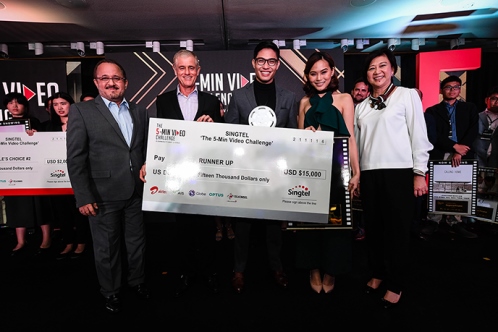 From the left: Mr Alberto de Larrazabal, Globe CCO, Mr Simon Israel, Chairman of Singtel Group, Miguel
Sotto, Jaz Reyes, Ms Chua Sock Koong, Singtel Group CEO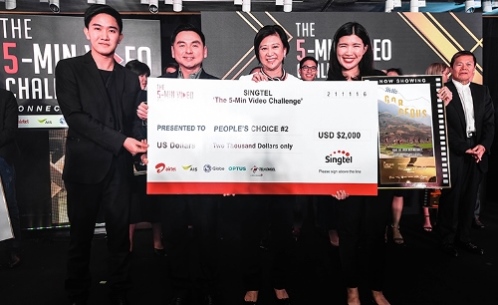 From the left: Yuttana Kanchanapinpong, Khun Somchai Lertsutiwong, AIS CEO, Ms Chua Sock Koong,
Singtel Group CEO, Pawarisa TangTuLanon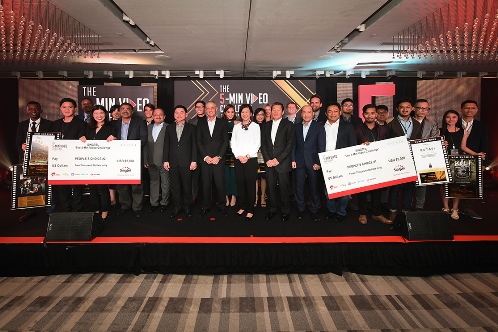 From the left: Singtel Group Chairman and CEOs with The 5-Min Video Challenge People's Choice winners and finalists