Singtel and SingPost launch nationwide e-waste recycling programme
Singtel and SingPost launch nationwide e-waste recycling programme
Singapore, 5 June 2017 – Singtel and SingPost announced the launch of a nationwide recycling programme in conjunction with World Environment Day. ReCYCLE, Singapore's largest electronic waste (e-waste) recycling programme by reach, encourages people to dispose of their redundant mobile or internet-related devices at ReCYCLE bins or by mailing them through any post box.

Mr Andrew Buay, Singtel's Vice President for Group Sustainability, said, "E-waste is one of the fastest growing categories of waste as consumers dispose of electronic equipment even faster these days. According to the National Environment Agency, Singapore generates more than 60,000 tonnes of e-waste every year. Most e-waste is still finding its way into landfills which pollutes the environment. With our partnership with SingPost, we've gone a step further to bring greater convenience to everyone by doubling our reach and touchpoints. We hope this will encourage more people to recycle and think twice before disposing their electronic devices down the rubbish chutes."

Ms Selena Chong, SingPost's Vice President for Corporate Sustainability, said, "This is a programme that addresses an environmental issue which affects our community. Working with Singtel creates greater impact across Singapore for ReCYCLE. We hope to provide our postal network capability to help people recycle more e-waste. Every recycled item means one less piece of waste that ends up in the landfill."

Under the ReCYCLE programme, members of the public can dispose of their e-waste at selected Singtel shops, Singtel exclusive retailers and Post Offices with a ReCYCLE bin. Alternatively, anyone can collect special ReCYCLE envelopes from any of the eight Singtel shops, 58 Singtel exclusive retailers and 57 Post Offices located across the island, then "mail" their recyclables through any of the 743 post boxes in Singapore.

For more information on the ReCYCLE programme and list of locations with ReCYCLE bins, please visit www.recycle.sg. For a sample of the ReCYCLE bins and envelopes, please see the Annex.


###
Annex
ReCYCLE Bin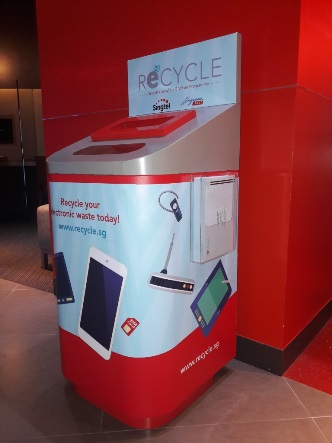 ReCYCLE Envelope