Singtel celebrates opening of Coney Island Park
Plants 100 trees and contributes S$150,000 to help the public learn more about plants in coastal habitats
SINGAPORE, 10 October 2015 – 120 Singtel staff volunteers marked the official opening of Coney Island Park by planting 100 trees on the island this morning.
In addition, Singtel also contributed S$150,000 towards tree planting as well as accompanying educational panels, which are designed to help the public learn more about plants in coastal habitats.
"The haze is a stark reminder that we all need to play a role in supporting the broader community through education and raising awareness of the environment," said Mr Andrew Buay, Singtel Vice President of Group Corporate Social Responsibility and Talent Coach.
"Our tree planting efforts today reflect Singtel's on-going commitment to manage and reduce our environmental footprint across our business operations – from our own day-to-day operations to those of our suppliers. We have a responsibility to take care of the environment even as we go about our work and we've taken substantive steps to address climate change and proactively engage our stakeholders on environmental issues," added Mr Buay.
To develop active environmental stewardship among staff, Singtel organises coastal clean-ups, nature trails and campaigns to reduce paper usage and to recycle electronic waste. The organisation also supports Earth Hour, where the company observes lights out for an hour as part of its efforts towards environmental conservation.
Coney Island Park was once a popular area for picnics, boating and fishing in the past. It has been uninhabited for decades and was earmarked for redevelopment in 1987 as part of the Punggol New Town project. Today, it is part of a unique waterfront town. Its rich history and biodiversity is expected to draw in nature and bird enthusiasts.
Please see photos below of this morning's Plant-A-Tree event at Coney Island Park.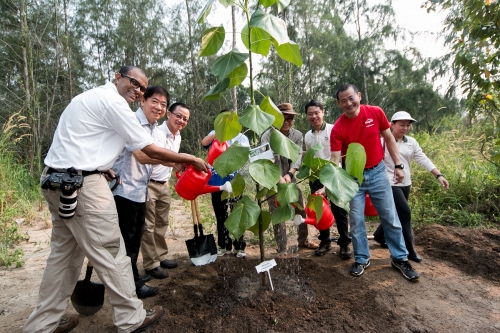 Mr Andrew Buay, Singtel VP of CSR & Talent Coach, planting a wild cocaine tree with Minister Khaw Boon Wan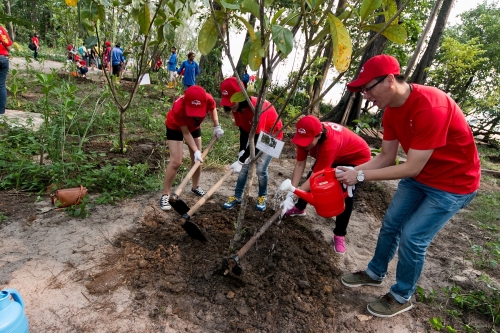 Planting one of the 100 coastal trees which are native to Coney Island Park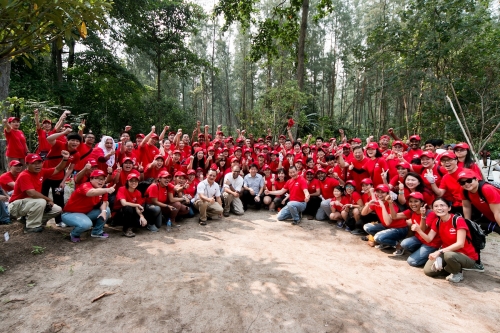 The Singtel contingent with Minister Khaw Boon Wan at our tree planting site
###