Singtel explores the future of 5G
Signs MOU with Ericsson to test technologies for future standardisation
Singapore, 27 January, 2015 -- Singtel today reinforced its commitment to bringing transformative 5G services to its customers and supporting Singapore's vision of becoming a Smart Nation.
Singtel, as a member of the Next Generation Mobile Network (NGMN) Alliance, is championing the finalisation of the NGMN 5G white paper at the NGMN Forum that is currently being held in Singapore.
The 5G White Paper serves as a backbone for the mobile communications industry worldwide as it develops 5G technology. The paper sets the guidance of possible uses for 5G as well as performance requirements, network architecture, technology, spectrum and intellectual property rights. It will be presented at the Mobile World Congress (MWC) in Barcelona in March 2015.
Singtel's Group Chief Technology Officer Mr Tay Soo Meng said: "In Singapore, 5G technology development will enable the Smart Nation vision in the next five to 10 years, by providing a superb wireless connectivity layer with huge capacity and solid reliability for human-to-human and machine-to-machine communications. And Singtel is working towards being one of the first in the world to roll out 5G in the year 2020."
The 5G White Paper was launched as a special project at MWC2014, and Singtel has been actively participating, contributing particularly in the topic of spectrum demand.
The NGMN Alliance is an industry organisation comprising 24 leading operators from around the world. NGMN proposes and develops requirements for new technologies such as LTE-Advanced, 5G, and ensures that the standards for next generation network infrastructure, service platforms and devices meet the requirements of both operators and end users.
Establishing Strategic Partnerships
Singtel is partnering strategic vendors as part of its 5G exploration programme. Singtel today signed a memorandum of understanding with Ericsson to study the future of 5G networks and its applications for both consumers and enterprises. The partnership will include workshops to align 5G requirements, exchange ideas and trials on potential technologies.
"5G is the next generation mobile network technology standard. It will deliver key improvements such as near-zero delay for real-time applications for remotely operated machines, super high data throughput speeds of more than 1Gbps, and enable multiple connected intelligent devices," added Mr Tay.
Earlier in November, Singtel announced plans to launch a 5G Joint Innovation Programme with Huawei. The initiative will serve as a research platform for 5G mobile broadband technologies.
NGMN CEO Mr Peter Meissner said, "The finalisation of this white paper is an important milestone in our journey towards 5G and brings us closer to establishing targets for the successful long-term future of our industry. We wish Singtel and Ericsson the best for their partnership and look forward to seeing the potential 5G capabilities and solutions that result from it."
###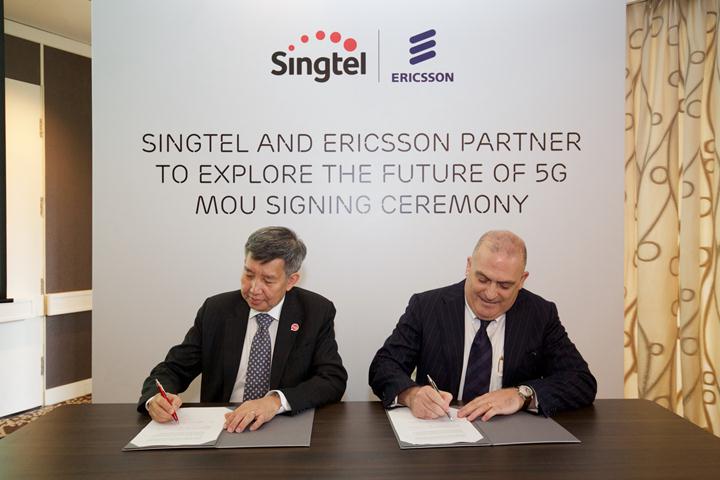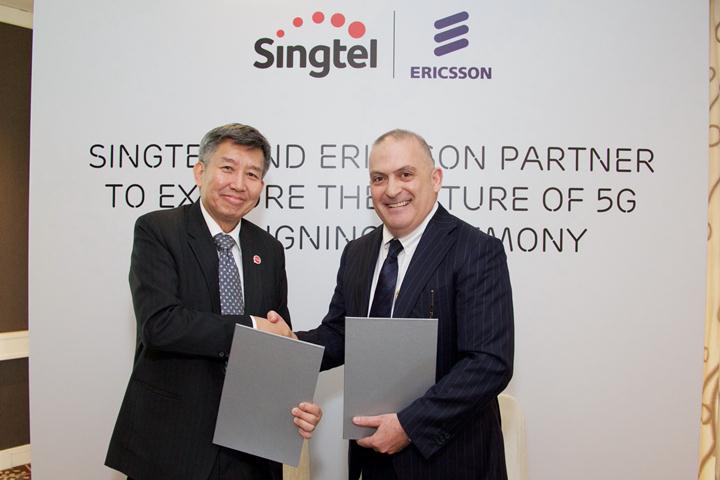 Singtel Group Chief Technology Officer, Mr Tay Soo Meng and Region Head Ericsson South East Asia and Oceania, Mr Sam Saba at today's MOU signing ceremony for Singtel and Ericsson's partnership to explore the future of 5G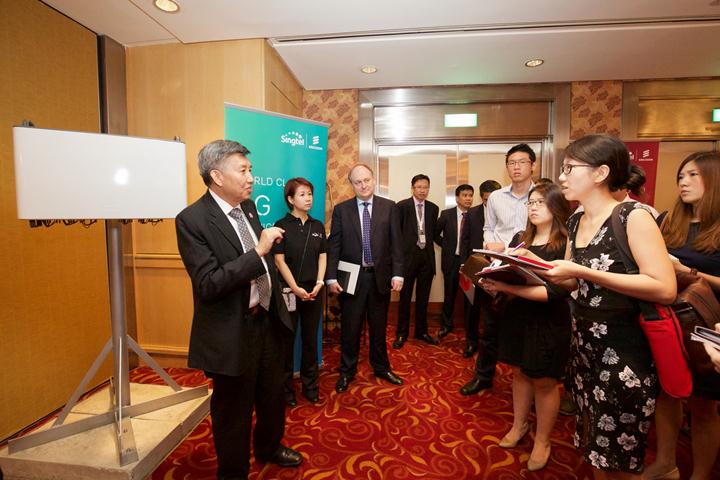 Singtel Group Chief Technology Officer, Mr Tay Soo Meng at the Media Demo Session explaining Singtel's vision of bringing 5G technologies to customers in Singapore