Singtel Group CEO conferred Medal of Commendation (Gold) at NTUC May Day Awards
SINGAPORE, 29 April 2016 – Singtel Group CEO, Ms Chua Sock Koong, was conferred the prestigious Medal of Commendation (Gold) at this evening's May Day Awards 2016, organised by the National Trades Union Congress (NTUC).
One of two recipients of the award presented to senior management personnel who have made significant contributions to the labour movement in Singapore, the award recognises Ms Chua for promoting the well-being of her employees and facilitating employee development through collaborative partnership with the Union of Telecoms Employees of Singapore (UTES) which represents all Singapore-based employees in the Singtel group of companies.
"It's well-known that Sister Sock Koong has always had the interests of her staff at heart. She has always been pro-active in adopting policies that improve the lives and working conditions of our members such as doubling paternity leave for working fathers or re-employing older workers beyond the age of 62 as long as they can and want to keep contributing. She truly deserves this award and on behalf of the Union, I'd like to offer my heartfelt congratulations to her," said Mr Thuvinder Singh, General Secretary of UTES.
Under Ms Chua's leadership, Singtel has over the years introduced a range of work-life policies to support employees, including flexible work arrangements, enhanced leave benefits as well as employee support schemes. The company was among the first to support the government's call to double paternity leave for eligible fathers as well as raise the re-employment age from 65 to 67. Currently, Singtel has 57 staff who are aged 65 or older, and also re-employs around 70% of its staff when they turn 62.
As a progressive employer, Singtel took the lead ahead of legislative changes to the Industrial Relations Act to allow junior professionals, managers and executives to join UTES so they can seek recourse for certain areas such as contract breaches, retrenchment benefits, unfair dismissal, victimisation and re-employment. This ensures a broader range of employees have union representation and have their interests being looked after. The company also signed the Employers' Pledge of Fair Employment Practices with the Tripartite Alliance for Fair & Progressive Employment in 2010, reaffirming its commitment to promoting fairness in the workplace.
Singtel was awarded the Plaque of Commendation Award and Plaque of Commendation (Gold) Award at the May Day Awards in 1996 and 2012 respectively.
###
ANNEX 1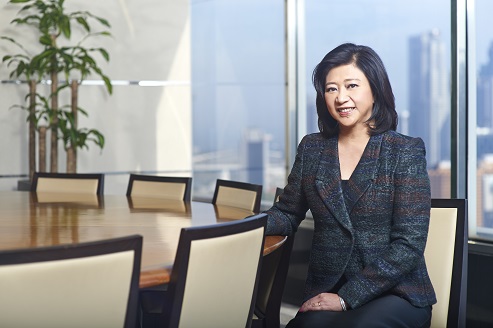 Ms Chua Sock Koong, Group Chief Executive Officer, Singtel.