Singtel launches advertising services arm
Singtel launches advertising services arm

Singtel iMedia offers personalised and targeted advertising across mobile, TV and online platforms

Singapore, 7 May 2009 -- Singapore Telecommunications Limited (Singtel) today announced the launch of Singtel iMedia, its advertising service offering businesses a targeted and effective means to reach customers across three channels - mobile, TV and portal.

Singtel iMedia is part of Singtel's new Content and Media Services (CMS) Group formed to provide a sharper focus on the TV, advertising and digital content businesses. The CMS Group is one of the key pillars in Singtel's transformation from a pure carriage service provider to a multimedia solutions company. Besides providing multimedia and ICT solutions, Singtel aims to develop new growth engines such as advertising and managed services.
Through Singtel iMedia, advertisers can achieve a wider reach by tapping on Singtel's large customer base of 2.94 million mobile customers, 495,000 fixed broadband customers and 144,000 wireless broadband customers.
In addition, Singtel iMedia's innovative profiling tools enable advertisers to understand customers' needs and preferences. By analysing customer profiles, advertisers can place ads that are relevant to customers so that they can make informed purchase decisions. Advertisers can also activate ads that include direct response mechanisms, providing an interactive, targeted and measurable advertising approach.
To ensure that advertisers gain maximum impact from their ads, Singtel will also help advertisers generate awareness by rewarding customers who respond to the ads with discounts, news and exclusive event invitations. (Refer to Appendix 1 for the various ads.)
Mr Edward Ying, Chief of Content & Media Services Group, Singtel, said: "Singtel iMedia's targeted approach and ability to measure advertising effectiveness makes it one of the most powerful integrated advertising platforms in the market. In these extraordinary times, advertisers are looking for fresh ideas to reach customers and non-traditional platforms that offer targeted advertising opportunities to stretch their advertising dollars further.
"We will be constantly strengthening Singtel iMedia's profiling capabilities to understand our customer's preferences and needs better. We endeavour to deliver only relevant messages that will add value for our customers," added Mr Ying.
Appendix 1: Singtel iMedia's three advertising channels - mobile, TV and portal
1. Mobile Advertising
By using Singtel's mobile platform, advertisers are able to reach out to their audience through a variety of sources ranging from broadcast and location-based SMS and MMS, to display banners on Singtel's IDEAS WAP portal.
Location-based ad messages allow advertisers to send ads based on customers' demographic profiles and interests. The messages can be further personalised according to the time and customers' location.
To enhance the ads' effectiveness, advertisers can also include messages informing customers of the latest promotions available. In addition, the message can be made interactive with a direct reply mechanism, or embedded with a URL to the advertiser's website.
Another mobile advertising platform is "Tag On Messages", which allows ad messages to be delivered as a tag on line to voice mail or missed call alert notifications.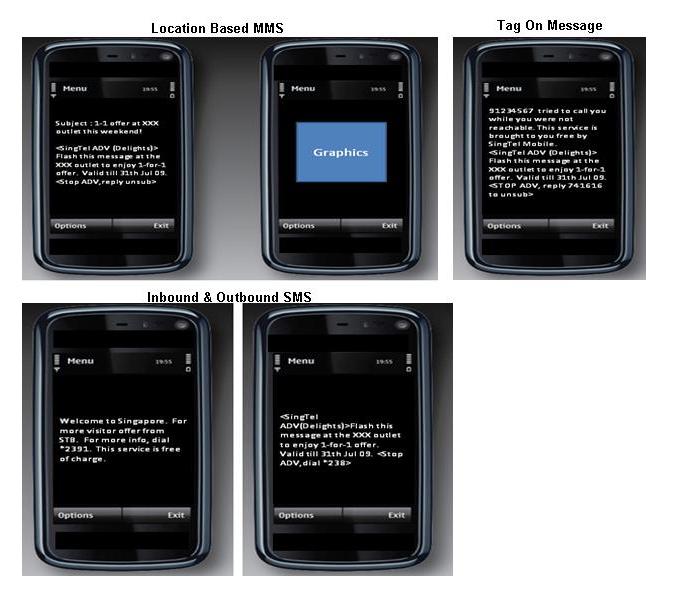 2. mio TV Advertising

Launched in July 2007, mio TV is Singtel's innovative TV service offering customers value and full flexibility to watch what they want, when they want.
Singtel iMedia provides advertisers with an innovative new technology of reaching TV audiences that are not possible with other platforms. IPTV technology allows Singtel to monitor its customer's viewing preferences and target advertisements accordingly.
Advertisers may choose from a wide range of genres and titles available on mio TV to reach their target audience. They can opt to place their TV commercials on mio TV's linear channels and On Demand titles.
3. Portal Advertising

Singtel has several eDM and websites offering advertising opportunities: i) display ads on Wireless@SG ii) Internet SMS iii) Ideas Web Portal and iv) mio TV portal.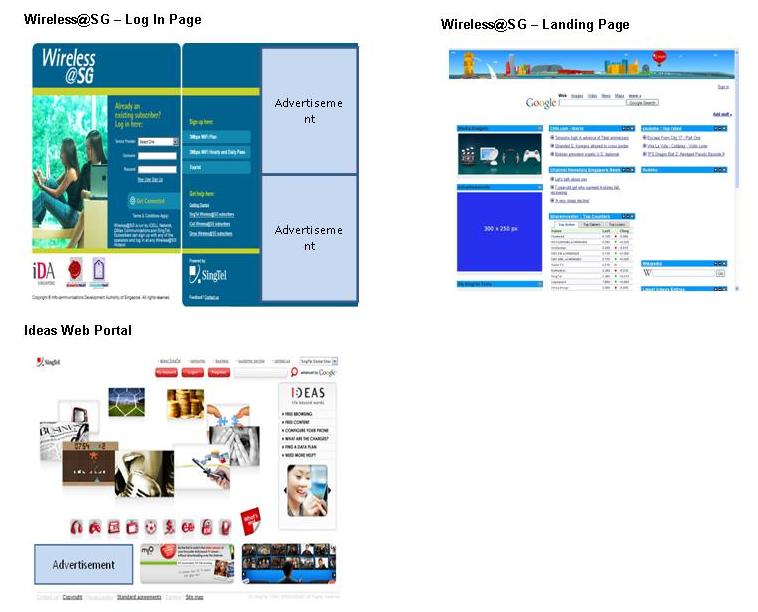 As a value added service, there will be an online media planning tool to provide assistance to SMEs and media agencies anytime, anywhere. Other services include:
Online Self Help: Customers have complete control and visibility over the whole advertising campaign anytime. This ranges from creating a Singtel billing account, booking ad space and creating campaigns online, with the ability to generate estimates of the campaign cost.
Online Report: Customers can track the results of the campaigns in terms of the number of SMS messages sent and the number of customers responding to the SMS.
Online Preview: Before the SMS and MMS messages are sent to customers, the system allows advertisers to preview how these messages will appear on the customers' mobile phones. Advertisers can also preview their banner ads before uploading the banner "live" onto the portal.