Singtel rallies Singaporeans behind Team Singapore athletes at the 2017 SEA Games
Singapore, 17 Aug 2017 – Singtel has today launched its 'Power On' campaign to rally Singaporeans behind Team Singapore as they compete in the 2017 SEA Games that kicks off in Kuala Lumpur this weekend.
'Power On' is the second part of Singtel's month-long campaign, launched earlier this month with the 'Majulah Every Minute' multi-media campaign which paid tribute to the nation's can-do spirit during the independence day month of August. 'Power On' profiles six Singaporean athletes in a slate of videos and images that are designed to motivate the nation's athletes and also rally Singaporeans to support Team Singapore in their quest for SEA Games glory.
To be featured on Singtel TV, social media as well as bus stops across the island, the six partner athletes include: Joseph Schooling (Swimming), Loh Zhi Zhi (Water Polo), Mark Leong (Water Ski), Nur Alfian (Silat), Shanti Pereira (Track and Field) and Shayna Ng (Bowling). Singaporeans will get a rare glimpse of the athletes training in the run-up to the Games and candidly sharing their hopes and fears as they head into competition for the country.
"At the 2017 SEA Games, I hope to win all my events and get the best times. I want to do well all the time and break records,'' Olympic swimming champion Joseph Schooling says. "All I can do is swim my heart out and compete at my best for my country. We have a great team this year. With the camaraderie and the support within our team, we can take each other to new heights.''
Print images of the athletes articulating their hopes for the Games will be unveiled today on social media and bus stops (17 August), while the videos will be aired starting tomorrow (18 August). This will be a fitting send-off to Team Singapore as the Games starts 19 August through to 30 August.
"There's nothing like having our athletes represent Singapore at regional or international sporting meets to bring Singaporeans together," says Ms Lian Pek, Vice President for Group Strategic Communications and Brand. "We see the Games as a natural extension of our National Day campaign as ultimately, it's a very tangible reminder that we all have to raise our game to keep Singapore ahead of the pack."
Singtel recently renewed its ongoing partnership with the Singapore National Olympic Council to help develop the local sporting scene. Through the partnership, which dates back to 2012, Singtel helps to fund the training of the nation's athletes and support Singapore's goal of becoming a sporting powerhouse. Singtel will also provide 900 ReadyRoam SIM cards to Team Singapore, which is sending the largest-ever overseas contingent to the Games, to help them stay connected to their friends and family during the matches.
Supporting Team Singapore at the SEA Games is a continuation of Singtel's 'Majulah Every Minute' campaign, the highlight of which is the 'National Day After' video. Featuring Singaporeans from different walks of life, the two-minute film has been well-received with more than 1 million views on Facebook within a week from its release. Narrated by actor Lim Kay Tong, the video pays tribute to the resilience and can-do spirit of Singaporeans which has helped propel the country from the proverbial mudflat to metropolis.
###

Appendix A
Print image of Team Singapore Water Polo Captain, Loh Zhi Zhi, articulating his hopes for the Games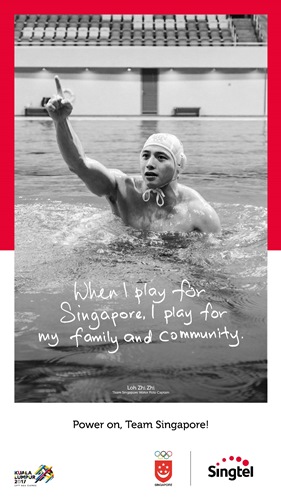 Print image of Team Singapore Sprinter, Shanti Pereira, articulating her hopes for the Games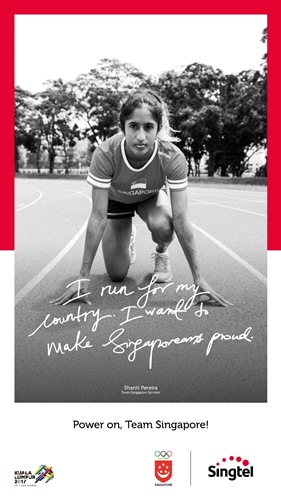 Print image of Team Singapore Water Skier, Mark Leong, articulating his hopes for the Games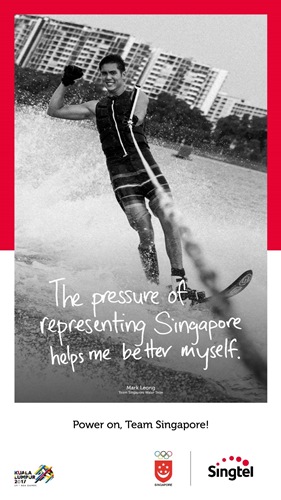 Print image of Team Singapore Swimmer, Joseph Schooling, articulating his hopes for the Games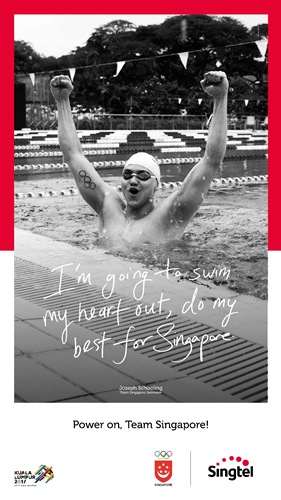 Print image of Team Singapore Silat Athlete, Nur Alfian, articulating his hopes for the Games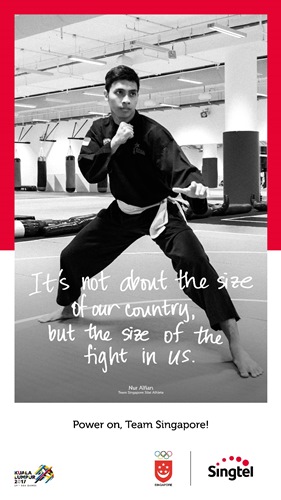 Print image of Team Singapore Bowler, Shayna Ng, articulating her hopes for the Games