Singtel Touching Lives Fund raises a record S$3 million for its beneficiaries
Singtel Touching Lives Fund raises a record S$3 million for its beneficiaries
SINGAPORE, 6 May 2015 – Beneficiaries from the Singtel Touching Lives Fund (STLF) were presented with a cheque of S$3 million today – a record sum raised since the STLF was set up in 2002. This brings the total amount raised by Singtel to help children and young people with special needs in Singapore to over S$30 million in 13 years.
Mr Yuen Kuan Moon, Chairman of the STLF and CEO Consumer Singapore at Singtel, said: "We are touched by the overwhelming support from our business partners, customers, members of the public and our staff. Without their contributions, we would not have achieved this record amount. At Singtel, our staff and partners share the same belief as our beneficiaries – that these children and youths can achieve their full potential and lead meaningful lives, given proper care and support."
In addition to Singtel's contribution, funds were raised through staff, public and corporate donations. Singtel employees are deeply involved with the STLF, with many taking the time and effort to organise fund raisers for the beneficiaries. Annually, staff also get together to organise a year-end carnival especially for the beneficiaries, treating them to games, shows and their favourite food.
Singtel also organises an annual Singtel Charity Golf to raise funds for the STLF. All fundraising costs are underwritten to ensure that every dollar raised goes towards supporting the beneficiaries.
The S$3 million raised will be matched dollar-for-dollar by the Government, under the Care & Share Movement led by Community Chest. The Movement is part of SG50, and the matched amount will go towards building the capabilities and capacities of the social service sector to meet rising needs.
Mr Phillip Tan, Chairman of Community Chest said: "True to its name, STLF has touched the lives of many underprivileged children and youth. We are very grateful to Singtel for its exemplary leadership in its corporate social responsibility initiatives. The sustained support enables Community Chest to provide continued joy and hope to our beneficiaries. With the Government's matching as part of the Care & Share Movement for SG50, this impact is doubled for the less privileged, helping us cater for future needs."
Before the cheque was presented to the beneficiaries, about 120 children from the six beneficiary organisations were treated to lunch and a movie screening at Singtel Comcentre.
The beneficiaries adopted by the STLF are APSN Chaoyang School, APSN Tanglin School, Cerebral Palsy Alliance Singapore School, Eden School, MINDS Lee Kong Chian Gardens School and Singapore Cancer Society.
Below are some pictures from today's event.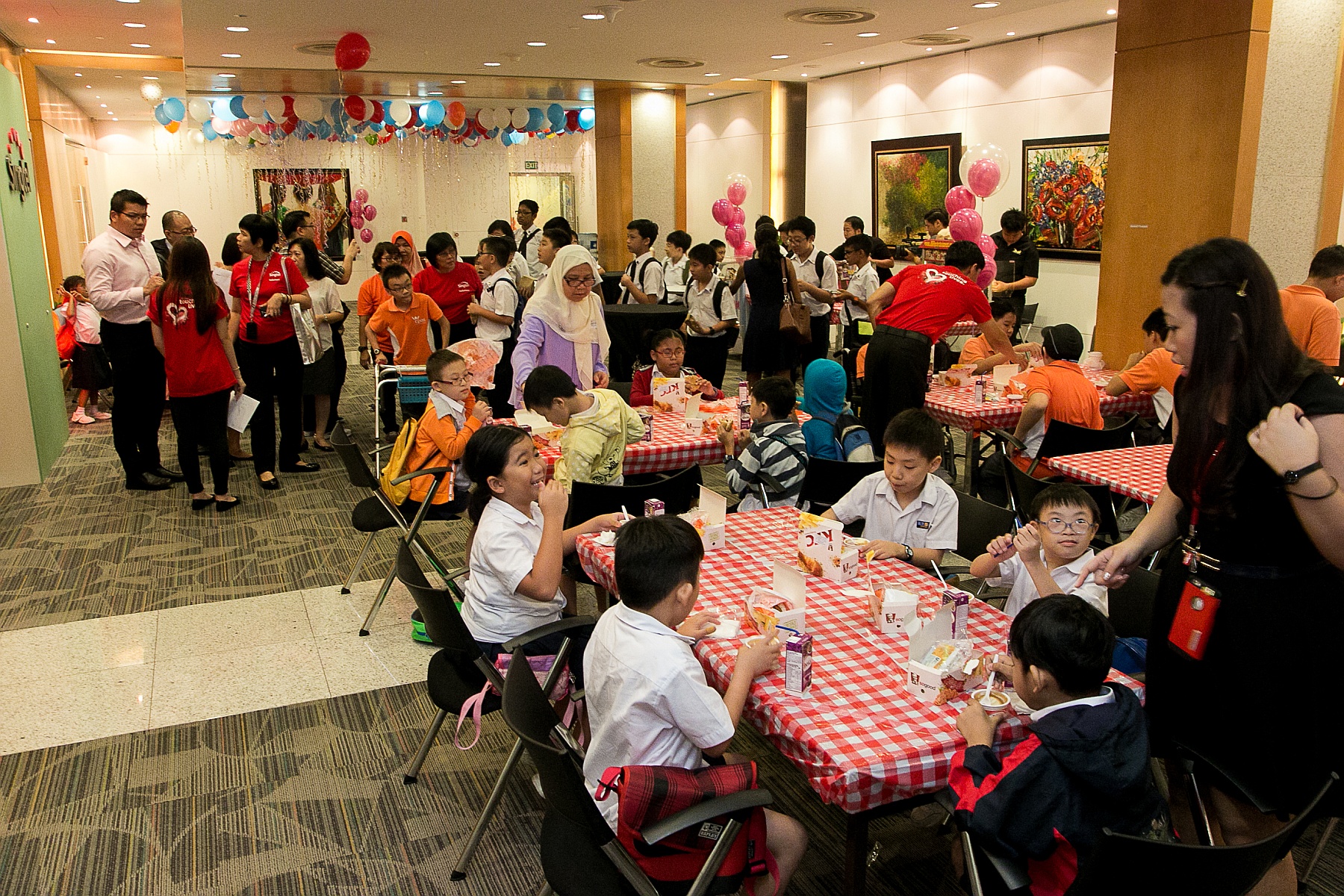 Children from the STLF beneficiaries enjoyed a sumptuous lunch before their movie screening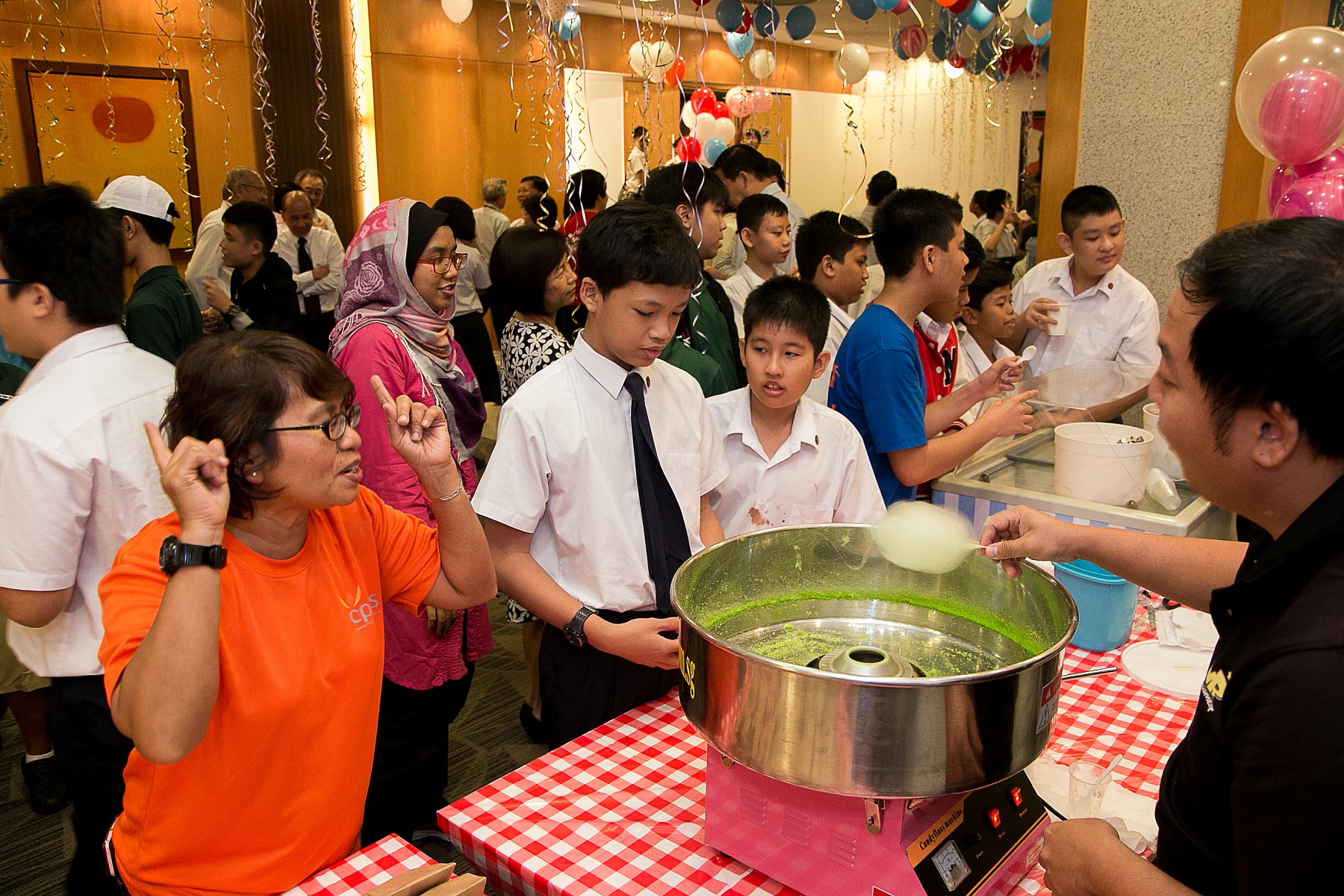 Sweet treats for the children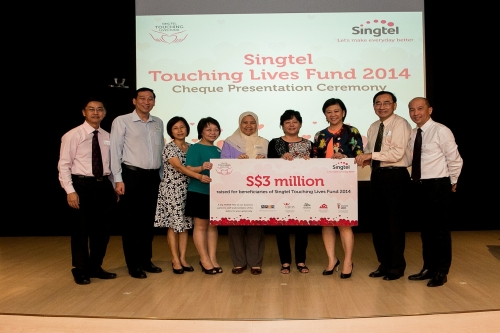 Singtel GCEO Ms Chua Sock Koong and Chairman of the STLF Mr Yuen Kuan Moon presented the beneficiaries with a S$3 million cheque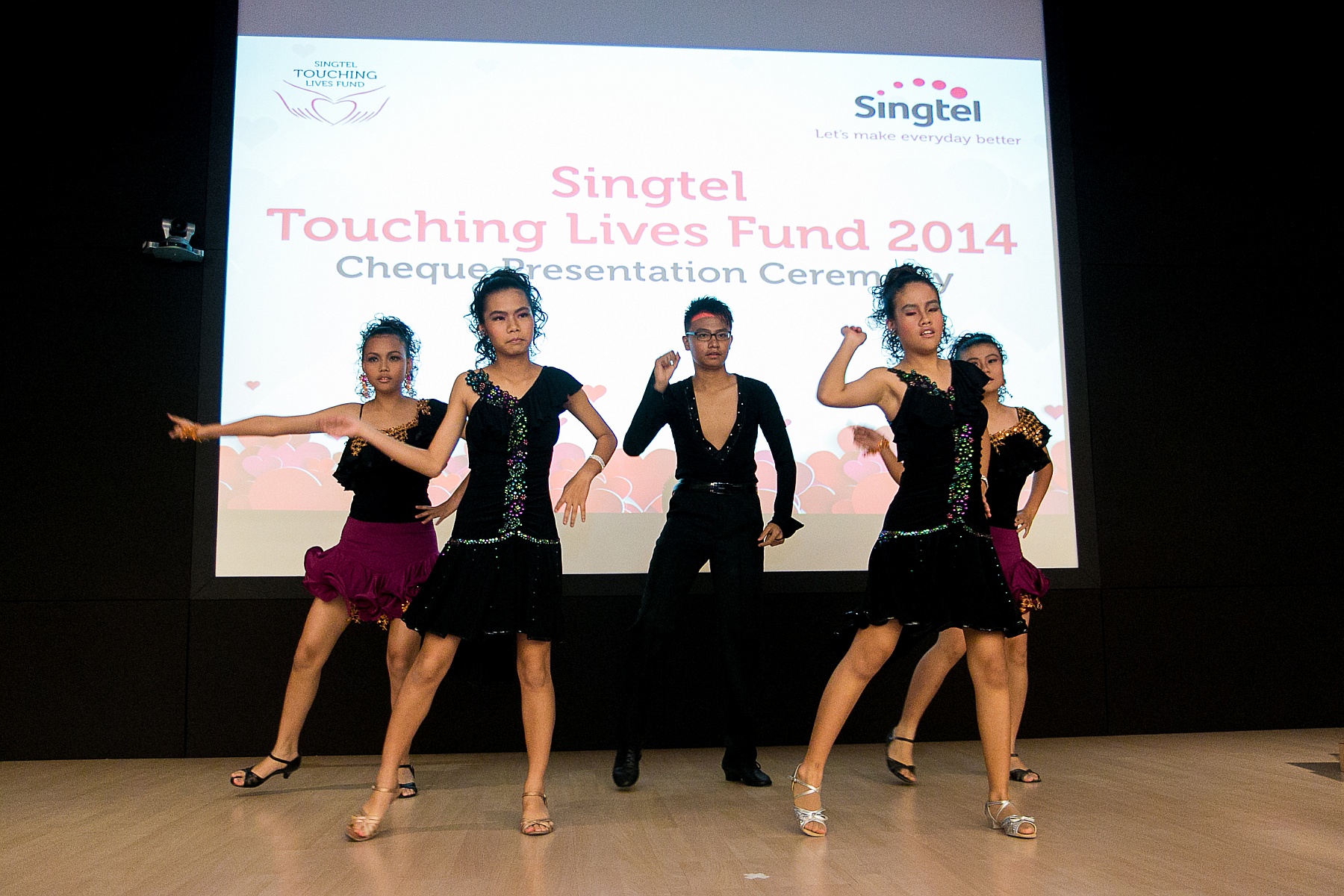 Students from APSN Tanglin School put up a Latin dance performance during the cheque presentation ceremony
About Singtel's Corporate Social Responsibility
The Singtel Group aims to create sustainable and long-term growth for our business, while leading and shaping positive changes for our marketplace and customers, the communities we operate in, our people and the environment.
Singtel's community focus is on the well-being of people, enabling their inclusion into society and helping them realise their potential through our core competence in digital and infocomm technologies.
Singtel believes that we can make a difference to disadvantaged communities, especially the vulnerable children and youth, through corporate and workplace giving, staff volunteering and leveraging our skills and ICT innovations.
Read more about Singtel's corporate social responsibility and programmes at http://info.singtel.com/about-us/sustainability.
Beneficiaries of Singtel Touching Lives Fund 2014
APSN Chaoyang School
The School provides special education for children with mild intellectual disability and autism, aged 7-12 years. The aim of the school programme is to provide education and training to enable the children to have the necessary skills, attitude and personality to lead normal, independent lives in adulthood.
Website: http://www.apsn.org.sg/schools/chaoyang-school/
APSN Tanglin School
The APSN Tanglin School provides special education for children with mild intellectual disability, aged 13-16 years. The special education programme aims to enable children to have the necessary skills, attitude and personality to lead normal and independent lives in adulthood.
Website: http://www.apsn.org.sg/schools/tanglin-school/
Cerebral Palsy Alliance Singapore (CPAS) School
The CPAS School serves students aged 7-18 years, diagnosed with cerebral palsy. Due to their condition, students often require specialised and intensive rehabilitation through therapy intervention. CPAS School provides individual or group therapy sessions with speech therapists, occupational therapists and physiotherapists.
Website: http://cpas.org.sg
Eden School
Eden School provides education and training to help children with moderate to severe autism aged 6 to 18 years old to acquire the necessary skills, attitude and personality to lead normal independent lives in adulthood.
Website: http://www.edenschool.edu.sg
MINDS Lee Kong Chian Gardens School
The MINDS Lee Kong Chian Gardens School provides a basic foundation in independence and employment skills to serve children aged 5 to 18 years with intellectual disabilities. It aims to develop each child to his or her fullest potential with the long-term objective of enhancing the child's prospects of integrating into mainstream society.
Website: http://www.minds.org.sg/LGS/index.html
Singapore Cancer Society (SCS)
The Singapore Cancer Society is a community-based voluntary health organisation dedicated to minimising the impact of cancer through public education, screening, patient services, financial assistance, research and advocacy. SingTel is the title sponsor of the Race Against Cancer and we pledge S$250,000 to the "SCS Help the Children and Youth" programme, which helps children and youth who are cancer patients or whose parents or siblings have cancer.
Website: www.singaporecancersociety.org.sg