Six beneficiaries of Singtel Touching Lives Fund jointly receive S$3 million donation
Singapore, 23 March, 2016 – Singtel contributed S$3 million today to six beneficiaries of the Singtel Touching Lives Fund (STLF), bringing to over S$33 million in monies raised since the fund was set up in 2002, to help children and young people with special needs achieve their full potential.
Raised over the past year through contributions by corporate partners, staff and members of the public, on top of a lump sum donation by Singtel, the donation will be matched dollar-for-dollar by the Government, under the Care & Share Movement led by Community Chest. The matched amount will go towards building the capabilities of the social service sector in Singapore.
"We are committed to giving back to society and are happy to see that our donations are making a real impact to the lives of children and youths with special needs, said Ms Chua Sock Koong, Singtel Group CEO. She added, "We would also like to give special thanks to all those who have contributed towards our fundraising efforts and supported our cause over the years."
"The STLF has enabled us to educate our students holistically not just in the academic, but also social and vocational domains. This includes providing co-curricular activities and using ICT as an enabler in teaching and learning," said Mrs Liza Ow, Principal of Association for Persons with Special Needs (APSN) Tanglin School. APSN Tanglin School is one of six beneficiaries, along with APSN Chaoyang School, Cerebral Palsy Alliance Singapore School, Eden School, MINDS Lee Kong Chian Gardens School and Singapore Cancer Society.
Prior to the cheque presentation to Mr Phillip Tan, Chairman of the Community Chest, more than 70 students from the beneficiaries enjoyed a specially catered lunch and snacks, plus a movie screening of 'Hotel Transylvania 2' at the Singtel Comcentre.
Case studies from beneficiaries of the STLF
A youth who benefitted from the STLF is Evelyn Lim, currently a Secondary 4 student in the APSN Tanglin School who has excelled in sports despite her learning disabilities.
"Although I am a person with special needs and I have a learning disability, I love sports and training with my friends. I am determined to excel in the midst of adversities, and this is only possible with the confidence that my teachers have in my abilities and the support from companies like Singtel," said Evelyn Lim.
Three years ago, Evelyn joined the school's table tennis team as a co-curricular activity. In the same year, she took part in the Special Olympics Singapore tournament and won a medal. She went on to represent Singapore at the 8th ASEAN Para Games, where she won a silver medal for table tennis.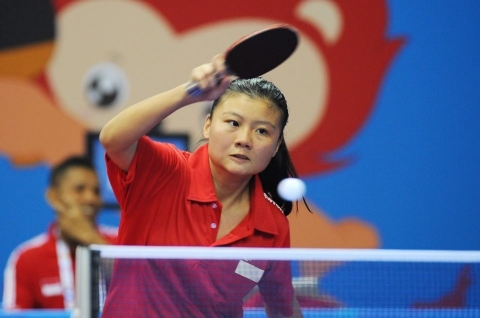 Evelyn won a silver medal for table tennis at the 8th ASEAN Para Games.
Another youth who benefitted from the STLF is Goh Yu Xiang, who has gained confidence and skills studying in the APSN Tanglin School, and now works as an Instructor Aide in the school despite her learning disabilities. Inspired by the Tanglin School teachers and her teacher in her sushi making class, she hopes to become a sushi artist teacher someday.
"Whenever I faced challenges during my sushi course, my teacher Mr Fujisaki would always teach me slowly, explaining the steps in an easy to understand manner. Anyone who wants to learn deserves a chance, like I did. I believe it doesn't matter if he or she has a disability or face challenges in life – it is the attitude of learning that makes one succeed," says Yu Xiang.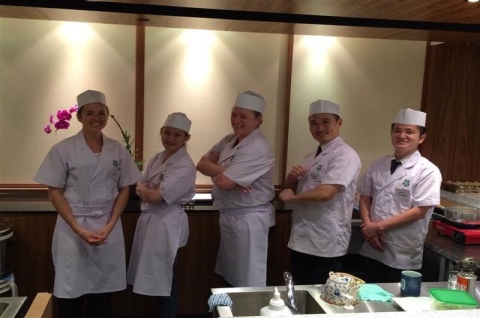 Yu Xiang (2nd from left) is inspired by her teachers including Fujisaki Tadao (2nd from right) to become a sushi artist teacher.
Going beyond financial support
Besides providing financial contributions to the six beneficiaries, Singtel also collaborates with Community Chest to identify social gaps and opportunities to help the vulnerable.
Over the next few months, Singtel will be rolling out a Cyber Wellness Tool Kit to Special Education schools in phases, to promote safe and responsible use of the Internet and mobile technology among the students.
Last October, in collaboration with Community Chest and SG Enable, the Singtel Enabling Innovation Centre was launched at the Enabling Village in Redhill to provide customised training in IT, communications and contact centre skills to improve the employability of persons with special needs and disabilities. This initiative provides a natural extension of skills development and transition-to-work support to the five Special Education schools under STLF's funding programme.
###
ANNEX A
PHOTOS FROM SINGTEL TOUCHING LIVES FUND EVENT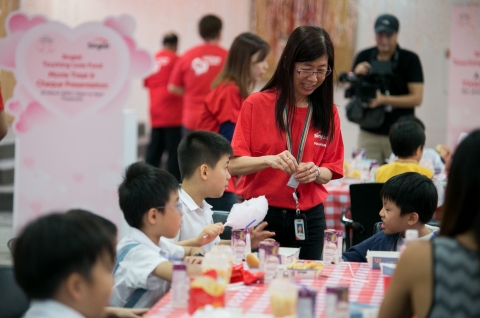 Students from our beneficiaries enjoying lunch together with our staff.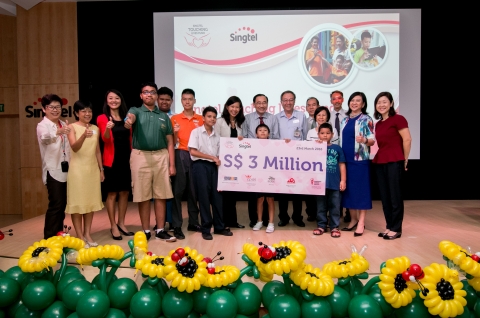 Singtel Group GCEO Ms Chua Sock Koong presenting a cheque of S$3 million to Mr Phillip Tan, Chairman of Community Chest.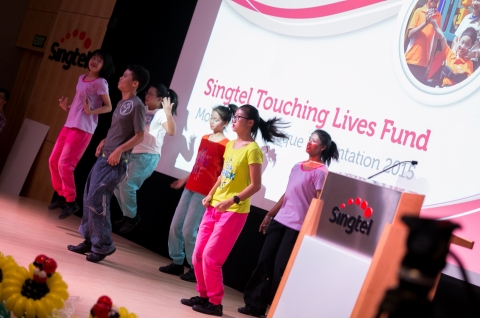 Students from APSN Tanglin School putting up a special dance performance in appreciation of Singtel's support.