The Singtel Group is committed to being a responsible corporate citizen in all the markets where we operate, driving positive and sustainable change for our communities.
We want to enable the inclusion and well-being of people and help them realise their potential through our core competence in digital and infocomm technologies. It is our belief that we can drive positive and sustainable changes to disadvantaged communities, especially vulnerable children and youth, through the support of corporate and workplace giving, staff volunteering and leveraging our skills and ICT innovations.
Our programmes support children and people with special needs and disabilities in Singapore so that they can lead independent lives. The elderly also faces challenges in adapting to constant innovations in technology and we want to support them in this transition and narrow the digital generational divide. Understanding such challenges allows us to be better positioned to assist these vulnerable groups, focusing on their inclusion and well-being, education and employability, as well as cyber wellness and online safety.
Our community strategy and programmes help us to contribute towards UN Sustainable Development Goals 3, 4, 8, 9, 10 and 11 on Good health and well-being, Quality education, Decent work and economic growth, Industry, innovation and infrastructure, Reduced inequalities and Sustainable cities and communities.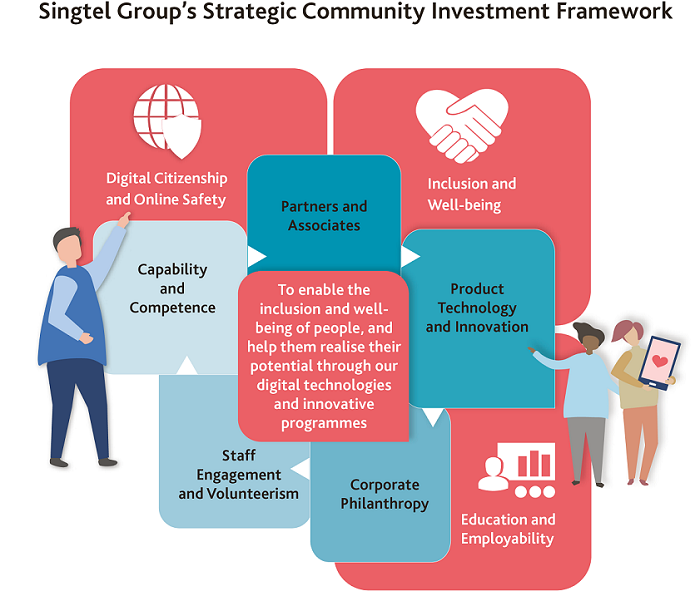 Singtel Touching Lives Fund
The Singtel Touching Lives Fund is our corporate philanthropy programme that raises funds for charities helping children and youth with special needs in Singapore. Thanks to the collaborative efforts of Singtel and our business associates and partners, employees and members of the public, the Fund has raised over S$42 million since its launch in 2002. Singtel fully underwrites all fundraising costs so that every dollar donated to the Fund goes to our beneficiaries. For more information, please visit Singtel Touching Lives Fund.
Workplace Giving
We leverage our core business and focus on enabling and connecting disadvantaged groups in the community. Singtel has been a Corporate SHARE company since 1992 and matches our employees' monthly contributions to Community Chest, the fundraising arm of the National Council of Social Service (NCSS). Since 1991, we have been providing an annual grant to NCSS to defray the costs of telecommunication services for its charities in Singapore.
Donate Your Data
Donate Your Data aims to help disadvantaged young people bridge the digital divide. We want to enable them to stay connected online and have equal access to the same resources and opportunities as the rest of Australia. This initiative allows our mobile customers to donate data to the disadvantaged youths. This is on top of the free SIM card, unlimited national talktime and text with 10GB data that we provide to each young beneficiary of our charity partners.

For more info, visit here.
Silver Mobile Workshops
We have been organising workshops for senior citizens in Singapore to learn how to use smartphones and social media apps, assisted by our staff volunteers. They also get to learn online safety tips like protecting their online privacy and against scams.
Kids Helpline
Since 1999, Optus has been partnering Kids Helpline to offer free calls to Kids Helpline from all Optus mobiles, and also assisted in establishing the world's first free, real-time, online counselling session. We developed the Kids Helpline@School Programme to provide primary school students across Australia access to a Kids Helpline Counsellor in their classroom via a video or phone call to discuss topical issues that the students are experiencing in their lives. Since the inception of this programme, we have reached over 30,000 students via more than 1,000 sessions across Australia.

For more information, visit the Kids Helpline@School website.
As a responsible corporate citizen and the market leader in digital and mobile technologies and services, we believe we have a key role to play in the well-being of our stakeholders, particularly in promoting cyber wellness and online safety among the vulnerable children and youth in this digital age.
Our industry, technologies and services have brought significant benefits to society and individuals. However, the growth of smart devices, social media and pervasiveness of the internet gives rise to problems such as digital 'exclusion' and risks to vulnerable segments like the youth and children in areas of cyber safety, cyber bullying and digital addiction. Through the Singtel Cyber Wellness Programme, we hope to reach out to the general public through targeted initiatives designed for parents, children and vulnerable segments of our community.

Find out more about Singtel Cyber Wellness Programme.

As part of Singtel Cyber Wellness Programme, Singtel is proud to continue to be DQ Institute's strategic partner and support its inaugural Child Online Safety Index (COSI), the world's first real-time analytic platform to help countries better monitor the status of their children's online safety.
Launched on Safer Internet Day 2020, COSI is the culmination of three years of data collected through #DQEveryChild. The programme started with Singtel's support to roll out the programme to over 70,000 primary schoolstudents in Singapore and quickly expanded globally in collaboration with the World Economic Forum and over 100 partner organisations.

Our education support for children with special needs is extended to supporting youth and persons with disabilities so that they can be part of the workforce and lead independent lives which is a key focus of our community strategy.
Singapore Business Network on DisAbility (SBNoD)
As one of the founding members and current co-chair, Singtel continues to participate actively in the Singapore Business Network on DisAbility (SBNoD). The network meets regularly to share expertise, experiences and resources to help advance the equitable inclusion of persons with disabilities in all aspects of business.

SG Enable
In 2015, we were one of the founding corporate partners to work with SG Enable and donated S$1.99 million to set up the Singtel Enabling Innovation Centre in Singapore which supports the training of persons with disabilities in IT and contact centre skills, and support their transition to work. In addition, the Centre has a showcase of assistive technology (AT) and products sourced globally targeted at persons with various forms of disabilities, employers and caregivers to educate them the availability of AT that can improve their quality of living and help them be productive at the workplace. It also hosts an incubation facility to encourage and support social entrepreneurs and innovation development that can aid the employability and productivity of persons with disabilities in the workforce.
Together with our SBNoD partners, Singtel has been supporting the RISE Mentorship Programme for tertiary students with disabilities by SG Enable, the national agency that promotes disability employment. We have fielded middle and top management members who volunteered to mentor students with various disabilities like vision, hearing and physical impairment and Autism Spectrum Disorder for the past three runs since February 2017. We also support SG Enable's annual internship programme for these students and placed them in various business units like IT, Finance, Networks and Consumer Operations.
Pathways to Employment
We launched 'Pathways to Employment' programme which was a first for Optus and ABCN in Adelaide, Brisbane, Melbourne, Perth and Sydney. This programme builds on our existing mentoring and employment programmes by Optus Retail employees to provide not only skills, but the opportunity to secure employment with Optus. The students learnt about the retail environment and interview skills and at the end of the programme, received an Optus Retail Certificate. Outstanding students were subsequently employed in casual roles at Optus 'yes' stores.
The Smith Family
Since 2010, Optus has been a proud partner of The Smith Family, which is an independent national children's charity creating opportunities for young Australians in need, particularly in education, for upward social mobility.
Staff Volunteerism
We encourage our people to take a more active role in their communities, as individuals or as a team. They are given one day of paid voluntary service leave per year to support their favourite charity or a community cause in Australia and Singapore. They actively lead and take part in community and environmental projects, general and skilled volunteering at both company-organised events and activities at individual and team levels, contributing tens of thousands of staff volunteering hours annually. These projects include:


This is our annual carnival organised for students of the 19 special education schools in Singapore. The event is planned by staff volunteers who man the games and food stalls and chaperone the students with special needs. Our 7th Singtel Carnival in 2019 involved 1,800 staff and SBNoD volunteers and was attended by 1,600 students and 600 teachers.
Singtel-Singapore Cancer Society Race Against Cancer
Singtel is the title sponsor of the annual Race Against Cancer. Singtel donates S$250,000 to the Singapore Cancer Society's Help the Children and Youth Programme annually. Our staff volunteers are also involved in packing the race kits for our employees who registered for the annual fundraising running event.
Singtel Group Future Makers
Our social innovation programme, Singtel Group Future Makers, supports charities, social entrepreneurs and social enterprises that leverage technological innovation to address social causes and scale their impact in the community. Find out more about Singtel Group Future Makers.
Better Together is Singtel Group's annual overseas volunteering programme where we work with our regional associates and partner vendors to support their local community programmes. For example, Singtel Group worked with Airtel & Bharti Foundation, to run educational programmes that contribute to the holistic development of children. The annual AIS-Singtel English Camp aims to help young Thai people to improve their competence in conversational English so as to secure better employment opportunities. Singtel collaborated with Globe Telecom to volunteer and contribute to local community and environment programmes.