We are committed to understanding, managing and minimising our environmental footprint across our value chain, including our business operations, suppliers and customers. We will achieve this by delivering on our four strategic pillars of:
• Addressing climate change
• Integrating the environment agenda into our value chain
• Engaging our stakeholders on environmental issues
• Product and resource responsibility
As we expand our network and infrastructure to cater to the growing demand for our services, we need to ensure that we operate as efficiently as possible to minimise our impact on the environment. We have reviewed our environmental activities across the business and aligned our approach across Singapore and Australia. We have also updated the Singtel Group environmental policy, established a new strategy and revised our environmental governance structure.

Singtel Group Environment Policy
Our Business
The Singtel Group is Asia's leading communications group. We provide a diverse range of services including fixed, mobile, data, internet, TV and infocomms technology as well as digital solutions. Our products and services enable our customers, consumers or businesses to minimise their impact on the environment, such as reducing travel through the use of telecommunications services, or enterprise solutions which enable businesses to operate more efficiently.
Our Commitment
The Singtel Group is committed to understanding, managing and minimising the environmental impact of our business operations, products and supply chain. To achieve this, we will:
- Identify, assess and actively manage all material aspects of our environmental impact;
- Continually improve the environmental performance and minimise impact through resource and energy management, pollution prevention and biodiversity protection (where relevant);
- Manage our carbon footprint and energy consumption through use of technology, process improvements, energy optimisation and other efficiency measures; and
- Adopt plans and measures throughout our operations and infrastructure to adapt to and build resilience to the longer term risks of climate change
We recognise that actively engaging and addressing all relevant stakeholders is critical to our success in achieving this commitment. We will:
- Establish clear roles and responsibilities, and set objectives and targets within the business to monitor and measure our environmental peformance
- Actively monitor and comply with all environmental legislative and regulatory requirements;
- Promote a culture in which all employees share our commitment in achieving our environmental objectives and targets;
- Promote and review environmental sustainability and performance in our supply chain with our major vendors and contract partners, to improve their performance, and where relevant, ensure compliance to our policies; and
- Monitor and report on our environmental progress and performance in our annual sustainability report
We are committed to reducing our operation's contribution to climate change and have invested in 'greening' our networks and in alternative energy.
To address climate change, we focus on two key areas. Firstly, we look at mitigating our greenhouse gas emissions by improving our energy performance and efficiency. We focus on reducing electricity and fuel use in our business operations which represents 95% of our total carbon emissions.
Secondly, we recognise the importance of building and maintaining a resilient network in the face of climate change. Hence, we undertook a detailed climate change adaptation analysis across the Singtel Group in FY2016.
Today, smart technology and services such as cloud computing and audio or video conferencing provide opportunities to reduce emissions for our business and the wider community. We are investing in innovating solutions to reduce our energy and emissions across our network, exchanges, mobile business and office facilities.
Green networks
We are upgrading our base stations to 'green' ones that consume up to 50 per cent less energy compared to previous models while supporting higher traffic capacity and multiple technologies like 3G and LTE, depending on the configuration. GSMA's MEE Benchmarking result graded Singtel as one of the most optimum operators in terms of energy utilisation when looking at base station power against network traffic performance.
Renewable energy sources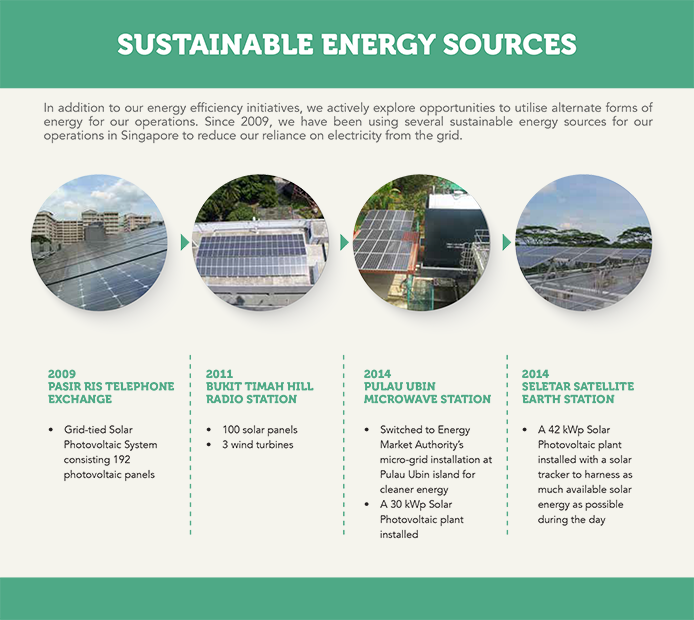 Green data centres and office buildings
Our data centre in Singapore, the Kim Chuan Telecommunications Centre 2 (KCTC-2), was awarded the Building and Construction Authority's (BCA) Green Mark Gold, under which a green building rating is rated based on criteria such as energy and water efficiency, as well as environmental protection and innovation. In 2011, KCTC-2 achieved the SS564 certification, a new standard that provides the framework and methodology to measure the energy efficiency of data centres. The data centre is also built to Tier-4 specification which is the industry's most stringent data centre standards for reliability and service availability.
Our Singapore office at 1 Serangoon North was awarded the Green MarkAward (Platinum) by the Building and Construction Authority in March 2017, under which a building is rated based oncriteria such as energy and water efficiencyas well as environmental protection.
Energy use
Managing energy use is a key aspect of our environmental management. We monitor our energy consumption and identify opportunities to reduce it by implementing various energy management measures such as conducting energy audits, reconfiguring our chiller systems and reducing their operation hours, and optimising the air-conditioning temperature.
View Optus' energy efficiency programmes
Water use
Our operations use relatively lesser water compared to other industries and water is not a material issue from our Group-wide materiality assessemnt. However, we recognise that water is becoming an increasingly important issue, particularly in water scarce countries like Singapore. We monitor and aim to reduce water use in our building operations.
Total water consumption at Singtel consists of potable and NEWater. NEWater is high-grade reclaimed water used mainly for operational activities such as cooling. Today, NEWater constitutes about 14% of Singtel total water use.
Valuing the importance of this scarce resource, we have taken steps to minimise our water consumption. We have obtained certification under Singapore Public Utilities Board's (PUB) Water Efficient Building (WEB) programme for all our premises and also put in place processes for early detection of water leakages.

Water efficiency measures are also implemented across our Optus offices, particularly at our Macquarie Park headquarters where a 1.6 million litre rainwater harvesting system is installed. Optus corporate offices now use fan-cooled drinking water units instead of water-cooled coolers, which use an extra 18 litres of water per day. This change has helped us conserve around 1 million litres of water a year nationally.
We report our energy and water performance in our annual Sustainability Reports.
Waste reduction is important to our environmental efforts and we are committed to reducing, reusing and recycling wherever possible.
The responsible disposal of waste materials generated within our operations is a key focus of our environmental management programme. We ensure that all hazardous waste materials are handled and disposed of responsibly by licensed waste management companies.
Since September 2012, we have switched to Forest Stewardship Council or FSC-certified photocopying paper at our offices in Singapore. FSC certification ensures our compliance with the highest social and environmental standards on the market where we source for and use paper.
Our corporate offices in Australia and Singapore recycle all paper. We also have recycling points at our properties to allow our people to recycle paper, plastic and metal waste.
We encourage our customers to recycle their mobile phones. In Australia, Optus supports the Mobile Muster Programme and hosts collection points in all retails stores and inserts reply paid recycling satchels into Optus prepaid mobile bundles. The recycling service is free, allowing customers to post back their old mobiles for recycling.
In Singapore, we provide customers, employees and the general public the means to recycle their electronic waste with us through our joint E-waste recycling programme with SingPost.
We also encourage our customers in Australia and Singapore to go paperless by promoting free e-billing services.
Our key area of external stakeholder engagement on environmental issues has been in the area of climate change adaptation. Through our internal adaptation exercises and the work of The Australian Business Roundtable for Disaster Resilience and Safer Communities, we have actively engaged and advocated the issues with government as well as environment and climate related agencies in both Singapore and Australia.
In Australia, Optus and our customers and partners together support a range of environmental programmes, such as protecting Australia's endangered wildlife and their natural habitats for future generations to enjoy.
The Singtel Group is committed to ensuring that our people have opportunities to learn about environmental issues and volunteer in this space.
Little Eco StepS - Project LESS
In early 2011, we launched an annual environment campaign called Project LESS which aims to promote a culture of LESS - Little Eco StepS - among our people and customers to adopt simple green acts to care for our environment. We hope to reduce our carbon footprint by spreading the ethos that little acts can collectively make a big difference.
Plant-A-Tree Day
In Singapore, Singtel works with the National Parks Board to organise our annual Plant-A-Tree Day for our people, taking them to our nature reserves to plant trees and learn more about conservation and making a difference to the environment. The first Plant-A-Tree Day was held in 2009.
Singtel says 'No' to shark's fin
Since March 2012, Singtel has officially taken shark's fin off the menu for our corporate events and dinners.