We are committed to understanding, managing and minimising our environmental impact across our value chain, including our business operations, suppliers and customers. We are guided by our Environmental Management System (EMS), the Group's Environment Policy and the Group's Environment Strategy to achieve 'The Smallest Footprint' on the environment. This approach also reflects our support towards the precautionary principle of the 'Rio Declaration on Environment' 1992.
Singtel Group Environment Policy

Our Business

The Singtel Group is Asia's leading communications group. We provide a diverse range of services including fixed, mobile, data, internet, TV and infocomms technology as well as digital solutions. Our products and services enable our customers, consumers or businesses to minimise their impact on the environment, such as reducing travel through the use of telecommunications services, or enterprise solutions which enable businesses to operate more efficiently.

Our Commitment

The Singtel Group is committed to understanding, managing and minimising the environmental impact of our business operations, products and supply chain. To achieve this, we will:

Identify, assess and actively manage all material aspects of our environmental impact;


Continually improve the environmental performance and minimise impact through resource and energy management, pollution prevention and biodiversity protection (where relevant);


Manage our carbon footprint and energy consumption through use of technology, process improvements, energy optimisation and other efficiency measures; and


Adopt plans and measures throughout our operations and infrastructure to adapt to and build resilience to the longer term risks of climate change.

We recognise that actively engaging and addressing all relevant stakeholders is critical to our success in achieving this commitment. We will:

Establish clear roles and responsibilities, and set objectives and targets within the business to monitor and measure our environmental performance;


Actively monitor and comply with all environmental legislative and regulatory requirements;


Promote a culture in which all employees share our commitment in achieving our environmental objectives and targets;


Promote and review environmental sustainability and performance in our supply chain with our major vendors and contract partners, to improve their performance, and where relevant, ensure compliance to our policies; and


Monitor and report on our environmental progress and performance in our annual sustainability report.
Singtel Group Environment Strategy


The Singtel Group Environment Strategy is focused on:
Climate Change and Carbon

Product Stewardship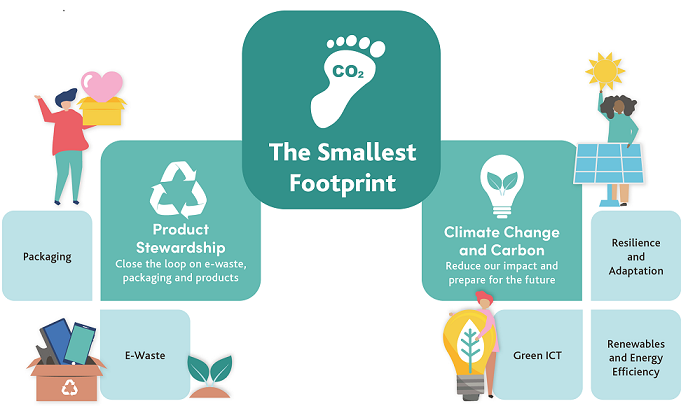 SBTi

The Singtel Group became the first company in Asia excluding Japan to have our carbon reduction targets approved by the Science Based Targets initiative (SBTi) in October 2017. SBTi is a collaborative effort between CDP, World Resources Institute (WRI), World Wide Fund for Nature (WWF) and the United Nations Global Compact (UNGC) and aims to assist businesses to align with the Paris COP21 climate deal to keep global warming below 2°C.
The Singtel Group aims to cut our absolute Scope 1 and 2 direct and indirect carbon emissions across our Singapore and Australian operations by 42% from 2015 base year by 2030. This is after factoring in further organic business growth. We will also work with our suppliers to reduce Scope 3 third-party emissions by 30% over the same period.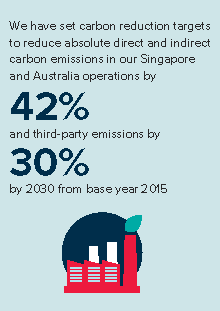 TCFD

We were one of the first companies globally to endorse the climate risk reporting framework recommended by the G20 Financial Stability Board's Task Force on Climate-related Financial Disclosures, or TCFD in June 2017. The TCFD recommendations have provided further direction to our climate strategy, particularly on climate resilience. We will enhance our disclosures of climate related financial and risk information, and work progressively towards this reporting framework.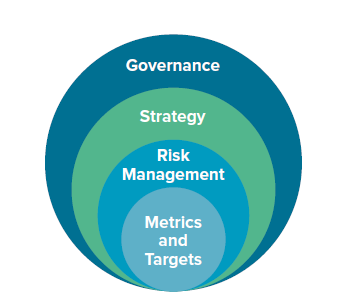 We endorsed the TCFD recommended framework in mid-2017 and have made progress towards its adoption. The topic of climate risks has since been embedded in our updated corporate risk register and reviewed at various levels of management and the Board with mid to long-term targets.
In 2018, we began our engagement with various parts of the business to identify key indicators and business drivers which may have a direct or indirect financial impact from the long-term effects of climate change. We summarise what some of these climate-related financial risks and opportunities may be, organised by physical, transitional or liability risks that have an impact on Singtel Group's income and balance sheet performance in the long run.
We have adopted a staged approach starting with our operations in Australia as the country is more exposed to climate risks and disasters compared toSingapore. We can then iterate the learnings for our Singapore operations. In 2019, we issued a Request for Information calling for external risks modelling experts to partner us on our TCFD journey.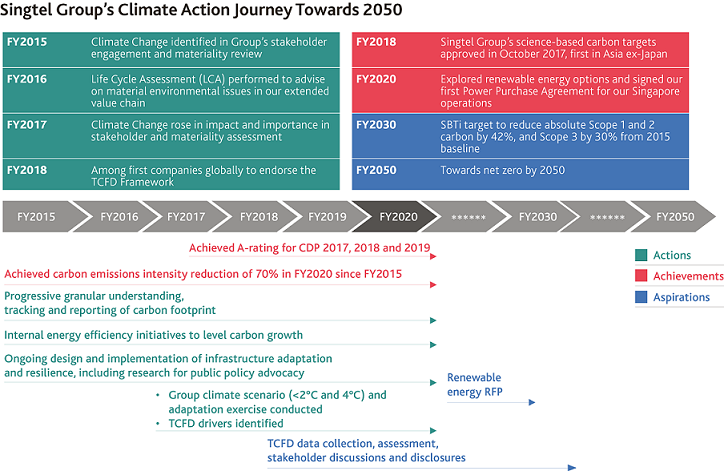 We are committed to reducing our operation's contribution to climate change and prepare for the future. We are investing in solutions to reduce our energy and emissions across our network, exchanges, mobile base stations and office facilities as well as in alternative energy.
To address climate change and carbon, we focus on three key areas:

a) Renewables and Energy Efficiency
b) Resilience and Adaptation
c) Green ICT
a) Renewables and Energy Efficiency
We look at mitigating our greenhouse gas emissions by improving our energy performance and efficiency. Managing energy use is a key aspect of our carbon management. We focus on reducing electricity and fuel use in our business operations which represents 95% of our total carbon emissions.

Over the years, we have been upgrading our mobile networks and converting to energy efficient base stations in Singapore and Australia. Close to 100% of our base stations in Singapore are 'green' base stations.

Our Singapore office at 1 Serangoon North was awarded the Green Mark Award (Platinum) by the Building and Construction Authority in March 2017, under which a building is rated based on criteria such as energy and water efficiency as well as environmental protection.
NCS Hub was awarded the Green Mark Award (Platinum) by the Building and Construction Authority in 2020. The award rates a building on environmental criteria such as energy and water efficiency, and environmental protection. Key building conservation features:
• Chiller plant with <0.60 kW/tonne efficiency
• 24% improvement in air distribution
• Energy saving T5 lightings/LEDs atoffices and common areas
• LEDs with motion and lux sensors inwashrooms
• PUB water efficient fittings
We monitor our energy consumption and identify opportunities targeting energy reduction across key energy intensive touchpoints of our operations, such as network infrastructure, data centres, satellite earth stations and office buildings.

More information on our programmes can be found in the Singtel Group Sustainability Reports.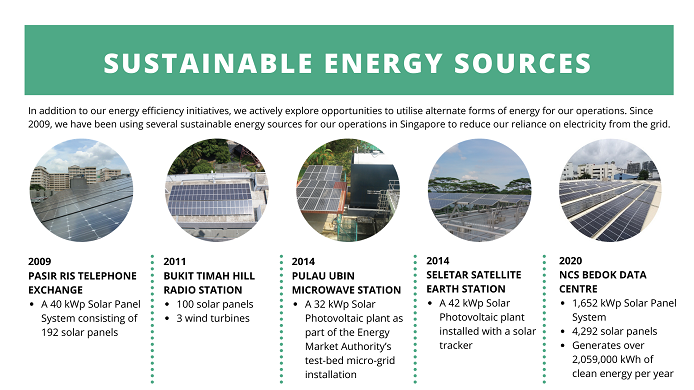 b) Resilience and Adaptation
We recognise the importance of building and maintaining a resilient network in the face of climate change. Hence, in FY2016, we conducted a formal climate adaptation and resilience study to understand the various models and assumptions of climate change patterns for our Singapore and Australian operations. This exercise helped us to identify the key climate change and impact scenarios, gaps and opportunities to improve resilience and adaptation of our networks to the long-term effects of climate change.

We also undertook an organisational Life Cycle Assessment (LCA) to get a deep understanding of our direct and indirect environmental and social impact. The assessment enabled us to focus on areas of greatest impact, which we embedded into our strategies to guide our approach and targets.
Climate Adaptation and Resilience Study
As part of the Australian Business Roundtable for Disaster Resilience and Safer Communities (ABR), we continue to work with businessesto build climate and disaster risk reduction knowledge and also influence decisions made by governments, businesses and communities. Through our active involvement in ABR, we help to shape the country's first National Disaster Risk Reduction Framework.
We also studied the future impacts of climate change on our Group's business. This has helped identify the climate risk areas most critical to us, and how we can build resilient infrastructure in the future to protect our network for our customers and the broader community.
Through a combination of internal consultation and climate modelling, the key network vulnerabilities and interconnection of impacts were documented. These have been used to understand the future impact of occurrences – such as changes in rainfall intensity and temperatures on our network – and to identify options for an adaptation action plan in response to these risks.
c) Green ICT
Data centres are a key component of our operations and we are committed to reducing the carbon footprint of data centres. Today, smart technology and services such as cloud computing and audio or videoconferencing provide opportunities to reduce emissions for our business and the wider community.
Our data centre, Kim Chuan Telecommunications Centre 2 (KCTC-2), in Singapore was awarded the Building and Construction Authority's Green Mark Gold, under which a green building rating is rated based on criteria such as energy and water efficiency, as well as environmental protection and innovation. KCTC-2 also achieved the SS564 certification, a standard that provides the framework and methodology to measure the energy efficiency of data centres. It is also built to Tier-4 specification which is the industry's most stringent data centre standards for reliability and service availability
Waste reduction is key to our environmental efforts and we are committed to reducing, reusing and recycling wherever possible.

Electronic and packaging wastes are the two main sources of waste generated from our operations and across our value chain. We focus on reducing, reusing and recycling our own waste, collaborating with partners and suppliers, and redesigning our product offerings to minimise packaging and waste.

The responsible disposal of waste materials generated within our operations is a key focus of our environmental management programme. We ensure that all hazardous waste materials are handled and disposed of responsibly by licensed waste management companies. Our corporate offices in Australia and Singapore recycle all paper. We also have recycling points at our properties to allow our people to recycle paper, plastic and metal waste.
a) E-Waste
We offer our customers a trade-in scheme so that end-of-contract phones can be reused. We also provide recycling facilities at our retail outlets for consumers to dispose of their end of-life products and accessories easily.

In Singapore, we launched the ReCYCLE programme in collaboration with SingPost on World Environment Day 2017. Through the programme, which is supported by the National Environment Agency (NEA), consumers can drop off their unwanted electronic items at our ReCYCLE bins at selected Singtel Shop, Singtel Exclusive Retailer, Post Offices and Lock+Store outlets. ReCYCLE envelopes are also available at all outlets for people to mail their mobile devices and accessories at their own convenience without the need for postage as it is waived by SingPost.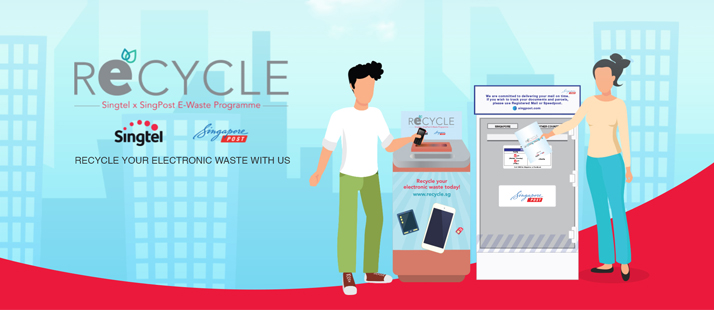 In Australia, Optus supports the Mobile Muster Programme and hosts collection points in all retails stores and inserts reply paid recycling satchels into Optus prepaid mobile bundles. The recycling service is free, allowing customers to post back their old mobiles for recycling.
b) Packaging Waste
We have been committed to the principles of the Australian Packaging Covenant Organisation (APCO) since 2007. In FY2020, we received an APCO Award for our sustainable packaging achievements and efforts in the telecommunications sector, making significant improvements in the areas of Consumer Engagement, Packaging Design, Packaging Material Efficiency and Business to Business Packaging, improving our points by 17 to 72. This is the third consecutive year we have been awarded by APCO as a high performing member.
We also updated and consolidated our Sustainable Packaging Strategy into ten targets for 2019-2021 and aligned to the National Packaging Waste targets to make all packaging 100% reusable,recyclable or compostable by 2025. As part of this journey, all foils,celloglaze, spot UV and finishes that make packaging unrecyclable, have been removed from our products. We have also included the FSC and recycling logos on the reverse side of our prepaid SIM packaging. Earlier, we made changes to our SIM card packaging in Australia which resulted in a savings of 50 tonnes of cardboard. Previously, our packaging contained welcome and instructions that customers did not need as they had their SIM inserted at the stores. By removing this unnecessary packaging, we are helping the environment without compromising on customer service and expectations.
a) Water Use
Our operations use relatively less water compared to other industries and water is not a material issue from our Group-wide materiality assessment. However, we recognise that water is important particularly in water scarce countries like Singapore.

We monitor and aim to reduce water use in our building operations. We have obtained certification under Singapore Public Utilities Board's (PUB) Water Efficient Building (WEB) programme for all our premises and also put in place processes for early detection of water leakages. Total water consumption at Singtel consists of potable and NEWater. NEWater is high-grade reclaimed water used mainly for operational activities such as cooling. Today, NEWater constitutes about 15% of Singtel total water use.

Water efficiency measures are also implemented across our Optus offices, particularly at our Macquarie Park headquarters where a 1.6 million litre rainwater harvesting system is installed. Optus corporate offices now use fan-cooled drinking water units instead of water-cooled coolers, which use an extra 18 litres of water per day. This change has helped us conserve around 1 million litres of water a year nationally.
b) Paper Use
Since September 2012, we have switched to Forest Stewardship Council or FSC-certified photocopying paper at our offices in Singapore. FSC certification ensures our compliance with the highest social and environmental standards on the market where we source for and use paper.

We also encourage our customers in Australia and Singapore to go paperless by promoting free e-billing services.

a) Little Eco StepS - Project LESS
Since 2011, we have been running an annual environment campaign called Project LESS which aims to promote a culture of LESS – Little Eco StepS – among our staff to raise awareness while engaging them to play a part in conserving the environment and protecting our planet. We hope to reduce our carbon footprint by spreading the ethos that little acts can collectively make a big difference. We organise talks by subject matter experts on environmental issues and workshops and eco-trips to places of environmental interest for our people.

The Singtel Group is committed to ensuring that our people have opportunities to learn about environmental issues and volunteer in this space.

b) 10 years of Plant-A-Tree Day
Singtel worked with the National Parks Board to organise our annual Plant-A-Tree Day for our staff, taking them to our nature reserves to plant trees and learn more about conservation and making a difference to the environment. On 17 April 2018, we celebrated 10th anniversary of Plant-A-Tree Day. In the last decade, Singtel has planted 1,205 native trees throughout Singapore in areas such as the Central Catchment Nature Reserve, Kranji Marshes and Coney Island involving 2,320 staff volunteers and 85 students from APSN Tanglin School, one of our Singtel Touching Lives Fund beneficiaries. We donated $331,000 to the Garden City Fund.

c) Singtel says 'No' to shark's fin
Since March 2012, Singtel has officially taken shark's fin off the menu for our corporate events and dinners.