Marketplace and Customers
Singtel is committed to increasing stakeholder value by being a responsible market leader and offering innovative ICT services and care for our customers that help improve their lives and the way they run their businesses. Our strategy is underpinned by delivering an unparalleled customer experience, developing responsible and innovative products and services, and ensuring that our principles of sustainability and responsible business practices are adopted in our supply chain.
In this fast-paced and competitive industry, customer choice and loyalty are defined by the quality of service and care, as well as the range of innovative services and value offered by the operators. The Singtel Group understands these dynamics and aims to meet the increasing expectations of our customers.
We strive to serve our customers in the best way possible by delivering a truly differentiated customer experience. We recognise that a superior experience is defined by the quality of service and care, as well as the range of innovative services and value we offer to our customers.

'Customer Focus' is one of Singtel Group's five core values. We constantly work towards raising the bar of customer satisfaction by focusing on giving the best value and experience to our customers, deepening our engagement and relationship with them as a pivotal part of our customer experience strategy.

PRODUCT AND SERVICE QUALITY
The Singtel Group is committed to offering our customers a great network and service experience. Hence, we continuously enhance the reach, reliability and quality of our networks in Singapore and Australia. We believe that the advancement in telecommunications technology will be crucial in achieving a number of the UN Sustainable Development Goals, such as the development of Sustainable Cities and Communities as well as Industry, Innovation and Infrastructure.
Enhancing Network Reliability
Ensuring consistency in network and service performance is critical. We continue to invest in new base stations and towers, upgrade our technologies and increase our user capacity. To find out more about the most updated figures of our capital investment, please refer to our annual sustainabiltiy report.
Ensuring Quality Standards
In Singapore, Singtel adheres to the Quality of Service standards set by IMDA for the services that we offer. The regulator publishes periodic performance reports on the various operators in Singapore covering broadband, mobile and fixed telephone services. We continue to meet or exceed the quality of service standards for service coverage, network availability, network latency, installation and fault repair time. These reports can be found at www.imda.gov.sg.

View tariff filing.

The Singtel Group innovates continuously and keeps abreast of rapid technology advancement and changing customer needs. We want to bring the latest and the best services and experience to our customers. This is done through driving innovation at both our core and digital businesses through partnerships, acquisitions and organic innovation.
We also believe that innovation and technology can be catalysts for social change. In 2016, we launched Singtel Furure Makers, our social innovation programmes across Singapore and Australia to build an ecosystem to attract and develop innovators and changemakers who can solve societal problems. Our programmes provide funding, mentoring, acceleration and incubation support for these social impact start-ups and entrepreneurs.

We have also added a regional focus by extending Future Makers to Indonesia, the Philippines and Thailand, where our associates Telkomsel, Globe, AIS participate in the programme to help support social entrepreneurs to address poverty related issues in their country. The programme allows the start-ups to scale their business and partnerships, and expand into new regional markets that Singtel Group operates. You can view the highlights of Singtel Group Future Makers here.
Click here to find out more about Singtel Future Makers.
The Group strives to reduce the negative impact of our products and services. Our responsibility encompasses governance and anti-corruption as well as safety, data privacy and fair communications for our stakeholders in the marketplace.

We view any potential risk to the health and safety of our customers very seriously. It is perceived that the telecommunications industry might pose a risk to the health and safety of people due to the emission of Electromagnetic Energy (EME) from mobile devices, base stations and tower infrastructure. This is despite the absence of conclusive evidence on adverse health effects caused by mobile phone usage.
We take measures to ensure strict compliance with both local and global standards. We also closely monitor research findings by key bodies such as World Health Organisation (WHO) on EME risks and their implications on relevant standards and regulations in our markets and the rest of the world. The WHO article can be found at http://www.who.int/mediacentre/factsheets/fs193/en/.
5G will be a huge enabling force in the coming years, transforming our way of life and creating more opportunities to benefit businesses and the community. The Singtel Group intends to be at the forefront of this revolution, bringing 5G to life across Singtel in Singapore, Optus in Australia, as well as our regional associates. To ensure that we remain current on new findings from the International Commission on Non-Ionizing Radiation Protection (ICNIRP) and international health agencies, we also participate in the GSMA 5G and Health committee as a mobile operator representative.
In Singapore, the Radiation Protection & Nuclear Science Department (RPNSD), an office of the National Environment Agency (NEA), is responsible for all matters relating to EME exposure. According to RPNSD, the levels of mobile phone radiation permitted in Singapore complies with the WHO's recommended International Commission on Non-Ionizing Radiation Protection (ICNIRP) standards and that radiation exposure from base stations is far lower than that from mobile phones. The ICNIRP Standards are adopted by many countries around the world and are considered best practice. Additional information from the Singapore Health and Sciences Authority can be found here.
Whenever there are concerns from the public or building owners, Singtel engages NEA to conduct measurements near the mobile base stations, antenna locations and the locations of concern. The findings are then shared with the stakeholders who raised the concern. We submit to IMDA a monthly report on newly commissioned base stations to ensure that their Effective Isotropic Radiated Power or transmission power is within its guideline. The mobile phone handsets sold at our Singtel Shops also comply with regulatory guidelines set out by RPNSD and IMDA.
In Australia, we design and deploy our network that complies with the relevant Federal Government mandated standards for exposure to EME. These standards are formulated and regularly reviewed by the Australian Radiation Protection and Nuclear Safety Agency (ARPANSA). ARPANSA, part of the Commonwealth Department of Health. ARPANSA's Standards are based upon those recommended by the ICNIRP. We also conduct audits of base stations and undertake predictive EME modelling and testing to ensure compliance at our sites with the Australian standards. More information about our efforts and EME can be found here.

CUSTOMER DATA PRIVACY AND PROTECTION
Data privacy and protection is of paramount importance to our consumer and enterprise customers. Due to the nature of our business and industry, we hold a lot of customer information and we strive to keep their information secure. Our policy is to be open and transparent about how we collect, use, and disclose our customers' personal data. Click here to read more about Singtel's Data Protection Policy.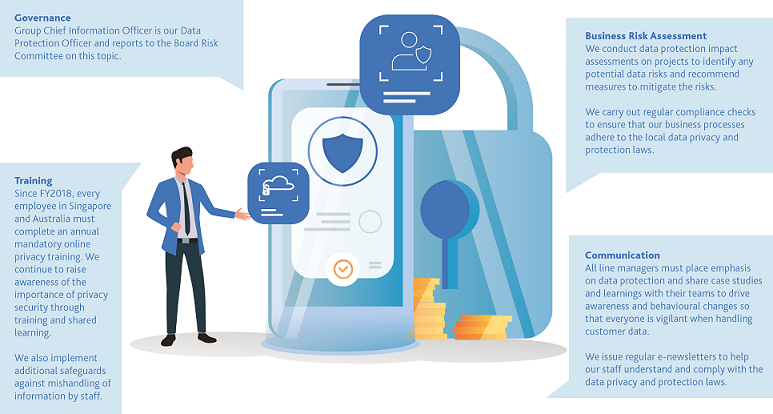 We respect our customers' privacy and they are empowered with the choice to unsubscribe to all promotional messages. In compliance with the Spam Control Act in Singapore, the promotional messages sent by us are labeled as advertisements and we maintain an active list of customers who have indicated their wish to be unsubscribed from all our mailing lists. In Australia, we meet our obligations under the Privacy Act and Privacy Provisions of the Telecommunications Act, as well as the Spam Act. We also abide by the Do Not Call Register, which protects consumers from unsolicited marketing calls. We will continue to introduce measures to protect our customer privacy, for example, through compliance checks on our daily operations.
Data privacy protection is also a key focus area in our supply chain. We continue to conduct awareness sessions for external partners along with compliance checks on our suppliers and outsourced vendors in offshore locations providing customer care and IT support. We will continue to refine internal guidelines and drive awareness of the importance of privacy protection across the Group.
We have also invested heavily in global capabilities, partnerships and technology to provide a suite of cyber security solutions, and have established cyber security operation centres to support our global enterprise customers and help them protect their own data and customer data.

FAIR MARKETING COMMUNICATIONS
We recognise that fair marketing practices and being transparent in the way we communicate can build trust and loyalty among our customers. To achieve this, we have incorporated a marketing code into the Singtel Code of Conduct. The marketing code sets out the requirements that Singtel organisations and representatives must follow to ensure that all marketing activities comply with various laws and guidelines such as the Singapore Code of Advertising Practice, IMDA Codes of Practice and Guidelines and PDPA. By incorporating these regulatory elements, our marketing code provides holistic guidance to fair, accurate, respectful, transparent and professional advertisements and marketing materials as well as our marketing conduct. All new marketing hires must undergo this online training by their second week with the company. Failure to comply with our Code is a serious matter that can lead to disciplinary action, up to and including termination of employment or dismissal of the relevant Singtel representative, as well as civil action and penalty.

The Singtel Group, with our significant workforce size operating across different geographies around the world and multiple partnerships across the value chain, has multiple points which could render us vulnerable to corruption. We continue to manage the Group's exposure to corruption risks by applying and emphasising good corporate governance, business ethics and transparency while applying robust internal controls in business processes as our core approach. Our Singtel Group Anti-Bribery and Corruption Policy reinforces our longstanding zero tolerance approach to bribery and corruption of any form that is set out in our Code of Conduct. All Singtel Board of Directors, employees and third parties who represent us such as suppliers, contractors and business partners, must comply with this policy at all times. They must also comply with all relevant laws like the UK Bribery Act in countries where we conduct business.

SUSTAINABLE SUPPLY CHAIN MANAGEMENT
The Singtel Group is committed to collaborating with transparent, ethical, and environmentally and socially responsible suppliers. We carefully select our suppliers to help us provide our customers with the best quality products and services. Our preference is to procure from suppliers who are or working towards being responsible and sustainable companies. All suppliers are required to abide by the Singtel Group Supplier Code of Conduct.
We contract local and global vendors for our different lines of businesses. On average, we contracted around 6,500 suppliers worldwide. For our mobile services, which contribute the bulk of the Group's revenue, we work mainly with network infrastructure and equipment suppliers as well as handset and device manufacturers. Similarly, for fixed broadband and pay TV services, our key suppliers include modem, router and other related-equipment such as set-top box. Our main suppliers for digital and entertainment services are advertising agencies and content providers.