The Singtel Group employs over 24,000 people worldwide, with about 12,100 in Singapore and 7,600 in Australia. Our people are integral to what Singtel stands for and everything we do. Our ambition is to be an employer that people are proud to work for. We achieve this through the care and equal opportunities we provide, in a workplace and culture that is diverse, inclusive and collaborative. We want to be aacompany where our employees can do great work. Hence we aim to create a diverse, welcoming culture that allows people to add value and grow as individuals in a safe working environment.
The Singtel Group's People Strategy is focused on:
Diversity
Talent Attraction and Retention
Training and Education
Employee Health and Safety
Singtel strives to provide challenges and opportunities for our people and we foster a work environment that supports both professional and personal development, teamwork and collaboration. We are committed to developing and maintaining an inclusive and collaborative workplace and culture where individual differences are recognised and valued.

We believe that a diverse, inclusive and collaborative work culture as well as an environment that values differences to be successful in achieving our Future of Work vision. Diversity provides different perspectives and fosters innovative thinking to solve business challenges

Our Diversity and Inclusion framework guides us towards this aspiration.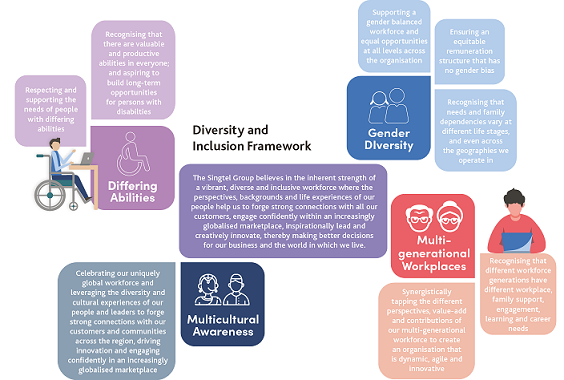 The Singtel Group Code of Conduct for employees governs how we conduct ourselves in a multicultural environment and treat fellow colleagues with respect and consideration at all times, respecting the basic tenets of human rights. These principles are applied in our interactions, internally and externally, with our people, community and marketplace.

Gender Diversity
As a leading employer, we strive to support a gender-balanced workforce and offer equal opportunities in all aspects of employment. We continue to focus on increasing the representation of women in senior leadership and key technical roles.
We established Gender Diversity Councils in Singapore and Australia with senior leadership representation to accelerate our progress towards gender balance. The councils equip up-and-coming female leaders with skills, networks and experiences, as well as cultivates an environment that empowers women to progress as influential leaders in communities, sectors and areas of interest.
We became a Workplace Gender Equality Agency (WGEA) Pay Equity Ambassador, committing to the pay equity pledge topromote and improve gender equality in Australia. This is in addition to four other key areas in leadership education and capability, recruitment, and return-to-work practices. Our Women in Leadership Series is designed to build a durable pipeline of female talent, increase awareness and advocacy of equity goals across the Group, and provide women with networking, coaching and mentoring opportunities. Traditionally, women in the ICT sector have been under represented. Through our partnership with the Australian programme, Females in IT and Telecoms (FITT), we give opportunity for our Optus female talents to be mentored by peers in the industry, and receive coaching support from a pool of internal and external coaches in leadership and career development.
Multigenerational Workplace

We value the experience, perspectives and wisdom that our silver talents bring to the company.

In 2010, we signed a Memorandum of Understanding with the Union of Telecoms Employees of Singapore (UTES) to offer re-employment opportunities to all employees approaching the retirement age of 62. That was ahead of the legislation in 2012 that required companies in Singapore to offer re-employment to their employees who reach the statutory retirement age of 62.


In addition, to support employees across all generations to stay relevant and be resilient to changes happening in this rapidly evolving industry, we actively promote the SkillsFuture for Digital Workplace (SFDW) programmes to raise the digital literacy of our workforce.
Multicultural Awareness
With over 24,000 employees covering about different nationalities across our global business operations, cultural diversity is indeed part of our DNA. We continue to organise regular cultural days and fairs at our Optus campus in Sydney. Through staff mentoring in the Australian Business and Community Network, our people also build cultural appreciation for the many migrant cultures in Australia. We celebrate the festivals of all the major races in Singapore.

Differing Abilities
We value the inclusion of persons with differing abilities in our company, in line with our aim to build an inclusive workplace and society. In Singapore, we continue to work closely with national agency SG Enable on training, internship, mentorship and employment of persons with disabilities, who also form a critical talent pipeline given the labour crunch.

As one of the founding members, Singtel participates actively in the Singapore Business Network on DisAbility (SBNoD), set up in 2015. The network meets regularly to share expertise, experiences and resources to help advance the equitable inclusion of persons with disabilities in all aspects of business. Singtel, together with other SBNoD companies, has been supporting SG Enable's 12-week RISE Mentorship Programme since its launch in 2017. Singtel has fielded top and middle management members as mentors for tertiary students with various forms of disabilities.
In Australia, we worked with the Australian Network on Disability to introduce an external mentoring programme that involved senior Optus leaders mentoring job seekers with disabilities.
Investing in our people is critical to our success. We manage our human capital investment by attracting and nurturing our talent, as well as their professional growth and personal well-being during their career with us. We provide an annual performance and career development review for all our employees across the different levels the organisation, and emphasise the importance of regular performance conversations between leaders and their team members. We believe that such continuous dialogues can help to clarify expectations and provide timely feedback on employee performance, which is beneficial for individual growth and career advancement, as well as achieving overall business objectives collectively.

As part of Singtel's digitisation efforts, we embarked on our workforce transformation journey to equip our employees with relevant skills and redesigning our office premises. To address emerging industry needs, we have set up a Future of Work team to drive digital initiatives to support our strategy roadmap of Work, Workforce and Workplace, such as Robotics Process Automation, Micro-Learning On-the-Go, AR and VR learning, and People Analytics Master Planning.

Talent Attraction and Retention
We believe that developing and engaging young talent are key to building internal capabilities in this global war for talent. Today, we have a robust young talent pool, comprising interns, cadets, apprentices, scholars and management associates. We develop our young talent pipeline through scholarships, cadetships and career coaching support. We also continue to foster career growth of our staff through training and leadership programmes. To support Australia's vulnerable communities including Indigenous Australians whileenhancing our talent pipeline, we partnered CareerTrackers, a national non-profitorganisation that supports the long-term career aspirations of Aboriginal and Torres Strait Islander university students. It links employers with students to prepare them for success at university and their chosen profession in their respective communities.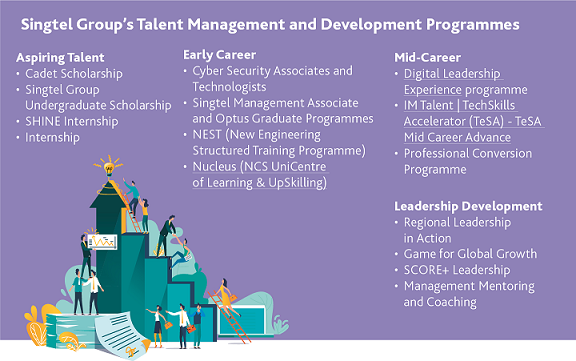 Career growth opportunities, recognition, reward and work satisfaction are important for employee retention. Therefore, our rewards and recognition framework aims to retain, motivate and align the talent needed to grow and sustain our Group's market leadership position. We regularly review our remuneration policies to ensure competitiveness and alignment with the marketplace and our internal reward strategies. Our competitive remuneration packages include a basic pay structure based on job roles and functions along with performance-based incentives. We also recognise and reward according to individual and team performance, and their embodiment of our core values. Our compensation model also builds in more value for risk-taking, innovation and entrepreneurial spirit.


Training and Education
With the rapid technological and market changes in our industry, it is vital for our employees to keep themselves abreast of the latest industry developments and be future-ready. We offer our people a rich and diverse range of training and educational programmes, framed within our four key learning pillars: Compliance, Company, Business and Future. These programmes focus on personal effectiveness and leadership, as well as technical and functional areas that support our strategic priorities and business needs, such as cloud services, analytics, cyber security and smart cities.
We launched #CURIOUS, our group-wide digital learning platform that features more than 100,000 curated courses and videos covering topics from technology to leadership.#CURIOUS complements classroom sessions, certification courses and on-the-job training. It helps employees to accelerate development of new competencies in analytics, automation and design thinking that support our businessneeds and strategic priorities.

One of our popular learning events is the annual Singtel Group Learning Fiesta, where all employees can learn from well-known speakers, new business showcases and short courses. The Learning Fiesta started in Singapore, but has since been extended to our staff in Australia, China, Hong Kong, Israel, Malaysia, Philippines and the US.

Besides in-house training and education, we provide financial support and paid time-off for our people to receive formal qualifications including professional certifications, bachelor and masters degrees. In 2016, Singtel introduced two extra days of Skills Advancement Leave each year for staff to attend courses approved under the Singapore government's SkillsFuture initiative, to promote skills upgrading and lifelong learning.
Singtel is committed to providing a safe and healthy work environment conducive to staff wellness and work-life integration. We believe that a healthy and energetic workforce is the pillar supporting the company's sustainable growth and performance.
Singtel Group Health, Safety and Security (HSS) Policy

The Singtel Group is committed to providing a healthy, safe and secure work environment for employees, customers, business partners and visitors. Every employee has a personal responsibility to support this commitment. To achieve this, we will:


Understand and comply with all applicable HSS laws, regulations, guidelines, standards and procedures
Provide a safe, secure and supportive work environment as well as programmes that support well-being and healthy living. All people leaders to role model the right behaviours and implement safe work practices
Establish responsibilities, accountabilities, performance targets; to achieve zero incidents, in a safe and secure environment
Educate our employees by providing information, instruction, training and supervision
Identify, assess and eliminate workplace, health, safety and security related hazards and risks
Report and investigate HSS incidents, hazards and risks and implement corrective and preventive measures promptly
Provide resources to achieve industry standards, to gain the confidence of all stakeholders and enable continuous improvement for Health, Safety and Security
Promote a culture in which all employees understand their HSS obligations and share our commitment to achieve the adopted standard for workplace health, safety and security best practices
Health and Safety
It is our responsibility to provide a safe working environment, which is set out in our Health, Safety and Security policy statement. This policy supports the Workplace Safety and Health (WSH) Act in Singapore that promotes strong safety culture at the workplace.

We provide a safe work environment for our people and actively promote awareness on workplace occupational health and safety. We aim to elevate the safety standards of our stakeholders including our contractors through our WSH workplan. In Singapore, we focus on four key areas: Building awareness; Compliance to all regulatory frameworks; Enforcement and reliability checks; and Resource and training of operational staff and key contractors to raise WSH standards and capabilities.
Singtel is bizSAFE Star certified and our WSH management system is certified to the Singapore Standard SS506 and OHSAS 18001. At Optus, we have a Contractor Management System which enables online incident reporting by our contractors, helping us to be better informed so we that can better prevent and manage further issues. All our Field Operations employees must attend mandatory WSH training that will enable them to perform their assigned roles safely and effectively. We continue to drive awareness among our people via WSH Forum at the annual Learning Fiesta, WSH Day campaign and roadshows.
Our Property Department works closely with the Managing Agent to conduct regular in-building inspections – illumination, noise, humidity, temperature, air quality, dust, cleanliness, safety and fire hazards etc. to ensure a safe, healthy and conducive workplace and environment.
Well-being
We offer a variety of benefits to help our workforce stay healthy and manage both work and family demands. This includes insurance and medical coverage, free health screenings and disease management programmes to our people and flexible benefit dollars which is an annual cash payment catered to meet various lifestyle needs.

The Group offers family-friendly policies such as flexible work schedules, telecommuting and various forms of family leave arrangements and on-site childcare facilities. Health clubs and gymnasiums are available on-site, along with staff cafeterias that provide a diverse range of healthy dietary options.

Our Employee Assistance Programme offers services such as clinical counselling, work-life support (e.g. financial and legal support) and rapid response to provide effective assistance to employees for trauma management. We also have a Work Life Coaching programme where employees and their immediate family members may tap on counselling services offered by external consultants for professional support on a confidential basis.

The Singtel Recreation Club organises a variety of events to promote inclusivity and cohesion across Singtel's extensive workforce, ranging from exercise sessions, mass participation in marathons to nature walks. In Singapore, we have a Health and Wellness Committee that looks holistically and strategically at programmes to further entrench a culture of health and wellness. It comprises community and engagement representatives from various business units and the Singtel Recreation Club.
In Australia, we have implemented health programmes that protect and help our people thrive and be part of a great place to work:
Staff has access to a Health and Wellness portal, a one-stop guide which provides the latest in health trends, tips and resources to support an active lifestyle, upcoming events and talks, and opportunities to learn simple health tips to maintain a well-balanced diet.