Singtel Touching Lives Fund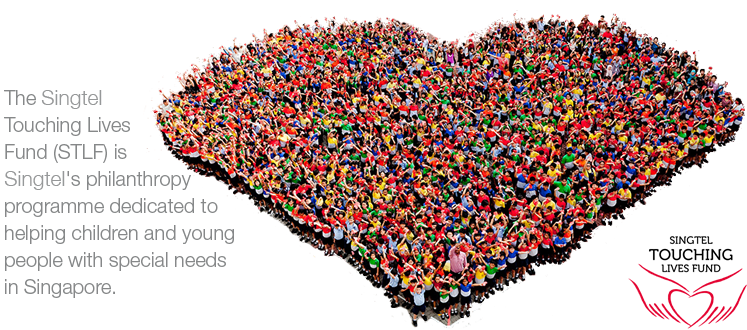 Singtel introduced Singtel Touching Lives Fund (STLF), our flagship corporate philanthropy programme in 2002 to support the education of children and youth with special needs in Singapore.
We engage our business associates and partners, employees and members of the public in raising funds for STLF. Singtel underwrites all fundraising costs so that every dollar donated to STLF goes toward our beneficiary organisations. Besides making an annual donation to STLF, Singtel matches every dollar donated by employees to STLF. This matching also applies to funds raised by employees or departments through organising their own fundraising activities for STLF.
DBS / POSB
Donate online via DBS iBanking or POSB iBanking.
Dash

Make a donation from your mobile phone anytime, anywhere.
Login to your Singtel Dash app and select "More" > "Charity" > Look for "Singtel Touching Lives Fund"
Cheque
Write a crossed cheque payable to 'Singtel Touching Lives Fund' and mail it to:
Singtel Group Sustainability
31 Exeter Road #19-00 Comcentre
Singapore 239732
Please include your name, identification and telephone number on the reverse side of the cheque if you would like to file the donation for tax purposes.
Donations to Singtel Touching Lives Fund qualify for tax deduction applicable for the year.
Auto-inclusion is arranged by Singtel's charity partner, the Community Chest of Singapore, if your name, identification/business registration number and telephone number are provided to us.
The APSN Chaoyang School provides special education for children, aged 7-12 years, with mild intellectual disability and autism. The aim of the programme is to provide education and training to enable these children to have the necessary skills, attitude and personality to lead normal, independent lives in adulthood.
The school offers after-school activities, where pupils are not only taught skills, but are also given the opportunity to practise their interaction skills.
The APSN Tanglin School provides special education for children with mild intellectual disability, aged 13-16 years. The special education programme aims to enable children to have the necessary skills, attitude and personality to lead normal and independent lives in adulthood.
Delta Senior school (DSS) is one of the two schools in Singapore that offers vocational certification programme for SPED students aged 17 to 21.Students who graduated from APSN secondary schools (Tanglin and Katong Schools) at age 16 years will proceed to DSS for vocational training. After this period, for those students who are able, they are then placed into open employment. For those who are not quite job-ready, they proceed on to the Centre for Adults, where they continue to receive training for job employment.
Cerebral Palsy Alliance Singapore School
The CPAS School serves students aged 7-18 years, diagnosed with cerebral palsy. Due to their condition, students often require specialised and intensive rehabilitation through therapy intervention. The CPAS School provides individual or group therapy sessions with speech therapists, occupational therapists and physiotherapists.

Eden School provides education and training to help children with moderate to severe autism aged 6 to 18 years old to acquire the necessary skills, attitude and personality to lead normal independent lives in adulthood.

MINDS Lee Kong Chian Gardens School
The MINDS Lee Kong Chian Gardens School provides a basic foundation in independence and employment skills to serve children aged 5 to 18 years with intellectual disabilities.
It aims to develop each child to his or her fullest potential with the long-term objective of enhancing the child's prospects of integrating into mainstream society.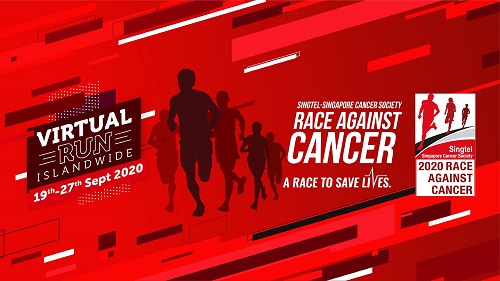 Singtel is the title sponsor of the Race Against Cancer since 2009. The company provides an annual grant of $250,000 to help children and youths whose lives are affected by cancer. These children and youth may be cancer patients or their parents are suffering from cancer.
These children and youth, between the ages of 7 and 24 years, are supported by the Singapore Cancer Society's Help the Children and Youth programme that provides the following:
Home tuition lessons
Annual Book Prizes
Youth camps
Family engagement activities
Education Financial Assistance Scheme
Singtel also provides in-kind donations towards organising the running event. In addition, we form a running contingent from various departments and recruit staff volunteers for the race every year.