Sustainability at Singtel
Creating and delivering sustainable value to our customers, shareholders 
and employees is fundamental to us. This requires us to embrace responsible products and services, ensure customer satisfaction, monitor our supply chain, be an employer of choice, manage our environmental footprint, and support and invest in community development.
We want to make a lasting positive impact on our stakeholders, leveraging
 our own resources and people and working closely with our strategic partners. At the same time, we acknowledge that our industry can create unintended consequences. The Group's sustainability strategy seeks to create shared value and mitigate the risks to the company, our stakeholders and the environment.
With these objectives in mind, our sustainability strategy is built on four pillars – Environment, People, Community, and Marketplace and Customers. These pillars form the structure of our sustainability priorities, allowing us to demonstrate a strong linkage between our corporate and sustainability strategies
A dedicated Group Sustainability function is responsible for managing sustainability throughout the Singtel Group, and is headed by a Vice President who reports 
to the Group Chief Human Resources Officer. The function works in collaboration with group strategy, group risk management and other business units such
 as procurement to oversee the development, execution and reporting of the Group's sustainability strategy. The Management Committee, comprising the 11 most senior executive members in the Singtel Group and chaired by the Group CEO, provides strategic direction to the sustainability function and approves 
the Group's sustainability strategy.
Sustainability is on the Board's agenda and the Group's sustainability strategy is presented to the Board annually. The Group CEO provides the Board with regular updates on various sustainability programmes, upcoming activities as well as global and local trends that have an impact on our sustainability strategy.
At the execution level, we have formulated working groups for Singapore, Australia and regional associates. Comprising representatives from business
 and support units, the working groups are actively involved in developing
 and implementing sustainability strategy and programmes in their respective countries. We bring the various working groups together to drive and collaborate on sustainability programmes in key markets, as well as sharing best practices across the Singtel Group of companies.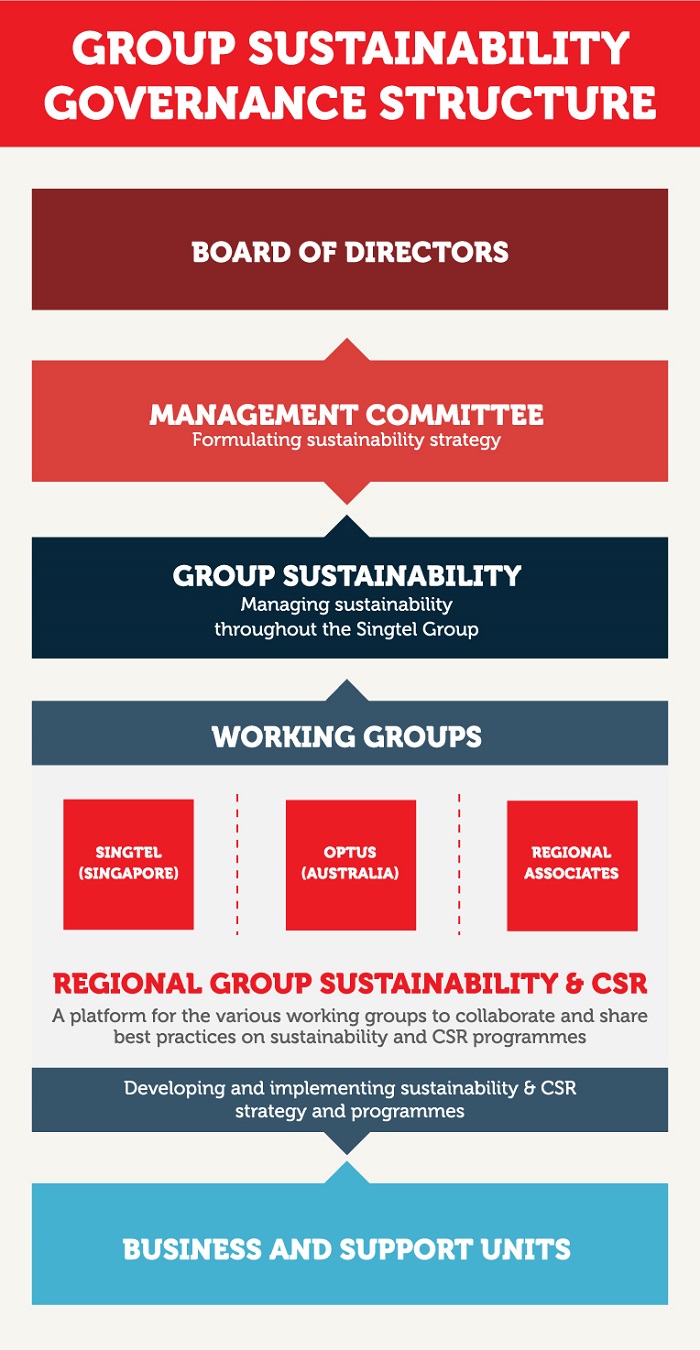 We manage the wide range of sustainability issues we encounter in the course of our business with our Sustainability policies and programmes. We seek to engage relevant stakeholders on a regular basis to help us identify these issues pertaining to Singtel's performance that they are most concerned with.
Singtel has been a signatory of the UN Global Compact since 2007 and is committed to upholding its 10 principles across the areas of human rights, labour, the environment and anti-corruption. We are also a management committee member of the Global Compact Network Singapore, a local chapter of the UN Global Compact that furthers the CSR movement in Singapore.
Visit the Optus' sustainability website
We seek to engage all relevant stakeholders in open two-way dialogue where possible and our interactions take place on a regular basis. In addition to the numerous engagement channels in place, we undertake a Materiality Review to assess the opinions of both internal and external stakeholders on the material topics that they are concerned with, which will help to set the direction of our sustainability strategy and programmes.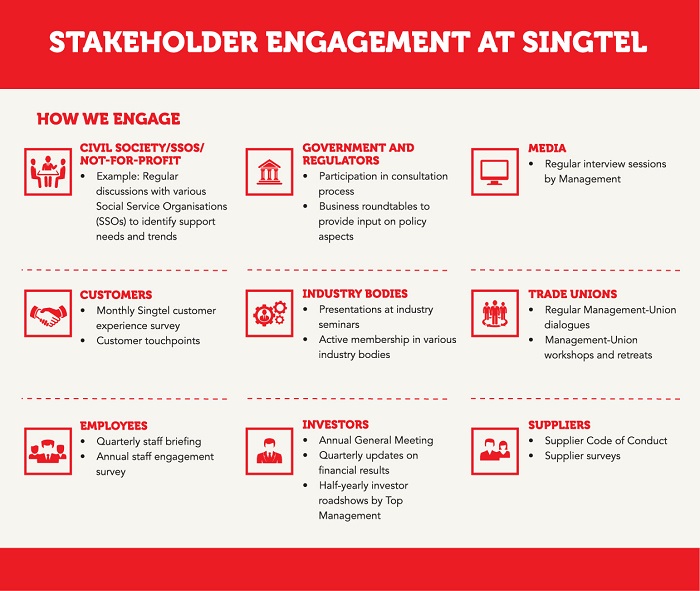 Following an extensive materiality asessment two years ago, we conducted a Group-wide exercise in FY2017 to review the relevance of our material topics, identify if there has been any shift in priorities among our stakeholders and examine any emerging areas of concern. The assessment covered our operations in Singapore and Australia. The associate and regional businesses, minority stakes and shell entities were not included in this exercise.
The methodology of the materiality assessment process is depicted in the diagram below. The material issues are prioritised based on:
- direct inputs from internal stakeholders (management and staff)
- direct inputs from external stakeholders through our stakeholder engagement exercise
- value and supply chain analysis
- benchmarking research on industry and global best practices