The Singtel Group is committed to being a responsible corporate citizen in all the markets where we operate, driving positive and sustainable change for our communities.
We want to enable the inclusion and well-being of people and help them realise their potential through our core competence in digital and infocomm technologies. It is our belief that we can drive positive and sustainable changes to disadvantaged communities, especially vulnerable children and youth, through the support of corporate and workplace giving, staff volunteering and leveraging our skills and ICT innovations.
Our programmes support children and people with special needs and disabilities in Singapore so that they can lead independent lives. The elderly on the other hand faces challenges in adapting to constant innovations in technology and we want to support them in this transition and narrow the digital generational divide.
Understanding such challenges allows us to be better positioned to assist these vulnerable and sometimes discriminated groups, focusing on their inclusion and well-being, education and employability, as well as cyber wellness and online safety.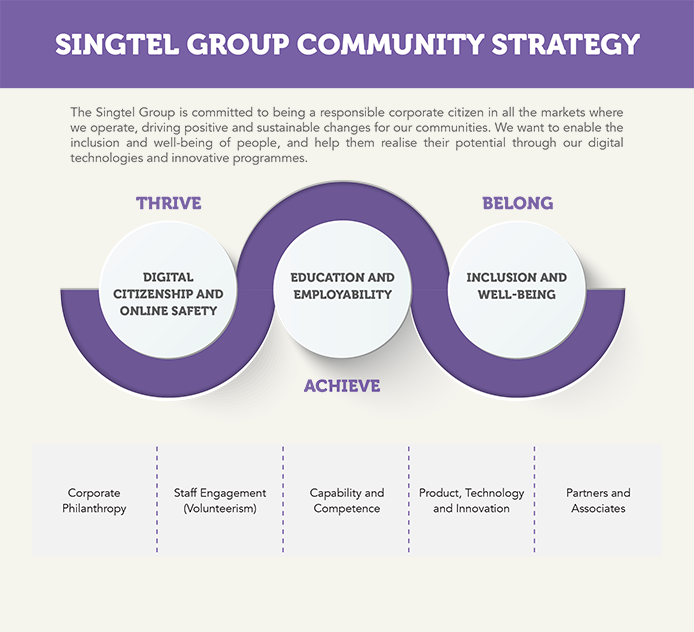 The Singtel Touching Lives Fund is our philanthropy programme that raises funds for charities helping children and youth with special needs in Singapore. Thanks to the collaborative efforts of Singtel and our business associates and partners, employees and members of the public, the Fund has raised over S$33 million since its launch in 2002. Singtel fully underwrites all fundraising costs so that every dollar donated to the Fund goes to our beneficiaries. For more information, please visit Singtel Touching Lives Fund.
In Singapore, we leverage our core business and focus on enabling and connecting disadvantaged groups in the community. Singtel has been a Corporate SHARE company since 1992 and matches our employees' monthly contributions to Community Chest, the fundraising arm of the National Council of Social Service (NCSS). Since 1991, we have been providing an annual grant to NCSS to defray the costs of telecommunication services for its charities.

In Australia, The 'yes' Optus Community Grant programme has been a major initiative supporting our inclusion and well-being objective in Australia. Since its inception, we have given out more than 200 grants totalling over A$1 million to organisations that work with underprivileged youths. We have since evolved our Optus Community Grants Programme to focus on enabling social innovation and entrepreneurship in the social sector. We launched the Optus Future Makers Programme in 2015, which will incubate, mentor and provide funding for social start-ups for their innovations and ideas that can make a significant difference in the community.
Education and Employability
In FY2015, we extended our education support for children with special needs to supporting the training needs of persons with disabilities and help them gain employment. This current gap in the social sector resonates with our community strategy. We worked with national agency SG Enable and donated S$1.1 million to set up the Singtel Enabling Innovation Centre in Singapore. This is a community space with services and experts who assist young people to lead independent lives and enhance their employability.
In addition, we will support the curriculum development and 
provide the expertise and time to support training programmes for the contact centre and ICT literacy courses at the facility, which is expected to be ready by end-2015.
Project Helping Hands
This community project by Ngee Ann Polytechnic and Lions Befrienders was launched in 2013. Wireless motion detection systems will be set up in the homes of 500 seniors living alone under the auspices of Lions Befrienders. The system will track their movements and send an SMS to a caregiver or volunteer if it detects an unusually long motionless period. Singtel is sponsoring data SIM cards which will be installed in the modems of the monitoring system.
Kids Helpline
Since 1999, Optus has been partnering Kids Helpline to offer free calls to Kids Helpline from all Optus mobiles, and also assisted in establishing the world's first free, real-time, online counselling session. We developed the Kids Helpline @ School (KAS) Programme to provide primary school students across Australia access to a Kids Helpline Counsellor in their classroom via a video or phone call to discuss topical issues that the students are experiencing in their lives. Since the inception of KAS, we have reached over 30,000 students via more than 1,000 sessions across Australia.
For more information on KAS, visit the Kids Helpline @ School website here!
The Smith Family
Since 2010, Optus has been a proud partner of The Smith Family, which is an independent national children's charity creating opportunities for young Australians in need, particularly in education, for upward social mobility. One of these initiatives include the student2student (s2s) mobile programme which was launched in 2000 for students aged 8 to 14 years old. The programme aims to develop children's reading skills and confidence via peer-to-peer mentoring with trained, older student buddies 2-3 times a week for 18 weeks. To support this programme, we provide funding, mobile phones, call credits and technical support.
For more information, visit the Mobile Student2Student page!
As a responsible corporate citizen and the market leader in digital and mobile technologies and services, we believe we have a key role to play in the well-being of our stakeholders, particularly in promoting cyber wellness and online safety among the vulnerable children and youth in this digital age.
Our industry, technologies and services have brought significant benefits to society and individuals. However, the growth of smart devices, social media and pervasiveness of the internet gives rise to problems such as digital 'exclusion' and risks to vulnerable segments such as youth and children in areas of cyber safety, cyber bullying and digital addiction. Through the Singtel Cyber Wellness Programme, we hope to reach out to the general public through targeted initiatives designed for parents, children and vulnerable segments of our community.
On 10 July 2014, we launched notAnoobie, Singapore's first cyber wellness mobile application designed to help parents better understand and protect their children from online risks. Parents can read up on cyber issues like gaming and mobile technology addiction, social media dos and don'ts, identifying cyber bullying, inappropriate content online and how to protect personal privacy online on-th-go in this one-stop app. notAnoobie can be downloaded free from iTunes and Google Play stores onto any compatible mobile device.
Click here for more information on the Singtel Cyber Wellness Programme.
We encourage our people to take a more active role in their communities, as individuals or as a team. They are given one day of paid voluntary service leave per year to support their favourite charity or a community cause in Australia and Singapore. They actively volunteer for community and environmental projects – both company-organised events and activities at individual and team levels, contributing tens of thousands of volunteering hours annually.

In 2011, we introduced Singtel's first Overseas Volunteering Programme and have since organised annual expeditions to the Philippines. The Bayani Challenge allows our staff volunteers to work alongside volunteers from Globe, our regional associate, to rebuild villages and communities affected by typhoons.
In 2015, we held our first skilled overseas volunteering programme jointly with AIS, our regional associate in Thailand, to conduct the AIS-Singtel English Camp for undergraduates supported by AIS' Good Kids Great Hearts programme. Staff volunteers from Singtel, Optus and AIS mentored these students to help them improve their conversational English and confidence.
We believe that innovation and technology can be catalysts for social change. In 2016, we launched our social innovation programmes across Singapore and Australia to build an ecosystem to attract and develop innovators and changemakers who can find solutions for the community. Our programmes provide funding, mentoring, acceleration and incubation support for these social impact start-ups and entrepreneurs.
Singtel Future Makers is launched to help build and support an ecosystem of change agents, innovation, capacity building and collaboration that will help transform the lives of the needy and the vulnerable in the community, as well as support care givers and Voluntary Welfare Organisations. Up to 7 selected social impact start-ups will receive S$180,000 of monetary and non-monetary support from Singtel. The programme is open to passionate individuals who believe that technological innovation plays a key role in making wide-scale social impact that will help shape future success for Singapore. For more information, visit futuremakers.singtel.com
Optus Future Makers programme supports innovative technological ideas that help address the challenges faced by vulnerable young Australians. Optus Future Makers provides up to 12 social impact start-ups access to an accelerator programme, industry experts and mentors as well as a total of up to A$300,000 in seed funding grants so that bold ideas can become a reality and make a positive social impact. Applications have now closed for 2016. To find out more about the programme, please visit http://www.optus.com.au/about/sustainability/community-grants
We are quick to respond to natural disasters in the communities where we operate.
For example, in September 2010, Singtel donated S$80,000 to the Pakistan flood relief through Mercy Relief, an independent humanitarian charitable organisation. We also launched an appeal for staff in Australia and Singapore to help the flood victims in Australia. With the donations matched dollar for dollar by Optus and Singtel, a total of about S$450,000 was raised.
In 2011, we raised about S$50,000 for the victims of the Japanese tsunami and earthquake with donations from staff in Australia and Singapore. Singtel, together with other mobile operators, set up a common SMS code for customers in Singapore to make donations through Red Cross. Optus was the first carrier in Australia to launch a partnership with Australian Red Cross enabling Optus customers to make a donation via SMS to a major disaster appeal. Optus launched this initiative at the time of the Japan and New Zealand earthquakes.In October 2011, we donated 2 million THB to the Office of the Prime Minister's Disaster Relief Fund in Thailand which went towards helping the communities that were affected by the worst flood to hit the country in 50 years.
We also contributed 500,000 Philippine Pesos to support relief efforts for those affected by Typhoon Sendong in December 2011 and another 500,000 Philippine Pesos in December 2012 for Typhoon Bopha in the Philippines through Globe Bridging Communities, the CSR prorgramme of our associated company. When Typhoon Haiyan hit the Philippines in November 2013, Singtel donated S$50,000 to help those affected by the super typhoon. We also organised a workplace donation drive in both Singapore and Australia which saw a further contribution of over S$115,000 from our staff.