Sustainability at Singtel
Creating and delivering sustainable value to our key stakeholders is fundamental to us. This requires us to embrace responsible business practices, ensure customer satisfaction, monitor our supply chain, be an employer of choice, manage our environmental footprint, and support and invest in community development.
We want to make a lasting positive impact on our stakeholders, leveraging our own resources and people and working closely with our strategic partners. At the same time, we acknowledge that our industry can create unintended consequences. The Group's sustainability strategy therefore seeks to create shared value and mitigate the risks to the company, our stakeholders and the environment.
With these objectives in mind, our sustainability strategy is based on Environmental, Social and Governance (ESG) and specifically these four key pillars – Environment, People, Community, and Marketplace and Customers. These pillars form the structure of our sustainability priorities, allowing us to demonstrate a strong linkage between our corporate and sustainability strategies.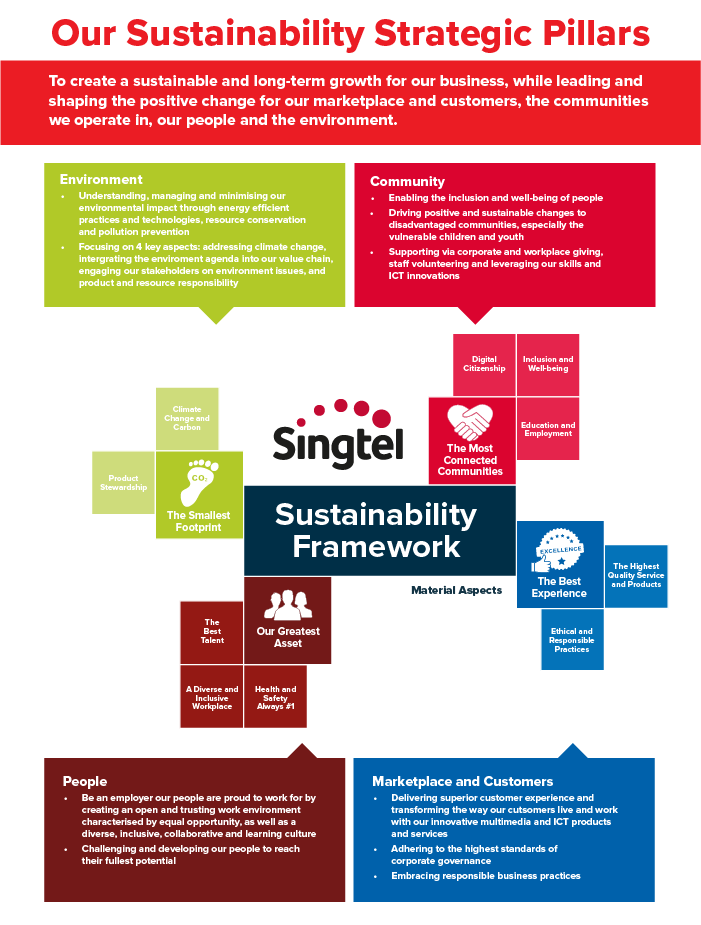 Visit Optus' sustainability website here.
The Board continues to provide oversight with the support of the Singtel Management Committee and Risk Management Committee where material ESG topics are reviewed. The Group CEO provides the Board with regular updates on various sustainability programmes, upcoming activities as well as global and local trends that have an impact on our sustainability strategy.
A dedicated Group Sustainability function is responsible for managing sustainability throughout the Singtel Group, and is headed by a Vice President who reports to the Group Chief Human Resources Officer. The function works in collaboration with group strategy, group risk management and other business units such as procurement to oversee the development, execution and reporting of the Group's sustainability strategy and performance.
Our ESG performance is integral to our success as we strive to build a sustainable future. Therefore, our Senior Management is assessed through a balanced scorecard based on two broad target categories: Business targets (financial, strategy, customer and business processes which embed ESG aspects) and People targets (leadership competencies, core values, people development and staff engagement).
The ESG KPIs vary for each management executive. Singtel Group CEO has specific ESG KPIs tied to performance-based compensation such as creating a bigger impact in the four areas of our community strategy: enabling innovation, digital citizenship, volunteerism and community involvement, and ensuring safety and health considerations in corporate processes and decision-making. Our Group Chief Information Officer is primarily accountable for data privacy and protection across the business and supply chain, as Chairperson of the Data Protection Governance Committee. Our Group Chief Corporate Officer who looks after Group Procurement has responsibility and oversight of the sustainable supply chain management strategy. Management KPIs are then cascaded down into the various relevant departments and employees, whose performance bonus and other incentives are tied to their KPIs. These are examples of how we ensure clear lines of overall ownership and accountability for ESG issues among our senior management and throughout the organisation.
At the execution level, we have formulated working groups for Singapore, Australia and regional associates. Comprising representatives from business and support units, the working groups are actively involved in developing and implementing sustainability strategy and programmes in their respective countries. We bring the various working groups together to drive and collaborate on sustainability programmes in key markets, as well as sharing best practices across the Singtel Group of companies.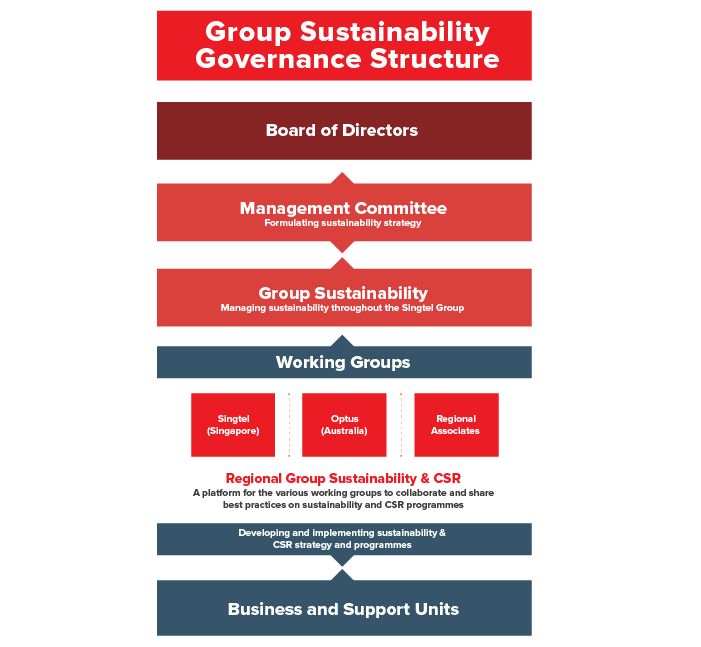 We actively manage the wide range of sustainability issues we encounter in the course of our business with our sustainability policies and programmes. We seek to engage all relevant stakeholders in an open two-way dialogue and our interactions take place on a regular basis. This allows us to keep abreast of what is happening on the ground and the concerns and priorities our stakeholders have. Regular engagement also gives us the opportunity to initiate collaboration and be part of formulating or facilitating a solution.
We take employee engagement seriously as we know that engaged employees feel happier at work, perform better and are more motivated to succeed. Our annual Singtel Group Your Voice survey collects employee feedback to help us identify the key drivers for employee engagement.
We actively engage external stakeholders, such as our involvement in national committees like the National Volunteer Resource Committee, and through the Australian Business Roundtable for Disaster Resilience and Safer Communities (ABR). We also actively participate in and host panel discussions and business roundtables to learn, contribute, advocate and seek opportunities for collaboration.
In addition to the numerous engagement channels in place, we undertake a Materiality Review to assess the opinions of both internal and external stakeholders on the material topics that they are concerned with, which help to set the direction of our sustainability strategy and programmes.
We are fully committed to listening to our stakeholders, who can share their views and comments anytime with us via email to sustainability@singtel.com.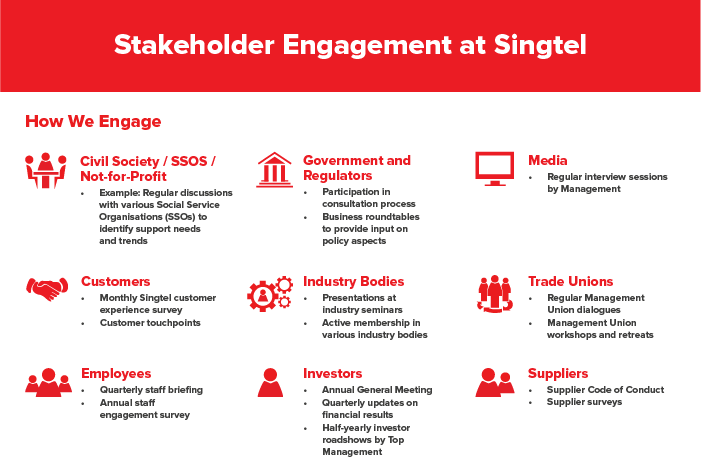 Following an extensive materiality assessment in FY2015, we conducted a Group-wide exercise in FY2017 to review the relevance of our material topics, identify if there has been any shift in priorities among our stakeholders and examine any emerging areas of concern. The assessment covered our operations in Singapore and Australia. The associate and regional businesses, minority stakes and shell entities were not included in this exercise.
The methodology of the materiality assessment process is depicted in the diagram below. The material issues are prioritised based on:
direct inputs from internal stakeholders (management and staff)


direct inputs from external stakeholders through our stakeholder engagement exercise


value and supply chain analysis


benchmarking research on industry and global best practices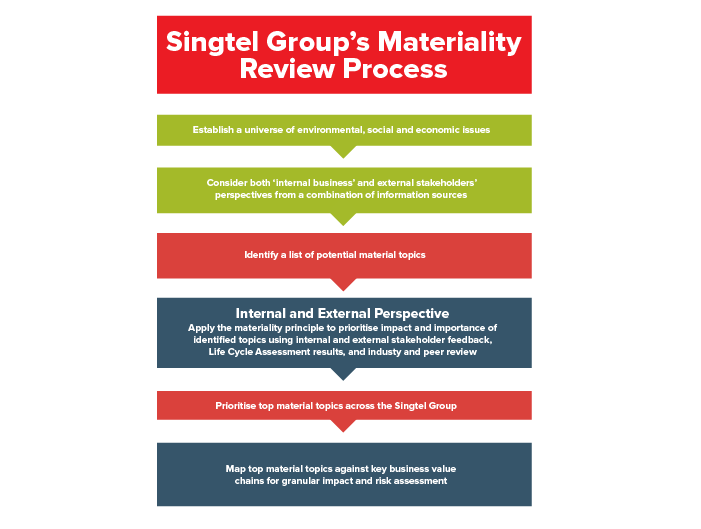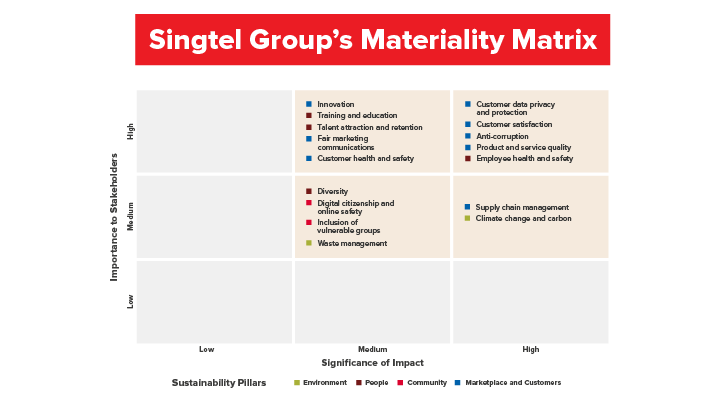 16 material topics have been identified from our Materiality Review and Stakeholder Engagement exercise.
Environment

Our management approach: The Singtel Group is focused on moving towards decarbonisation and better resource management to minimise our environmental footprint. We continue to strengthen our environmental programmes and focus on strategic initiatives which we believe will yield greater impact over the long term.
Material topics:
Climate change and carbon
Waste management
People

Our management approach: The Singtel Group provides a fair, performance-based work culture that is diverse, inclusive and collaborative. We also develop our people to reach their fullest potential and provide them with a fulfilling and meaningful career. Ensuring the safety and well-being of our people is of utmost importance to us.
Diversity
Talent attraction and retention
Training and education
Employee health, safety and well-being
Community

Our management approach: Investing in our community is an integral part of our sustainability strategy, focusing on supporting and enabling vulnerable persons to realise their potential. We strive to play a proactive role to mitigate online risks by promoting responsible digital citizenship especially among the vulnerable children and youth.
Inclusion of vulnerable groups
Digital citizenship and online safety
Marketplace and Customers

Our management approach: We are committed to being a responsible and innovative leader in the markets where we operate. Our strategy is underpinned by delivering an unparalleled customer experience while embracing responsible business practices, both across our operations and our supply chain.
Customer satisfaction
Product and service quality
Innovation
Customer health and safety
Customer data privacy and protection
Fair marketing communications
Anti-corruption
Sustainable supply chain management
We mapped our material topics and assessed their relevance and impact across our value chain and supply chain.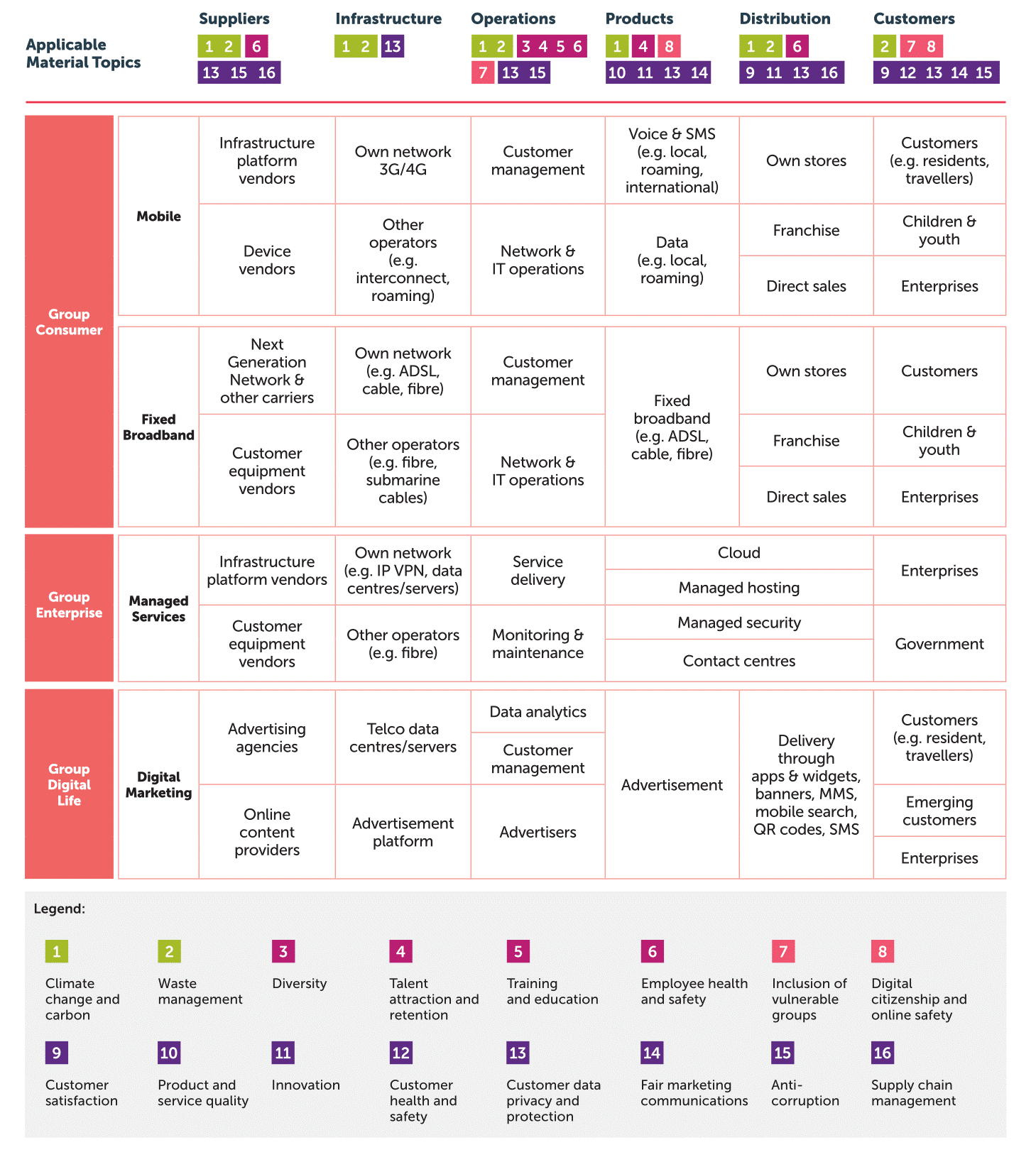 We conducted an organisational Life Cycle Assessment (LCA) to determine the direct and indirect impact of our entire business operations. The LCA looked at key areas across our business and top 90 suppliers, including consideration of sector-specific economic forces and social hotspots, such as human and labour rights issues.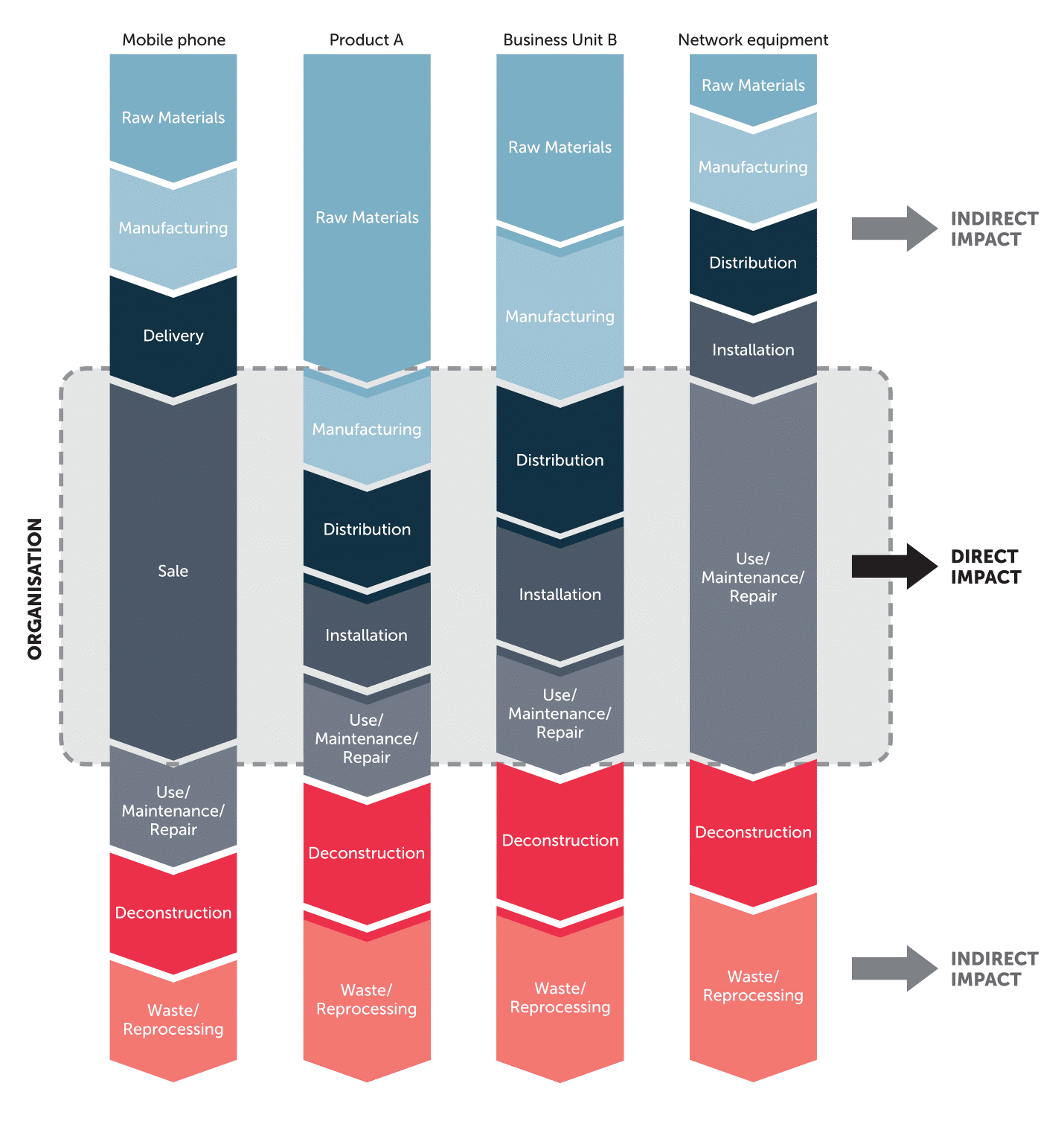 Singtel has been a signatory of the UN Global Compact since 2007 and is committed to upholding its 10 principles across the areas of human rights, labour, the environment and anti-corruption. We are also a management committee member of the Global Compact Network Singapore, a local chapter of the UN Global Compact that furthers the corporate sustainability movement in Singapore.
The following is our 2020 targets and achievements across our four sustainability pillars.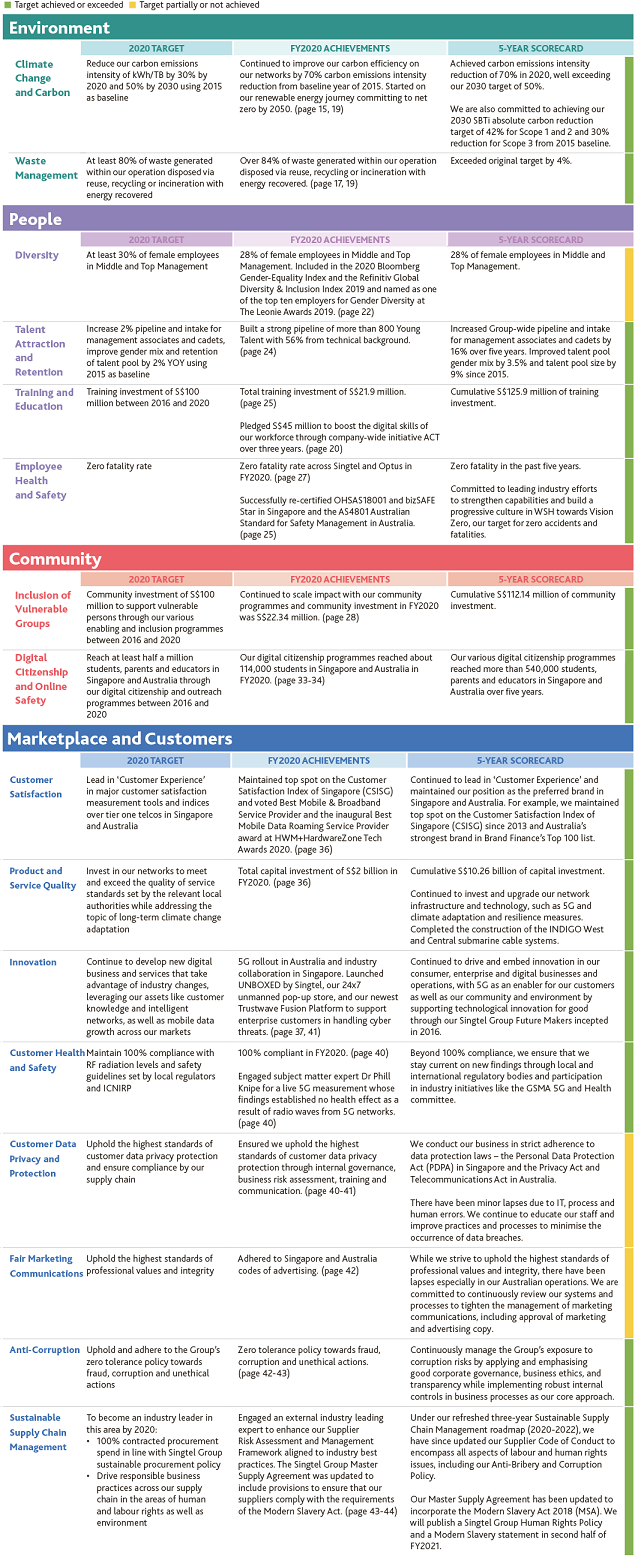 We have mapped to assess how our key focus and programmes relate to and support the UN SDGs 2030, as well as areas where we believe we have most impact as a business.