Defence Against Cyber Attacks and DDoS Attack
The Threat Landscape
The Challenges Facing the Enterprise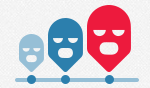 Fast evolving cyber threats
Cyber criminals are becoming more sophisticated with multiple vectors they can exploit.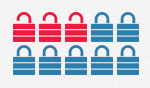 Lack of IT security expertise
Nearly 3/10 businesses lack the adequate resources to properly adopt, deploy and utilise security technology.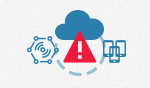 BYOD, the cloud and IoT
44% of security pros rank the cloud as the riskiest emerging technology, with Internet of Things (17%) and BYOD (16%) behind it.
The cyber threat landscape is evolving and the pressure is on for enterprises to stay one step ahead in protecting your business from intrusion and infiltration of malicious entities. The complex nature of today's IT network makes it all the more challenging for IT professionals to ensure that all company assets are secured wherever they are located – including the corporate network, remote access, devices and apps. Intrusion can happen anywhere and the question is, are you protected enough from these challenges?
A cyber attack can happen anywhere, but there are obvious points in your network that are easily exploitable.


Email as a point of entry
As the primary form of business communication, email is often used by cyber criminals as a vehicle to carry out malicious software and programs. Every day, email accounts are flooded with spams, most of which are encrypted with viruses and malwares, and when opened or clicked by unsuspecting users, pave the way for hackers to gain access into the corporate network.

The Internet gateway
Much of today's business transactions are done via the Internet. It is the gateway to limitless business opportunities, but where your network links to the internet is probably the weakest and most vulnerable part of your IT infrastructure. It is here where viruses enter your internal network. These links are considered one of the primary target points of most cyber criminals.
*2016 Security Pressures Report from Trustwave
Protect yourself from cyber attacks by familiarising yourself with these common attack patterns.



Malware –
Malicious software - from viruses, trojans, adware to spyware - are transmitted from surfed websites, downloaded files, photos and videos, and emails. These malwares wreak havoc by causing computer errors, slowing down, or infecting other computers on the network. Spyware is a type of malware that can collect personal information, giving cyber criminals access to your personal information, online accounts, and more, causing much damage.

Denial of Service –
Whether originating from one computer (DoS) or a series of distributed attacks (DDoS), denial of service floods your network with false traffic, making your website or service unavailable to your customers, incurring downtime and loss of revenue.

Targeted payment card breaches –
In 2015, 60% of breaches are from targeted payment card data, with 31% coming from targeted card track (magnetic stripe) data recorded at point-of-sale (POS) terminals, and 29% targeted card data coming from e-commerce environment. (Source: Trustwave Global Security Report 2016)

Web application attacks –
The most common web applications use database management systems (DBMs), which contain sensitive and confidential company data. These applications can carry vulnerabilities that can easily be exploited by attackers who want to steal or damage sensitive information.
How We Can Help
As a global managed security services provider, we also ensure that your networks are protected and your data is secured.
Security Tailored to Your Business

Secured connection with a dedicated and protected network with built-in redundancy.

Proactive Defence On All Fronts

The web and email are the most used forms of business communication today. So, it comes as no surprise that 90% of cyber attacks are geared towards infiltrating these communication channels to gain access to corporate networks. We can provide effective and comprehensive cyber defence solutions against both known and unknown threats, including zero-day and targeted attacks to safeguard your network from multiple threat vectors in real time.

Global Threat Intelligence

Our global threat intelligence research teams have over 2500 penetration tests performed each year. Over 9 million web application attacks researched, and over 500 incident response investigations each year – all gathered into a global threat database. This is being done to analyse attackers' latest techniques and what methods and vectors businesses will be facing next so that we can update detection rules for all our solutions to better defend you.

Our Experts are Yours

We design, build and operate our own security operations centres (SOC) to monitor security events for our clients in major sectors. Our experts can assess the maturity and gaps in your existing system and are able to provide pragmatic and actionable recommendations while taking into consideration your operational challenges. With our wide SOC footprint, we are able to access a global threat intelligence network and security specialists that monitor, analyse and respond to threats. We leverage predictive analytics and contextual intelligence to design a cyber security programme that is aligned with your security goals.
Contact us to find out more about our range of cyber security solutions that defend enterprises against cyber attacks.
What We Offer
Effectively defend all the critical points on your network with our security solutions that thwart, neutralise and contain security breaches across your enterprise.

Defend Against DDoS Attacks
As companies build and maintain their online presence via websites, applications, online stores and more, they also make their business a potential target of Distributed Denial-of Service (DDoS) attacks. Singtel Managed DDoS Protection is a suite of services that delivers comprehensive end-to-end managed DDoS protection to assure only legitimate traffic reaches your network.
Defend Against Network Threats
Defend all your entry points from network threats with our threat management service which features consolidated perimeter network security technologies – including firewall, web and email gateways, intrusion prevention and more.

Global Threat Intelligence
Singtel Global Threat Intelligence gathers information from security operation centres around the world and integrates that seamlessly with our security products to enable your business to defend against new and emerging cyber threats. Delivered through rich contextual reporting, it gives operational insights, faster detection and real-time protection, allowing you to focus on your business objectives.
Cyber War Games & Executive Training
Strengthen your security resilience and help your IT personnel respond to security incidents better with Singtel Cyber Range. Our cyber warfare training sharpens attack and defence techniques and tactics by simulating drills. The programme helps organisations test the effectiveness of existing processes (eg. security/network operations, incident management) to ensure your teams are ready against real-world threats. The programme also covers training for management and board-level executives to equip them with the right knowledge for better decision-making.