Protect your business with Singtel Managed Security Services
Focus on your core business and let us protect you against attacks and threats with our managed security services.
With our acquisition of Trustwave in 2015, the largest independent managed security services provider in North America, we provide security solutions for different markets and industries to meet the growing demand for real-time, round-the-clock security services.
We also offer technologies from an ecosystem of world-class cyber security partners to provide businesses with a comprehensive portfolio of security solutions that are tailored to their needs and budget.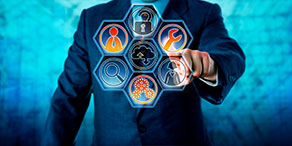 Holistic Managed Security Services
We provide a holistic approach to cyber security by combining technology, expertise and global intelligence to fortify your business. We will work with your organisation to understand your security, compliance, consolidation and cost concerns, and provide solutions that address and eliminate current vulnerabilities and potential threats.
Advanced Proactive Security Services
Our security experts have extensive knowledge and experience in using tools, techniques and methods that rival the capabilities of even the most advanced attackers. This enables us to stay one step ahead in anticipating current and future threats and in formulating the right countermeasures to defend your business.
Analysis and Actionable Intelligence
Proven security expertise and intelligence with Trustwave SpiderLabs®, a world-renowned ethical hacking and threat research team with a global footprint, gives you a comprehensive view of the global threat landscape so you can make informed decisions on how you manage your cyber security.
The Region's Largest Pool of Cyber Certified Talent
Our in-house cyber security professionals are experienced in deploying small to large mission-critical systems on a regional and global scale. Our security operations centres are manned by experts working together 24/7/365 to monitor networks and detect and block attacks in real-time.
Best-of-Breed Partners
We work at co-creating next-generation managed security services with established industry leaders to provide you with leading edge security solutions. We are able to provide you with world-class service that works seamlessly with your current IT infrastructure.


Safeguard your business with Singtel Managed Security Services. We can help.