Cyber Risk Management and Protecting Critical Information
The Risk
The Challenges Facing the Enterprise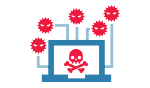 Cyber attacks
are rampant
A 2015 study shows that on average, 96% of companies across major industries have experienced a cyber attack.1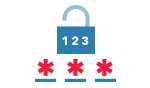 Passwords are
easy pickings
39% of passwords are eight characters, a length that takes a hacker an average of one day to crack.2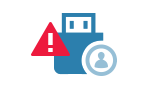 Customer data
is at risk
60% of breaches are from targeted payment card data with 31% coming from point-of-sale (POS) terminals, and 29% coming from e-commerce.3


Today's enterprises are rapidly adopting productivity applications on the web and in the cloud, internally and externally accessed from office premises or at remote locations and through mobile devices – which can be company-owned or BYOD (bring your own device). IT professionals now need to define new perimeters that can protect company assets through these different parameters.
Let's face it, the human factor can be a big source of vulnerability when it comes to security – cyber or otherwise. The larger the company, the greater the number of employees, the higher the chances of compromised user credentials. It takes an average of one day for a hacker to crack a user password. Imagine how easy it is for professional cyber criminals to get user-privilege access and hijack confidential company information, customer data, trade secrets, intellectual properties and more.
The repercussions of a successful cyber attack goes way beyond the initial security breach. Everyone in the company should be concerned.


Financial losses and reputation damage –
The resulting business disruption due to downtime will incur revenue losses and lost business opportunities, affecting the bottom line. The backlash due to reputational damage, on the other hand, can turn into a major PR disaster.

Loss of customer confidence –
Your customers trust you to keep their personal information confidential. It becomes a marketing concern when the breach involves theft of customer accounts and financial data.

Compliance and legal ramification –
Organisations are now being held accountable by customers, shareholders, investors, partners, employees and national governing bodies in ensuring the security of critical information, or lack thereof.

Cost of IT repair –
Aside from financial loss due to downtime, the cost of repairing damaged infrastructure and recovering lost data can amount to millions.
If you are concerned about protecting your corporate data, we can help you there.

1FireEye. "Maginot Revisited: More Real-World Results from Real-World Tests." January 2015
22015 Trustwave Global Security Report
32016 Trustwave Global Security Report

How We Can Help
Corporate data is the lifeblood of your business. No matter the size of your business and wherever your data is stored, we can help you protect your corporate information from theft and leakages.

Your Partner in Cyber Risk Management

Data breaches are security risks that happen daily. Every business is a potential target. Leveraging best-of-breed technologies and our experience in cyber risk management, we can help you design, develop and implement an effective security plan for your business.

Enhanced Productivity

Security access can be strict but it should never impinge on the work that needs to be done. Our solutions and services are non-intrusive, giving users better access to everyday information and applications while fortifying security without compromising business productivity.

Global and Local Reach

Leading domestic and international businesses trust Singtel in providing online resilience in the unpredictable and insecure environment of the public internet. Our capabilities run the breadth of protection for regional and global networks, web servers and DNS services from both large scale and web application attacks.

Proven Results

As a provider of telecommunications and network services, security is foremost in our minds and protecting our customers from cyber risk is part of our DNA. As we continue to create innovative solutions that improve the way people work, our offerings will expand to deliver a safe cyber environment where businesses can thrive.
Learn about solutions that can protect your corporate data. Find out more.
What We Offer
Safeguard your critical information from falling into the wrong hands. Our solutions provide better control to protect against advanced threats without affecting user productivity.

Securing Cloud Services
Internet access and web-based applications account for the majority of traffic moving across enterprise networks. While many applications help improve business productivity, some can consume large amounts of bandwidth, pose needless security risks, and increase business liabilities. Make sure that your authorised applications are used in ways that can only be beneficial to your business. With Singtel Managed Web Application Firewall Service, your enterprise can enhance security across thousands of applications, including Web 2.0 and social networking. Get non-invasive enforcement of application security policies to identify and control application usage, regardless of port or protocol.
Protection Against Email Threats
Email remains the dominant form of business communication today. Unfortunately, cyber criminals continue to flood this channel with spam, viruses and phishing links that assist them in their aim to commit fraud and steal confidential information. Protect your email gateways from malicious attacks with Singtel Secure Email Gateway. This service delivers unmatched email security for organisations of all sizes with advanced protection against modern threats, powerful policy configuration and in-depth data security and compliance management.
Protection Against Identity Thefts
Prevent user identity theft from happening by securing your organisation's online access and transactions with cloud-based two-factor authentication. Going beyond standard username and password protocols, Singtel Identity Assurance Cloud Service protects your business by requiring users to key in a dynamic one-time security code that is delivered from the cloud to their mobile devices.
Locator Plus
Track the location of your staff using their mobile phones with Singtel Locator Plus. This workforce management service allows you to determine your employees' whereabouts at any given time, which can facilitate better deployment and easier dispatches.
Locator Plus Offer
Enjoy a 30-day trial of Singtel Locator Plus for just $0.10 before deciding whether to sign up for the service at one of the following monthly rates:
Locator Plus (3 numbers): $3.21/month
Locator Plus (5 numbers): $5.35/month
Locator Plus (10 numbers): $9.63/month
Protection Against Endpoint Threats
Protecting your endpoints by using normal anti-virus software to detect known threats is no longer sufficient. With a growing population of endpoint devices such as servers, laptops, desktops and mobile devices, predictive, behavioural-based security methods as well as real-time continuous monitoring are needed for unknown, advanced and persistent threats.

Database Protection
Secure your critical data with Singtel Data Loss Protection, our data security platform that delivers protection for your databases and Big Data stores throughout your environment, on premise or in the cloud. Aside from preventing data theft, it also helps your organisation uncover database configuration errors, identification and access control issues, missing patches or any toxic combination of settings that can lead to access privileges attacks, data leakage, denial-of-service (DoS), or unauthorised modification of data held within your data stores.
Protection Against Mobile Threats
Mobile threats are getting more sophisticated at extracting confidential information from mobile devices. As businesses grow more dependent on mobile devices to access, store and share corporate resources, mobile security is now a necessity. Our mobile security solutions are designed to equip enterprises with tools to protect all mobile devices connected to your network from mobile attacks, enabling you to embrace rising mobility with confidence.
Learn more about protecting your corporate assets from cyber criminals. Contact Us.