No business is totally immune to cyber attacks. Small and medium businesses face the same threats as big companies. In fact, any enterprise that uses computers and the internet for their daily operations leave an opening for cyber criminals to steal confidential data. However, with limited staff and financial resources, small and medium businesses find it difficult to obtain Cybersecurity Solutions that can protect their businesses from cyber attacks.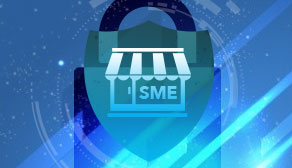 Security Risks to be Aware
Cybersecurity Solution for your Business
Cybersecurity Solution for your Business
Our comprehensive suite of security solutions can protect every entry point on your corporate network from vulnerabilities to security breaches and cyber attacks.

Clean emails
Emails remain the top communication tool for business. No wonder cyber criminals use emails to send malicious email-borne codes that can steal confidential information. Protect your email gateway with Singtel Secure Email Gateway, our cloud-based security service that effectively stops emails containing malicious URLs and deliver real-time, zero-day protection against the latest email threats. Experience a consistent 99.5% spam catch rate with near zero false positives - all with no special tuning.

Desktop protection
Singtel Endpoint Security Cloud Service protects your organisation's laptops, desktops and servers from malware and zero-day threats with advanced technologies for antivirus, anti-spyware, firewall and host intrusion prevention. With updates pushed to each endpoint automatically, regardless of location, you can benefit from timely protection and robust IT security for your entire business without in-house expertise.

Safe surfing
As companies struggle to keep up with the constantly changing nature of malwares and PC infections, the need for a security solution that can protect your internet gateways has become a necessity. Singtel Secure Web Gateway uses cloud-based intelligence for the real-time detection of the latest malwares in sites. This gives your organisation an additional layer of defence against advance threats, while optimising web performance and delivering internet safety features that keep your staff productive and secure.

Website protection
Because they are easily accessed from the web, your online assets run the risk of being targets of website defacement and Denial-of-Service attacks. This can result in prolonged downtime and data theft. Safeguard your website and other internet-facing applications with Singtel Web Application Firewall. This cloud security service can stop Distributed Denial-of-Service (DDoS) attacks and web application attacks without reducing online performance and impacting user experience.

Mobile security
The ease and convenience provided by mobile devices has given rise to a mobile workforce who conduct business on-the-go. With this, corporate information has now become readily accessible via mobile phones, tablets and PCs that are easily lost or stolen. Arm your fleet of mobile devices with our mobile security services and prevent confidential company information from falling into the wrong hands.
How can you protect your business from a security breach? Find out more
Learn more about the suite of Cybersecurity solutions available for SMEs.