With Machine to Machine (M2M) technology, it is now possible for machines and devices to communicate at the speed of data over a wireless network.
Singtel M2M SIM and Routers can enable your business to achieve machine-to-machine communication that is responsive, reliable and scalable.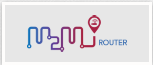 Singtel M2M Routers offers businesses a quick and easy way to tap on the power of M2M. An enterprise grade HSPA+ router enables devices to be M2M-ready, providing seamless machine communications while minimising the cost of upgrading.