Mobile Threat Prevention (MTP)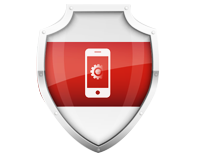 As more and more malwares are being developed, it has become impossible to track all new malicious applications. At the same time, the new malwares are becoming more advanced and sophisticated. These Advanced Persistent Threats (APTs) can pass through basic virus scans undetected by hiding in seemingly harmless apps.
Protect your mobile device from advanced malware!
Benefits
Peace of Mind
Gain peace of mind that even Advanced Persistent Threats (ATP) can be identified
Secure and Light Weight
An easy-to-use mobile app
Flexibility in Deployment
Choose a cost-effective hosted solution or an on-premise deployment for more control
Ease of IT Management
Ensure centralised control and overview of the enterprise devices, the applications installed on each, and what applications are suspicious
CISO Guide to Mobile Threat Prevention


Mobile Voice Recording (MVR)
Record important mobile phone conversations and review them from the archives at a later time. Mobile Voice Recording provides a comprehensive call-logging service.

Enterprise MobileCARE
Protection for confidential data in the event a mobile phone is lost or stolen. This service tracks devices and protects or replaces data.

Mobile Device Manager (MDM)
A centralised tool for clearer visibility into all corporate and personal mobile devices from different operators and platforms. Provides a way to deploy enterprise IT policies and configurations...