Singtel Data Centre Services
Enable your growth with DC West, our future-ready, cloud-enabled Tier 3+ data centre. Strategically located in Jurong, slated to be Singapore's next largest regional and commercial hub, DC West is designed to be resilient, secure and energy-efficient, with access to high-speed connectivity options to help you expand in Asia and get a foot into other growth regions in the world.
Visit Our Data Centres
See our facilities first hand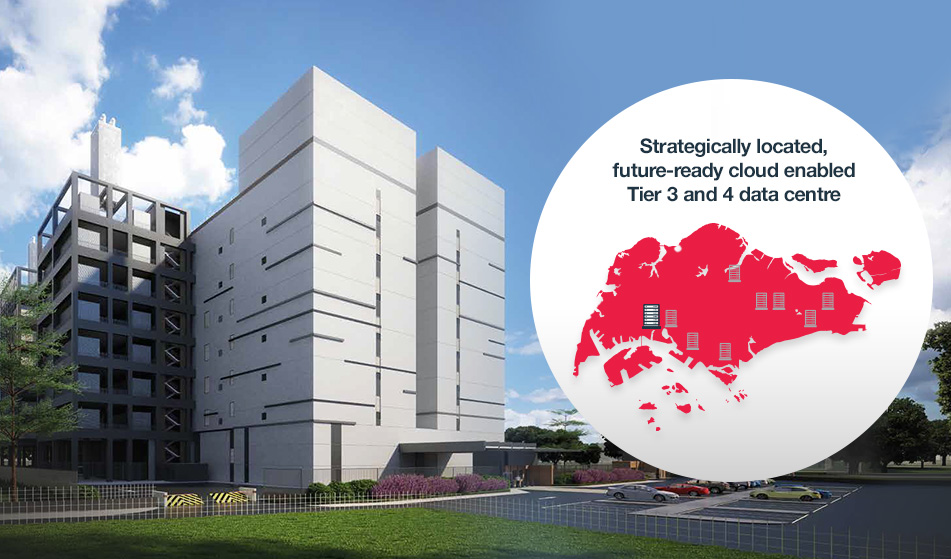 High resiliency
Purpose-built 7-storey data centre facility with diverse and physically isolated power systems to ensure continuous operation:
Total power capacity of 36MW and cooling density built to 2000W/sqm for higher density deployments
CRAC configuration of N+20% capacity as an added buffer
The environmental systems are backed up by emergency generator power

Peace of mind
Above-class, multi-layers of physical security to protect your IT infrastructure:
Palm Vein Biometric systems to prevent unauthorised access
Round-the-clock closed circuit TV (CCTV) monitoring with recording from the control room
Regular security patrols within facility serve as an added precaution

Defense against digital threats
DC West goes beyond traditional network security to protect your data:
Built-in cybersecurity protection
Range of managed security services to fortify your network and IT infrastructure

Energy savings
The efficient use of energy is an important tenet of DC West:
Controlled by a fully integrated climate monitoring and control system for greater energy efficiency
Critical cooling system with the use of recycled NEWater
DCIM software is used to help ensure reduced power consumption and energy savings

Optimised for the Cloud and Hybrid Cloud deployments
Streamline your data centre and cloud deployments while keeping them at peak performance:
High-speed inter-DC fibre connectivity makes dual-site redundancy easier
Our network of data centres and extensive island-wide network enable private and hybrid cloud deployments.

Full connectivity
Largest data centre interconnectivity with up to 3 diverse fibre paths and 2 separate communications risers, giving you:
Access to Asia's leading IP Transit Network with direct connectivity to more than 20 countries and extensive reach to more than 20 peering partners.High speed connectivity to Asia's leading MPLS network with high capacity coverage through more than 200 points of presence in 160 cities.

Dynamic bandwidth
Lowest latency connectivity due to its close proximity to Tuas Cable Landing Station makes it ideal for customers requiring high performance and mission-critical operations:
Access to multiple telecommunication exchanges for maximum connectivity options
Latencies of a millisecond and below
Schedule dynamic bandwidth in advance, or provision it on-demand and get what you need within minutes