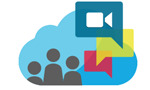 Singtel Video-as-a-Service (VaaS) is an easy-to-use video conferencing solution that enables you to meet your employees, customers and partners anywhere in the world via the internet. Being a cloud solution this reduces your upfront investment and makes it affordable.

Singtel Media Delivery Platform
The Singtel Media Delivery Platform (MDP) is a cloud-based platform for high-quality video streaming and webcasting. It is an attractive option for customers who want to avoid third-party advertisements, competitors' content and other undesirable information from being displayed next to their brand.