Part of Singtel's MEF Certified Carrier Ethernet services, Singtel's ConnectPlus Ethernet Line (E-Line) is a highly granular and easily scalable point-to-point and point-to-multipoint network that provides your business the flexibility to manage your bandwidth usage, allowing you to transport multiple bandwidth-intensive applications over the network efficiently. In addition, the reduction in bandwidth wastage and investment on network equipment translates into higher cost savings for your business.
ConnectPlus E-Line is suitable for organisations that want to retain full control of their network, achieve high levels of data security, and deliver large amounts of data between their offices over a simplified Ethernet infrastructure.
Get connected with Singtel E-Line.
For more information, refer to our E-Line product brochure.
Benefits
Guaranteed data delivery and bandwidth

Full WAN control with visibility and monitoring of service quality

Assurance of up to 99.9% service availability with maximum uptime and business continuity

Extensive network coverage of 58 POPs across 23 cities. Check out our global network coverage.

Deploy your networks quickly and cost-effectively
The familiar and universal Ethernet interface supports a wide range of bandwidths, making this technology faster to deploy and more cost-effective compared to investing in specialised networking equipment.

Guaranteed bandwidth for all your application traffic
Point-to-point connections ensure minimal congestion over a dedicated network, giving you the performance you need while maintaining high data security. Fast failover also ensures high network uptime for all your application traffic.

Add more bandwidth to closely align with business growth
Highly granular bandwidth increments of as little as 1Mbps gives you more control over your network and ability to scale continuously to accommodate future growth, without bandwidth wastage.

Respond quickly to network demands
Short upgrade lead times let you connect new sites quickly to respond to market changes. With electronic Bandwidth On-Demand (eBOD), you are able to boost bandwidth temporarily within an even shorter timeframe.

Take your global business anywhere with peace of mind
Connect even hard-to-reach places with our extensive network coverage of 58 PoPs across more than 32 cities worldwide. Our 24/7 global service support ensures consistent quality, maximum network uptime and complete peace of mind for your team.

Smart and managed IP VPN network. Internet Protocol Virtual Private Network is a Layer 3 MPLS- enabled network with value- added managed services that lets you run your business communications and applications on a converged network, free from technical and resource burdens.
Read more

Full control of your VPN. Get the flexibility of a virtual private network with the easy implementation of Ethernet and full network control over routing and security.
Read more

Basic network connectivity for the WAN. International Private Leased Circuit is a Layer 1 point-to-point dedicated leased line delivered over a fully-meshed auto re-routable network for maximum uptime.
Read more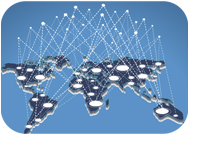 With Software-Defined WAN, enterprises can simplify and securely manage different networks as if they are one. It enables businesses to take full advantage of hybrid networks through a centralised management console hosted on Singtel cloud.
Read more