Part of Singtel's MEF Certified Carrier Ethernet services, ConnectPlus Ethernet VPN (E-VPN) delivers any-to-any multipoint connectivity over meshed Multi-Protocol Label Switching (MPLS) circuits, enabling you to communicate with multiple sites within the network. Backed by Singtel's expansive network, this secured and scalable WAN solution enables you to achieve high operational performance at affordable cost.
ConnectPlus E-VPN is especially relevant to businesses looking to deploy a VPN to connect multiple sites, but want to maintain their routing control and manage their network in-house, simplified with Carrier Ethernet.
Get connected with Singtel E-VPN.
For more information, refer to our E-VPN product brochure.
Benefits
Improved business agility with scalable network solutions

Cost-effective connectivity across multiple office locations

Enhanced productivity and decision making with IP traffic monitoring and management across global offices

Wider reach with a strong network presence comprising more than 428 POPs across 362 global cities. Check out our global network coverage.

Ease of adoption
The familiar Ethernet interface makes this technology easy to adopt and faster to deploy (i.e. Plug and Play). You can continue to tap on your company's existing knowledge base and network equipment to manage the extension into the Wide Area Network (WAN).

Full network control
Retain full control of your network and routing configurations, with clear demarcation between your private network and Singtel's network.

Scalability with backward compatibility
With E-VPNs, you can transport legacy protocols along with IP, while scaling your network easily from 1Mbps and beyond. Incremental bandwidths are also available, which reduces chances of over-subscription and the additional costs incurred.

Protocol independent
As Ethernet is a Layer 2 technology, you can choose the type of protocols (e.g. SNA, IPX, AppleTalk) you wish to run on your network.

Smart and managed IP VPN network. Internet Protocol Virtual Private Network is a Layer 3 MPLS- enabled network with value- added managed services that lets you run your business communications and applications on a converged network, free from technical and resource burdens.
Read more

Basic network connectivity for the WAN. A Layer 1 point-to-point dedicated leased line delivered over a fully-meshed auto re-routable network for maximum uptime.
Read more

Basic network connectivity for the WAN. International Private Leased Circuit is a Layer 1 point-to-point dedicated leased line delivered over a fully-meshed auto re-routable network for maximum uptime.
Read more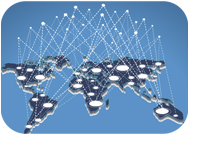 With Software-Defined WAN, enterprises can simplify and securely manage different networks as if they are one. It enables businesses to take full advantage of hybrid networks through a centralised management console hosted on Singtel cloud.
Read more