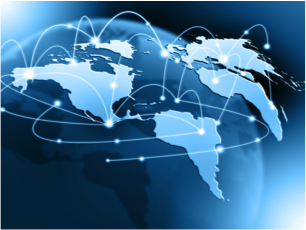 Extend your coverage as an internet or content service provider with Singtel IP Transit. As Asia Pacific's leading IP Transit provider, we offer direct access to the rest of the internet via high bandwidth and low latency connections. For your business, this means superior performance that is both stable and reliable.
Get connected with Singtel IP Transit.
For more information, refer to our IP Transit product brochure.
Benefits
Extensive connectivity with major IP networks

Fully redundant and diversified global IP backbone

Reliable and resilient network

High performance with low latency
Direct Connectivity
Direct connectivity to more than 20 countries in South-East Asia, North and South Asia, Oceania, Europe and

North America

Well-established peering arrangements with major providers in the Asia Pacific

Connectivity to Singtel's Pan-Asian Data Centres
Extensive Reach
More than 200 peering partners

Direct connections with Tier One carriers, incumbent ISPs

Direct connections with key content providers

Connectivity to key public peering exchanges worldwide, including HKIX, JPIX, PAIX, Los Angeles

Equinix Internet Exchange, LINX
Large Backbone Capacity
Own backbone for Intra Asia, Asia-US, Asia-Europe

More than 550Gbps of backbone capacity
Reliable Network
Points of Presence (POPs) are hosted in telco-grade facilities

Added network diversity as network links are implemented on different cable systems, including APCN2, C2C, i2i, SEA-ME-WE 3, SEA-ME-WE 4, Southeast Asia Japan Cable (SJC), China-US cable network, Japan-US cable network, Unity and Southern Cross for diversity

Multiple upstream connectivity through different peering and transit arrangements
Unparalleled customer support
24 x 7 Singtel helpdesk and Network Operations Centre (NOC)

Web-based utilisation reports, retrievable at any time of the day
Service level agreements covering
On-time service provisioning

Network packet delivery

Service availability

Network transit delay (latency)
Find out more about IP Transit
STIX Looking Glass
Access our portal to check the latency from any STiX point-of-presence to anywhere on the internet.