Singtel International Toll Free Service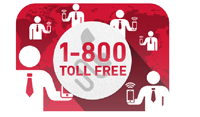 Expand the global reach of your business with Singtel International Toll Free Service (ITFS). Supporting easy communication, Singtel ITFS allows your customers to have 24-hour direct toll-free access to your business from 40 countries worldwide.
Benefits
Powerful – Build your global presence by connecting with customers in 60 countries worldwide
Versatile – Choose from two types of Singtel ITFS to find the solution best suited to your business needs
Customisable – Route calls to another location or number after office hours if your office does not operate 24 hours
There are two types of Singtel ITFS:
Inbound ITFS: With Inbound ITFS, overseas callers can connect with your business instantly by calling a dedicated toll-free number in Singapore. A different number is assigned for each country.
Universal International Freephone Number (UIFN): A single toll-free number accessible from different countries, a UIFN allows overseas callers to contact your business via the same number no matter where they are.
Making Inbound ITFS Calls
Dial the ITFS number directly: 800 XXXXXXX
Making Universal International Freephone Number (UIFN) Calls
To call a UIFN from a phone with IDD access, dial the international access code (IAC), followed by 800 and the 8-digit UIFN: IAC + 800 + XXXXXXXX (8-digit UIFN)

The IAC, which varies by country, is the dialling code that allows you to make an outgoing international call from that country