Voice Roaming Monthly Plans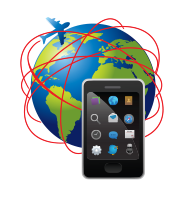 Save up to 53% with Voice Roaming - worldwide coverage, any operator.

Enjoy worldwide coverage with any mobile operator with Singtel voice roaming plans from as low as $88/month (U.P. $150). This includes International calls, International (SIN), Incoming calls and local calls outgoing, except for rerouted IDD charges. Enjoy the freedom to call, whenever you need, wherever you are.



International Calls (SIN)


Monthly Packages

60 minutes/month

$ 169

(U.P. $ 300)

30 minutes/month

$ 88

(U.P. $ 150)
Here's an example:
If you travel to USA and Europe at the following talktime , you can save up to 32%!

Example
USA
Europe
Total
Customer travelling to USA & Europe on monthly basis
Mins
Cost
Mins
Cost
Incoming call
5
$13
5
$13
Outgoing Call
5
$13
5
$13
Outgoing SG
10
$50
10
$50
Outgoing International
10
$50
10
$50
Total
30
$125
30
$125
$250
Example


Customer travelling to USA & Europe on monthly basis

USA

Mins
Cost

| | |
| --- | --- |
| Incoming Call (5 Mins) | $13 |
| Outgoing Call (5 Mins) | $13 |
| Outgoing SG (10 Mins) | $50 |
| Outgoing International (10 Mins) | $50 |
| Total (30 Mins) | $125 |

EUROPE

Mins
Cost

| | |
| --- | --- |
| Incoming Call (5 Mins) | $13 |
| Outgoing Call (5 Mins) | $13 |
| Outgoing SG (10 Mins) | $50 |
| Outgoing International (10 Mins) | $50 |
| Total (30 Mins) | $125 |

Total
$250