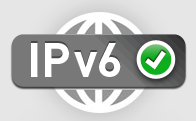 Future-proof your network with Singtel's IPv6 Transition Program
Give your organisation a smooth transition into IPv6 with Singtel. We can help you achieve IPv6 readiness with a dual-stack and tunnelling approach that allows your organisation to seamlessly run internet traffic based on both IPv4 and IPv6 standards until the transition to IPv6 is complete.
Internet Protocol Version 6 (IPv6), often referred to as "IP next-generation", is a replacement for today's predominant IP Version 4 (IPv4) addressing scheme. IPv6 was developed during the mid-1990s to succeed IPv4, as IPv4 address exhaustion would be a major impediment in the continued growth of the internet.
The main difference between IPv6 and IPv4 is the number of IP addresses that can be generated. IPv6 addresses comprise 128 bits, whereas IPv4 addresses have 32 bits. This translates into a huge increase in the available IP addresses under IPv6 and thus eliminates the problem of IP address exhaustion:
IPv4: 232 equals 4.3 billion addresses
IPv6: 2128 equals approximately 340 undecillion addresses
This expansion enables new and more streamlined internet capabilities, including:
Embedded security support
Simplified network configuration

Improve quality of service for peer-to-peer applications (e.g. machine-to-machine services)

The transition to IPv6 by equipment providers, content providers and service providers will be progressive. Currently there are various techniques and protocols proposed by standard bodies and industry forums to address the need for a smooth migration.
Singtel has been planning for this transition for several years. We have put in place a well-defined IPv6 transition strategy and implementation program based on a dual-stack* and tunnelling** approach, allowing your organisation to run internet traffic based on both IPv4 and IPv6 standards until you have fully transitioned to IPv6. We can work closely with you to develop a tailored transition plan to ensure the readiness of your applications and networks for a smoother migration to IPv6.
Our dual-stack solution is currently available on our public internet services, including Singtel Internet Exchange (STiX) and the Premium class of Business Internet Access offered by SingNet. We will continue to expand IPv6 adoption on our private IP global networks, mobile, IPTV and satellite network.
* IPv6 Dual-Stack Solution enables customers to access IPv6 and IPv4 over the same physical interface. This solution is an industry-recognised approach that ensures a smooth and secure transition from IPv4 to IPv6.
The benefits of IPv6 Dual-Stack Solution include:
Continued service availability even as IPv4 addresses run out
A smooth transition to IPv6 at your own pace

Essentially unlimited internet addressing

** IPv6 tunnelling encapsulates IPv6 packets inside the IPv4 network to allow IPv6 sites to communicate with each other over the existing IPv4 infrastructure network.