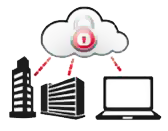 Singtel VPN-as-a-Service (VPNaaS) puts your entire on-premise VPN into the cloud. With no additional on-premise hardware required, your company will enjoy the security and functionality of a private network. The access of internal and administrative applications can be restricted to only authorised employees, suppliers or clients. Enabled administrators and employees at branch offices or remote locations will then be able to access corporate systems and resources via an Internet connection on the go.
Benefits
Cost effective - no need to invest in hardware, software or IT manpower

High availability with back-up service to ensure uninterrupted service

Secure remote access of company email and intranet

Windows, Mac OS, Android and iOS compatible

Two Factor Authentication with stringent 2-step verification process 

Site-to-Site VPN

• Connect multiple branches from different locations to your headquarters.
• Enable internal file sharing, intranet application across multiple offices securely.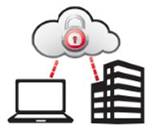 Remote Access VPN
• Increase mobile workforce's productivity by allowing them to check company's email or intranet resources
through mobile devices, e.g. laptop, tablet, mobile, etc. when they are not in the office.
• Secured access with the two-factor authentication (2FA) via SMS.

Download our Quick Start Guide

Apps
For Android and iOS platform, customer may download the app from respective app store:
Android: Google Play > FortiClient VPN
iOS: iTunes > FortiClient