Network Intelligence-as-a-Service (NIaaS)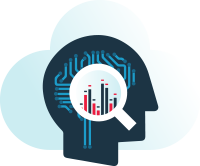 Today's enterprises are application-driven. With business applications, such as sales automation, marketing, billing and customer relationship management, among others, shifting to the cloud, the key to running an efficient operation requires optimal system performance from both the network and the application layers of their infrastructure. With the increased use of web, cloud and mobile applications, IT managers needs a better understanding of the correlation between the physical network and its hosted applications to ensure consistent performance and a positive user experience for both their stakeholders and customers.
Singtel Network-Intelligence-as-a-Service (NIaaS) is a cloud-based advanced monitoring solution that provides 360⁰ panoramic view of enterprise network and applications performance, no matter how it has been designed and connected to the Internet and the cloud. With unparalleled deep visibility, per-segment granularity and actionable intelligence, Singtel NIaaS enables IT personnel to monitor their system, identify potential problems and repair existing issues quickly without spending hours on troubleshooting. This increases their efficiency and frees up their time to focus on activities that enhance the business.
Benefits
Flexible and agile - Lower cost through a cloud service offering without compromising on visibility, performance and control
Comprehensive visibility - Delivers unified network view and intuitive visualization to quickly pinpoint issues and reduce mean time to repair
Improved user experience - Create benchmarks to measure and support business goals and deliver better user experience
Better decision-making - Monitoring and analytics of application performance provide valuable insights for better decision-making
Ideal for:
Enterprises who are moving towards a "Cloud First" strategy
Enterprises who are Internet traffic-focused and requires optimal visibility on network blind spots
Enterprises who need to ensure superior performance of enterprise applications
Enterprises who aim to deliver digital experience excellence to enable a reliable e-Business platform

Single centralised platform for network monitoring and management
Delivers end-to-end visibility across all segments of the network and across the networking and application layers
Presents a holistic view of the performance of WAN circuits, MPLS, VPN and direct Internet access connections with on-demand access to reports available 24x7 through an online portal.

Greater visibility across network segments

Provides hop-by-hop view of the network to improve problem detection and diagnosis
Actively collect and process continuously performance data across the network
Reduces mean time to repair by enabling enterprises to proactively troubleshoot and identify network issues

Excellent digital experience for reliable
e-Business applications

Simulate user interactions to measure speed and responsiveness
Gain the global perspective of end user experience and view across the Internet