Managed Software-Defined Branch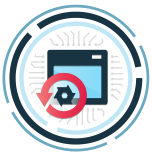 As enterprises embark on digital transformation, the increasing demand for access to business applications regardless of physical location is becoming even more defined. A need for a network infrastructure that is flexible enough to support a wide range of rapidly-developing initiatives and innovations is critical, especially for businesses with multiple branches.
Singtel Managed Software-Defined Branch (SD Branch) address this requirement with a suite of fully-managed virtualised network functions that can transform inflexible hardware-centric infrastructure into software-defined capabilities that are agile, scalable and easy to manage, while lowering operational costs and maximising flexibility at the branch. It does this by consolidating multiple network functions such as routing, next-generation firewalls, URL filtering, anti-virus and intrusion prevention systems into a single Singtel NFV customer-premise equipment.
With this approach, enterprises no longer have to invest in multiple proprietary and costly appliances that have to be installed, configured, tested and maintained using different skillsets.
Benefits
Reduces total cost of networking and security

Eliminates the need to buy, manage, and maintain separate specialised appliances
Eliminates the need for different technical skills to install, configure, test, and maintain proprietary hardware
Lowers overall power and cooling requirements

Increases IT agility

Shortens time-to-deployment of networking and security services from months to days
Bandwidth can be scaled quickly without deploying new hardware
Security services can be spun up in days to protect mission-critical data, without having to replace proprietary security appliances

Improves WAN management and user experience

Optimises and simplifies operations with deep visibility and real-time intelligence into all networking andsecurity functions
Improves applications performance and lowers overall WAN costs with better applications visibility
Enhance cloud experience for users by enabling bandwidth to scale dynamically to meet traffic needs

Virtual Router (vRouter)
Provides data-routing
Able to scale granularly and dynamically to cater to changes in bandwidth requirements


Virtual Security (vSecurity)
Ability to service chain to achieve multi-layered security and defence in depth
Delivers fully-integrated and layered multi-tenant security services which includes next-generation firewall, anti-virus, malware and intrusion prevention, eliminating the need for point products
Provides protection, filtering and security at the application and user level

NFV Analytics Portal
Contextual, self-service data analytics for real-time and historical visibility
Uses a policy-driven data logging framework
Provides insights into real-time and historical traffic usage and anomaly detection
Provides reports on multiple network and security services for multiple branches
vRouter and vSecurity are available in different tiers:

Basic

Advanced

Premium

vRouter

Static or dynamic routing

Network Address Translation (NAT)/ Port Address Translation (PAT)

Quality of Service Dynamic Host Configuration Protocol (DHCP)

Plug and play

-
vSecurity

Stateful firewall
IPsec
Applications visibility


vSecurity Basic
Next-gen Layer 7 firewall
URL /IP reputation and filtering

vSecurity Advanced
Anti-virus
Intrusion Prevention System(IPS)/Intrusion Detection System (IDS)

Reach and scale in Asia Pacific
Largest IP VPN network in Asia with domestic connections even in remote cities
Deep integration with domestic networks in Australia, China, India and Singapore
Strong Internet network in ASEAN through partnerships with in-country service providers

One-stop expertise for your connectivity needs
Convenience of a one-stop service so enterprises do not have to liaise with multiple parties to meet theirconnectivity requirements
Single point of contact with SLA, a dedicated 24x7 helpdesk and a network management portal for faster fault resolution
4,000 ICT professionals to help design, deploy and manage a cost-effective and reliable network


Secure by design
Network solutions that are designed to be secure
A comprehensive three-phased approach to network security that is protective, proactive and predictive
A comprehensive portfolio of security solutions via Trustwave and an ecosystem of industry-leading security partners