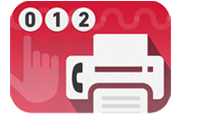 Send faxes to overseas destinations at low rates with FaxPlus 012. This smart fax service uses data compression technology to allow efficient bandwidth utilisation, resulting in lower transmission costs. With no registration and monthly subscription charges, FaxPlus 012 offers great value as you pay only traffic charges for the faxes that you send. There is no need for activation – simply dial 012 to start faxing.
Benefits
Save up to 50% off IDD rates for faxes to overseas destinations

Enjoy great value with no registration or monthly subscription charges

Start using FaxPlus 012 right away with no setup or activation
FaxPlus 012 is a real-time fax service similar to sending faxes via IDD. Connection to the destination fax machine takes 15–20 seconds longer with FaxPlus 012, but this time is not chargeable. You will receive immediate confirmation of your fax's delivery status.
You do not require any special equipment or installation to use FaxPlus 012 – all you need is a fax machine on a phone line with Singtel IDD access.
To send a fax using FaxPlus 012, simply enter the following dialling sequence: