Singtel Video Conferencing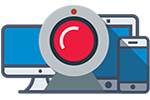 Forge strong working relationships with customers and colleagues around the world with Singtel High Definition Video Conferencing. From reducing the need for business travel to supporting real-time collaboration, this video conferencing solution can help your organisation save money and boost productivity. Offering sharp HD video, crisp audio and powerful content-sharing capabilities, Singtel High Definition Video Conferencing makes seamless virtual meetings a reality.
Singtel Video Conferencing delivers multi-brand in-room video conferencing solutions, augmented with cloud video conferencing, for a truly mobile experience. This is ideal if you are looking to achieve the following:
Implement or expand in-room video conferencing systems without the hassle of managing this on your own
Extend video conferencing to mobile users and other in-room systems with Singtel Video Conferencing Gateway
Find out more about Singtel Cloud Video Conferencing here.
Benefits
Boost productivity by enabling faster decision-making and streamlined business processes




Build relationships between employees or business partners in different locations




Save on airfare, accommodation and entertainment expenses




Facilitate communication with people in countries where travel is difficult




Minimise your company's carbon footprint



Your company can use Singtel High Definition Video Conferencing in Singapore and across the globe for a wide range of uses, including:
Corporate and board meetings

Training sessions

Distance learning

Project management

Executive broadcasts

HD Content

Presentations, demonstrations and training content can be shared clearly on screen for greater impact

Optimised Video Quality

A secure video conferencing solution carried over the Singtel IP VPN network

Video quality is optimised by prioritising video packets to ensure a lower level of latency and a higher level of throughput performance

Flexible Options

Choice of upfront investment or a subscription model that helps you maximise value while minimising upfront capital investments

Different Solutions for Different Needs

A laptop solution for mobile users, a desktop solution for executives, and a boardroom solution for group meetings or training sessions

Multi-Point

An embedded multi-point bridge allows multi-party collaboration through video conferencing




Webcasting

A network-based appliance that can record conference calls, produce archive files of the recordings and simultaneously stream conferences to thousands of employees worldwide




End-To-End Managed Services

Managed services for design, solution architecture, implementation and integration to meet your specific infrastructure and platform requirements




Interoperability

Interoperability with all major video conferencing solutions in the market today, protecting your past investments in video conferencing




Global Reach

Leveraging Singtel's leading private network, Connect Plus IP VPN, our HD video conferencing can be delivered globally




Security and Compliance

Full security over all video conversations and the ability to record them help you to comply with government and industry regulations