Stay in touch with family and friends overseas using Singtel's international calling services. Whether you are using a fixed line or mobile phone, calling overseas countries is easy and affordable. Simply choose a service that meets your needs and budget.
Stay connected wherever you go. With Singtel, you can enjoy excellent roaming services and avoid "bill shock" when travelling overseas. Our 472 roaming partners in over 238 destinations let you access the best mobile coverage while on the road.
Enjoy a seamless roaming experience in Singapore with Singtel. Whether you are a regular visitor or here for the first time, we will take care of all your roaming needs, including great rates on calls and free wireless internet access at Wireless@SG hotspots.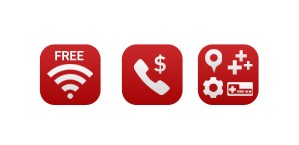 Benefits with Singtel
Free wireless internet access at Wireless@SG hotspots
Great savings on calls
Exclusive apps and handy info