hi!Tourist SIM Cards
hi!Tourist SIM 游客预付卡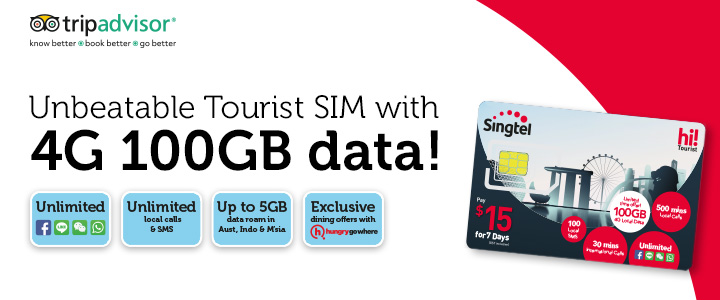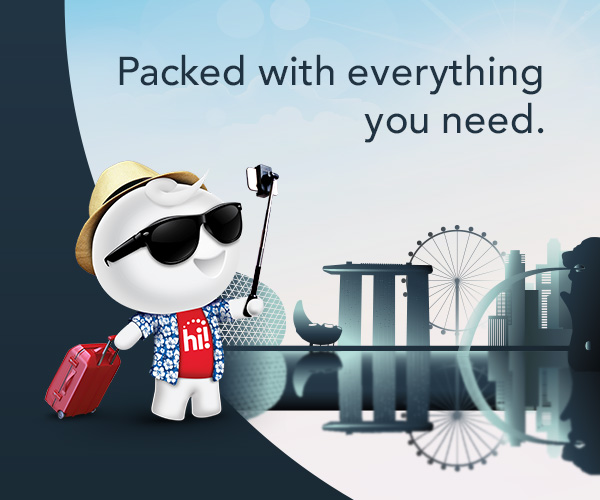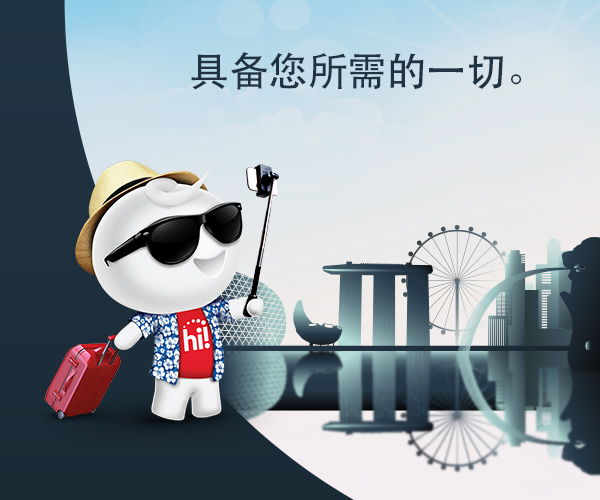 Enjoy unlimited calls, SMS and social messaging with Singtel hi!Tourist SIM Cards. All on a blazing-fast 4G network! Available in three values: $15, $30 and $50.
To find out which one best matches your needs, answer the simple question below.
使用新电信 hi!Tourist SIM 游客预付卡享受无限通话、短信、微信及其他社交信息服务。一切尽在极速 4G 网络!三种价格可选:$15,$30 和 $50。
为找到最适合您的选择,请回答下方的简要问题。
What are your mobile needs?
您有哪些使用手机的需求
Short travel period

短期旅行

For those who want to enjoy unlimited messaging on your favourite social networks.

适合想在最爱的社交网络上畅享无限微信及其他社交信息服务的客户。

hi!Tourist $15 SIM Card

hi!Tourist $15 SIM 游客预付卡

Valid for 5 days

有效期 5 天

4GB 4G local data

4GB 4G 本地数据

Unlimited3 social messaging on Facebook, WhatsApp, LINE and WeChat 无限3社交信息服务,可用于 Facebook、WhatsApp、LINE

和微信

500 minutes local calls1 500 分钟本地通话1

100 local SMS

100 个本地短信

30 minutes international calls1 30 分钟国际长途通话1
(包括中国长途)

Longer travel period

长期旅行

Ideal for heavy data users visiting neighbouring countries after Singapore.

非常适合在新加坡之后拜访邻国的高用量数据用户。

hi!Tourist $30 SIM Card

hi!Tourist $30 SIM 游客预付卡

Valid for 10 days

有效期 10 天

14GB 4G local data

14GB 4G 本地数据

Unlimited3 social messaging on Facebook, WhatsApp, LINE and WeChat 无限3社交信息服务,可用于 Facebook、WhatsApp、LINE

和微信

Unlimited2 local calls1 无限2 本地通话1
Unlimited2 local SMS 无限2 本地短信
90 minutes international calls1 90 分钟国际长途通话1
(包括中国长途)

Free Singtel WiFi

免费新电信 WiFi 无线网络

2GB dataroam for Australia, Malaysia and Indonesia

澳大利亚、马来西亚和印度尼西亚畅享 2GB 漫游数据

For longer stay and 2 to share

长期逗留且 2 人共享

Perfect for sharing, and for heavy data users visiting neighbouring countries after Singapore.

完美的共享之选,适合在新加坡之后拜访邻国的高用量数据用户。

hi!Tourist $50 Twin Pack
SIM Card

hi!Tourist $50 双人 SIM 游客预付卡

Valid for 10 days

有效期 10 天

20GB 4G local data

20GB 4G 本地数据

Unlimited3 social messaging on Facebook, WhatsApp, LINE and WeChat 无限3社交信息服务,可用于 Facebook、WhatsApp、LINE

和微信

Unlimited2 local calls1
(FREE between main and
supplementary line) 无限2 本地通话1
(主卡与附卡间免费)
Unlimited2 local SMS
(FREE between main and
supplementary line) 无限2 本地短信
(主卡与附卡间免费)
90 minutes international calls1 90 分钟国际长途通话1
(包括中国长途)

Free Singtel WiFi

免费新电信 WiFi 无线网络

5GB dataroam for Australia, Malaysia and Indonesia

澳大利亚、马来西亚和印度尼西亚畅享 5GB 漫游数据
$50 Twin Pack values will be shared between the main line and the supplementary line.

$50 双人SIM卡赋予流量是供主卡及附卡共享。

1

Local and international calls are charged based on per minute block.

本地与国际长途通话是根据每分钟分段收费。

2

Unlimited local calls/SMS refer to 3000 local call minutes and 5000 local SMS for 10 days.

无限本地通话/短信指的是 10 天内 3000 分钟本地通话及 5000 本地短信。

3

Fair usage of 1GB per day applies for free access to Facebook, WhatsApp, LINE, WeChat.

每天 1GB 的公平使用法则适用于免费浏览 Facebook, WhatsApp, LINE, 微信。

Frequently Asked Questions