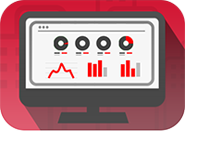 Make a difference to your network infrastructure with Singtel MetroEthernet (MetroE), a dedicated layer 2 point-to-point connectivity. As the first in ASEAN to become a Metro Ethernet Forum (MEF) certified Carrier Grade Ethernet service provider, your enterprise can be assured of the highest level of reliability and security for your mission critical applications with Singtel MetroEthernet.
To optimise your network planning, Singtel MetroEthernet provides an online concierge service that lets you purchase, monitor and manage the network conveniently from a single dashboard. Your enterprise can now stay ahead with greater agility and control to manage escalated network complexities and extensive bandwidth requirements.
Benefits
Secured connection with a dedicated and protected network with built-in redundancy

Up to 100% Service Availability service level agreement (SLA) and 24 by 7 service support

Scale from 2 Mbps to 1 Gbps easily

Wide choice of bandwidth means you only pay for what you need

Optimise network design and planning with network visibility via an online dashboard

Island-wide coverage that reaches your business sites regardless of where you are
Recommended for businesses in Singapore that:
Require a secure, dedicated and point-to-point WAN interconnectivity solution between head office, branch offices, shops, warehouses and datacentres

Need flexible and scalable hub and spoke connectivity from a central office or data centre to multiple sites

Metro Ethernet Forum (MEF) 2.0 Certified
As a Metro Ethernet Forum (MEF) 2.0 certified Carrier Grade Ethernet service provider, Singtel provides the most stringent service level specifications and global interoperability standards.

Lower Latency
With less than 2 milliseconds islandwide latency, Singtel MetroEthernet delivers a competitive advantage for delay-sensitive applications

Robust and Secure Network
As data is transported solely over the Singtel's private network between business sites, the network is able to support real-time transactions and bandwidth-intensive applications.

Full Control of Network
Take control of your network IP configuration to stay flexible and responsive.


eMonitor
Receive network status update and the latest network performance reports, enabling complete visibility of your network. This enables improved business uptime and network planning.

MetroEconcierge
A one-stop online dashboard for you to monitor your network performance, raise fault tickets, purchase and upgrade services, as well as track new service provisioning status.

Electronic Bandwidth On Demand (eBOD)
Scale bandwidth up and down via MetroEconcierge for ad-hoc or scheduled changes which allows you to respond quickly to changing requirements and pay only for what your business uses.
Point-to-Point
A point-to-point connection links two of your office sites.

Point-to-Multi Point
A point-to-multipoint connection transmits data from your headquarters to multiple branches.

Data Centre-to-Data Centre
Data centre-to-Data centre connectivity provides a point-to-point between your data centres with high network performance, low latency and shorter provisioning lead time.


Network downtime can have a costly impact on operations for any type of business, resulting in loss of revenue, bad customer experiences and a tarnished reputation. By building your network with a...